Wimbledon still most popular British summer sporting event despite fall
April 19, 2023
It is starting to get a bit warmer outside which means that the sporting summer in the UK is on the way in a real way. In this week's index powered by YouGov we are going to be looking into the eight pillar sporting events of the summer and analysing how their brand health score has changed over the year.
Wimbledon's Brand Health score is by far and away the highest of any of the events. It scores incredibly high on the quality and reputation metrics along with the high impression which will be down to it being only one of two events on free-to-air TV. However, Wimbledon has seen the biggest drop in score from last year to this year. In the individual metrics the biggest fall is in value which could be related to the cost of living crisis that we are seeing in the UK and people being less likely to part with their cash when it comes to attending the championships.
The England Test Cricket team have revolutionised their fortunes in the last year. A new coach, a new captain and a new style of play have led to them winning ten of the 12 Test matches they have played. We are also entering an Ashes summer, a Test series against Australia always peaks the public's interest. Both these could factors have contributed to the team being the biggest rises in the Index.
Not subscribed to our weekly newsletter? Click here to sign up and receive more content like this to your inbox every week.
Staying on cricket, The Hundred has seen a big increase as interest in the tournament appears to be holding firm as we enter its third season. This is particularly interesting because it seems little has changed from last year's tournament apart from the increased availability of England's international stars. Viewing figures dipped from the first tournament to the second – it will be interesting to see what happens this time.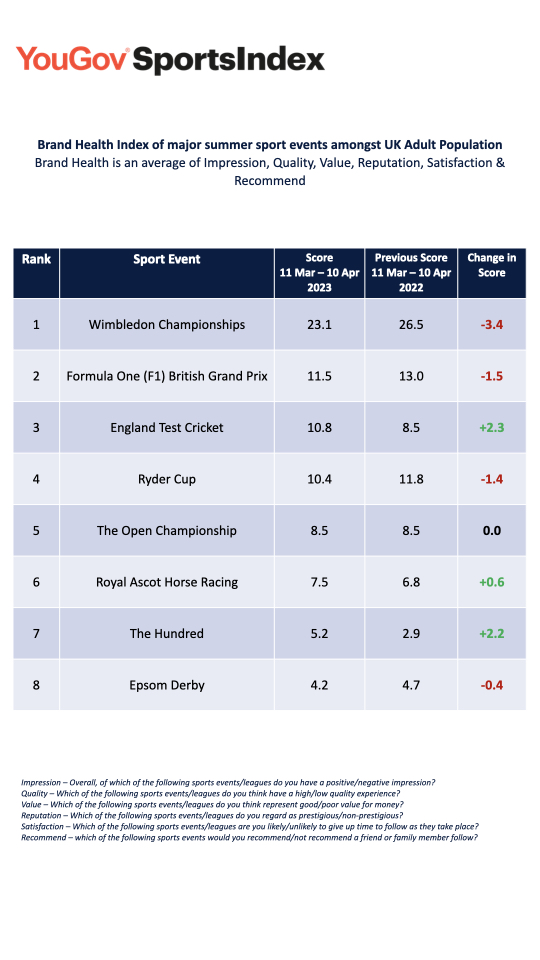 Impression – Overall, of which of the following teams do you have a positive/negative impression?
Quality – Which of the following teams do you regard as prestigious/non-prestigious?
Value – Which of these teams do you think is worth/not worth the time spent following or supporting?
Reputation – Which of the following teams would you be proud/embarrassed to work for?
Satisfaction – Which of the following teams make you feel satisfied/dissatisfied as a fan?
Recommend – which of the following teams would you recommend/not recommend a friend or family member follow or support?