Why do financial services and F&B dominate MLB sponsorship?
May 4, 2023
This week's iSportConnect Sponsorship Index powered by caytoo, dives into Major League Baseball sponsorships. Who is sponsoring them and why?
While F1 is dominated by IT and consumer goods brands which both fit into the very fabric of the sport in terms of its technological foundation and globetrotting nature (clothing, watches, sunglasses and luggage), MLB is dominated by financial services and food & beverage brands, so what does this speak to about baseball?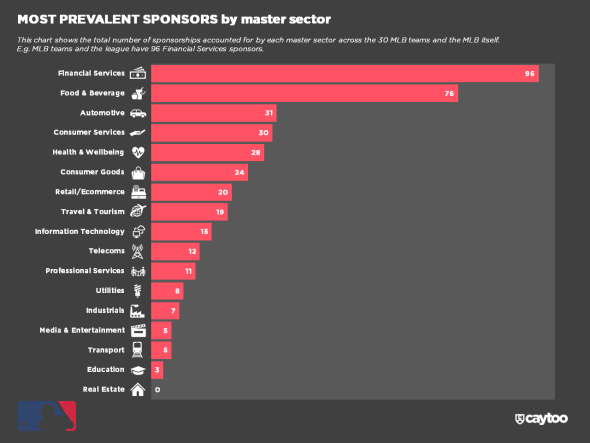 The dominance of these two sectors is driven by insurance, banks, alcohol and soft drinks; in fact, these four sub sectors (caytoo tracks over 50 sub sectors) account for a whopping 35% of all MLB sponsors. Baseball is historically referred to as America's national pastime as it reflects many aspects of American life; in particular, the idea of a hot dog in one hand and a cold beer in the other. This is symbolic to American culture – drinking while watching sports is also a classic pastime – and baseball embodies that, particularly as the games are over 2.5 hours long – which explains why alcohol brands lead the way. Alcohol is followed by soft drinks (dominated by Coke and Pepsi) as the kids need refreshment too.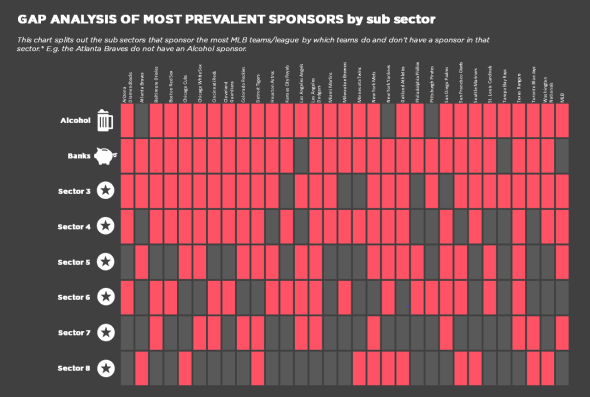 The link with financial services isn't so overtly obvious but in more 'dry' product sectors in which product differentiation is harder and there's less connection with emotion or lifestyle, sports such as baseball enable these brands to differentiate themselves from the competition.
Not subscribed to our weekly newsletter? Click here to sign up and receive more content like this to your inbox every week.
It does this by deepening the emotional bond with consumers through the sport and team they identify strongly with. Baseball is also the oldest of the US's four major professional sports leagues so there's a naturally strong association with heritage and a sense of safety/security which is an association financial services crave.