Real Madrid are still the real kings of Europe despite Manchester City's treble
June 14, 2023
Last weekend's Champions League final brought to a close the 2022/23 football season and boy did it feel like a long one.
Unless you have been living under a rock, or don't follow football, you will know that Manchester City won their first Champions League last weekend and in doing so completed a historic treble.
But enough about that, we thought that the final gave us a great backdrop for this week's iSportConnect Brand Health Index, powered by YouGov, where we are diving into the brand health of 20 of the top European football clubs.
The index looks at the brand health of each team, in their own country, and compares their score to the first week of January 2021.
Spanish clubs dominate
It is not really surprising to see 14-time Champions League winners Real Madrid top this ranking. They are the kings of Europe on the pitch and their very high reputation means they are top spot in these rankings as well.
Not subscribed to our weekly newsletter? Click here to sign up and receive more content like this to your inbox every week.
They are followed by Barcelona and Athletico. While Barcelona have maintained a consistently high score despite what has happened off the field, Atletico's score has been greatly affected by their performance on the pitch. In 2021, Atletico were crowned champions of La Liga, but haven't repeated the feat in the two years since and they finished bottom of their Champions League group this year. In the case of Barcelona, this will be based on both their reputation and the fact that they have maintained a strong level of domestic performance.
Biggest winners
The biggest winners come in the form of Napoli, runaway winners of Serie A this year, Manchester City, who as mentioned above have just completed the treble, and Arsenal, who had a resurgence last season under Michel Arteta and are returning to the Champions League for the first time since 2016-17.
Biggest losers
The biggest losers are Juventus, Bayern Munich and Atletico Madrid. Juventus received a ten-point deduction which saw them finish in a disappointing seventh and meaning they will compete in the European Conference League next season. Bayern Munich have been disappointing since they sacked Julien Nagelsmann and haven't been their usual dominant self in the Bundesliga, limping to the title thanks to a Borussia Dortmund meltdown on the final day, they were also dumped out of the Champions League by Manchester City.
The common theme with all of these clubs is that there seems to be an intrinsic link between being successful and your brand health score. On field success is likely to positively impact how fans and the general population feel about a football club, all the way from how people feel they are managed and the likeability of players and coaches to fan culture. All of these factors contribute to the brand health score of each club.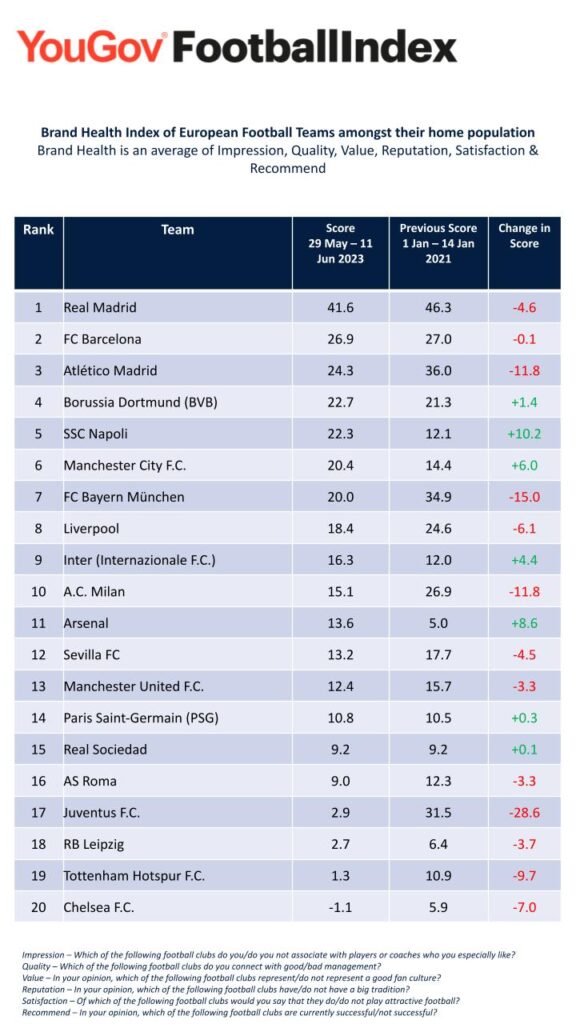 Photo credit: Steffen Prößdorf