iSportConnect SportsTech Index powered by SportsTech Match – 13/4
April 13, 2023
Who's hot in Sports Tech? Who is doing deals, launching new products and generally doing some of the best work in the sector? That's what the Index attempts to dig into. Whether established players or the up-and-coming stars, we go a little deeper for you…
The second edition of our monthly sports tech index has produced an eclectic mix of sports tech companies representing all four SportsTech Match sectors.
SeatUnique held on to the number one spot this month following the announcement of two recent deals in rugby and fellow ticketing platform, Ticketmaster (#6) also picked up points following the recent announcement of a major football club deal.
Sports Connect (#2), collecting maximum points for two customer renewals in April, are the highest new entry this month and are joined by fellow Stack Sports brand, Gameday (#17) in the top 20.
Other new entries into the top 10 this month include venue security business, Evolv (#3), social payments platform, CHEQ (#5), and media technology provider, NEP Group (#7), all of whom have announced deals and/or customer renewals over recent weeks in the US.
Completing our top five this month is fan engagement platform, Fanbase (#4) who announced new deals with two football clubs in the UK.
Catapult (#12) are a new entry into the top 20 this month following the announcement of a contract extension with a Dutch football club as well as recent product announcements. Their index score has been propped up by the award of points for a steady stream of new business wins, customer renewals and product updates over the last 12 months.
Finally, a special mention goes to OTT streaming platform, Stream Viral (#31) who are our highest climber on account of having collected full points for a verified 5-star customer rating as part of SportsTech Match's Ratings & Reviews programme on top of points awarded for recent new business wins.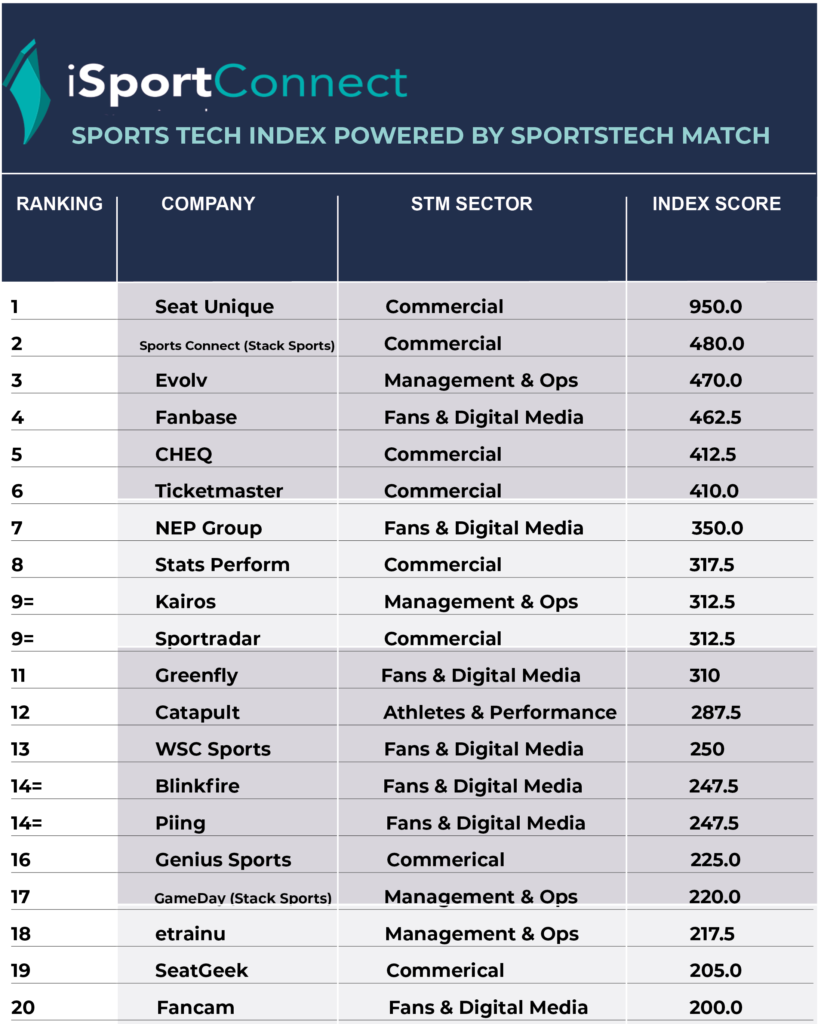 Want to know more?
The iSportConnect Sports Tech Index is designed to help rights owners and investors quickly assess who is "hot" from a product and new business perspective and provides sports tech vendors with an incentive to focus their PR announcements on what matters to the market. It follows a simple scoring system (see below).

The iSportConnect Sports Tech Index will be published on a monthly basis on iSportConnect.com (subscribe to the newsletter here to stay informed) with in-depth analysis provided by SportsTech Match every 2 weeks (subscribe to the STM newsletter via sportstechmatch.com).
Click here to read more about how the Index is calculated.