iSportConnect SportsTech Index powered by SportsTech Match – July 6
July 6, 2023
Who's hot in Sports Tech? Who is doing deals, launching new products and generally doing some of the best work in the sector? That's what the Index attempts to dig into. Whether established players or the up-and-coming stars, we go a little deeper for you…
Edition number five of our monthly sports tech index sees Fanbase (fan engagement platform), one of our most consistent performers, take the #1 spot for the first time. Fanbase announced a batch of new deals with UK-based sports teams over the past 4 weeks.
Sport:80 at #2 (NGB and sports membership management), Genius Sports at #3 (sports data), Ticketmaster at #4 (ticketing) and Seat Unique at #5 (ticketing) complete our top five.
Notable in this month's index is the absence, for the first time, of a company in the Athletes & Performance sector. Our highest ranking company in this sector, Catapult (athlete monitoring and performance analysis), sit at #23 and with the exception of some product updates, did not make any significant announcements this past month.
First time entrants in our top 20 this month include Project Admission at #16 (ticketing),  PT Sportsuite at #19 (end-to-end digital platform solution) and Spotlight Sports Group at #20 (sports betting experiences), and all on account of new deal announcements.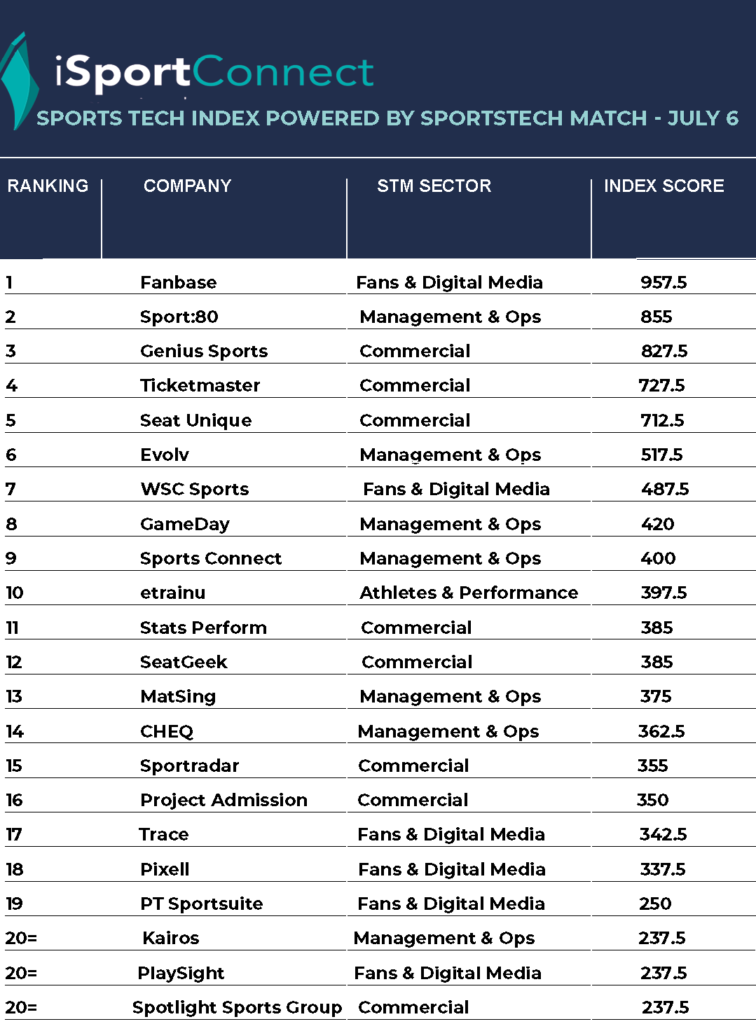 Want to know more?
Subscribe to the SportsTech Match monthly newsletter for an overview of the list of activity that generated points towards the index score this month (via the footer on the website).
The iSportConnect Sports Tech Index is designed to help rights owners and investors quickly assess who is "hot" from a product and new business perspective and provides sports tech vendors with an incentive to focus their PR announcements on what matters to the market. It follows a simple scoring system (see below).

The iSportConnect Sports Tech Index will be published on a monthly basis on iSportConnect.com.
Click here to read more about how the Index is calculated.