iSPORTCONNECT Unveils 2021 Influential Women In Sport Top Ten
March 8, 2021
Monday, March 8th 2021 is a key date for many across the world, as it represents International Women's Day, when women across the world are celebrated for their achievements. It signifies a day in which women are also fighting for greater equality, which iSPORTCONNECT is totally behind, particularly in an industry with much to do.
On this day, therefore, we are thrilled to reveal our fourth annual iSPORTCONNECT Influential Women In Sport List for 2021, highlighting some of the industry's key female players and those who have led from the front over the past 12 months.
This year YOU, our iSPORTCONNECT community, were able to play a part by being able to put forward those you believed should be recognised as being female leaders within the sporting space, nominating a huge amount of worthwhile contenders and helping us to create our Women In Sport Top Ten.
We also have four brand new categories we received nominations for from the community, in order to recognise those in other areas who are deserving of recognition for their efforts.
A massive thank you must also go to our seven external jury members (Ebru Köksal, Seema Jaswal, Fredda Hurwitz, Simon Chadwick, Lingling Liu, Anna Lockwood and Tim Crow) who were willing to give up their time to help us narrow down our contenders alongside iSPORTCONNECT to make up the final list.
Finally, here it is, the iSPORTCONNECT Influential Women In Sport Top Ten for 2021. Thank thank you to everyone who took part in nominating contenders and congratulations to all of our winners and to everyone who was nominated.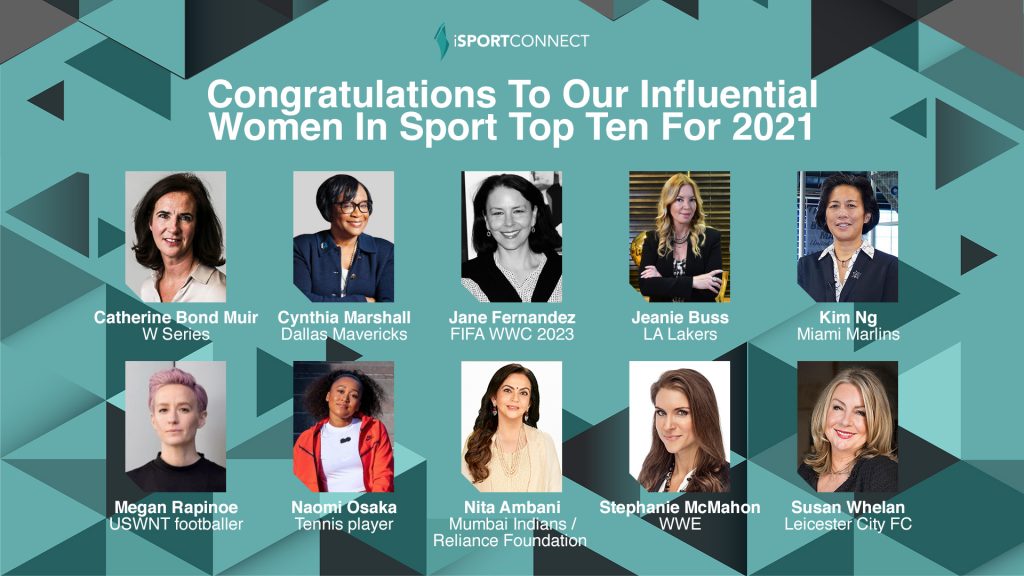 The Top Ten
Catherine Bond Muir – W Series, Chief Executive Officer.
Catherine has grown the W Series from the ground up and is providing terrific opportunities to female drivers in motor racing. In 2021 it will feature it alongside eight F1 Championship weekends, across the UK, Europe and the Americas.
Cynthia Marshall – Dallas Mavericks, Chief Executive Officer
Cynthia made history as the first ever female Chief Executive Officer in the the National Basketball Association when she was appointed in 2018.
Jane Fernandez – FIFA WWC 2023, Chief Operating Officer
Jane led Australia's successful bid for the FIFA Women's World Cup 2023 and was recently named as Australia's COO of the co-hosted event with New Zealand. She has united the sport, state and national governments to secure the largest female event in the largest global sport, at a time when female sport continues to gather momentum.
Jeanie Buss – LA Lakers, Owner & President
A longtime part of the ownership and executive with the Lakers, Jeanie was in charge of the organisation as they won their first NBA championship for more than a decade, become the first female owner of a championship team.
Kim Ng – Miami Marlins, General Manager
Kim, a leader of women in baseball for many years, was appointed as the first female General Manager in MLB history when appointed by the Miami Marlins towards the back end of 2020.
Megan Rapinoe – USWNT Footballer
As one of the most recognisable athletes in the world since the 2019 World Cup, Megan has used that platform to expose inequalities in sports and society. Raising awareness about gender bias and social injustice, Rapinoe has been a role model for all athletes in all sport.
Naomi Osaka – Tennis Player / NWSL Investor
Naomi has been a leader for women in sport in the past year, making her voice heard when discussing equality and equal rights while excelling on the court once again. She has also become an investor in North Carolina Courage in the NWSL.
Nita Ambani – Mumbai Indians / Reliance Foundation
Under Nita's guidance the Reliance Foundation has been encouraging and creating a youth sports revolution in India all while she is leading the Mumbai Indians IPL franchise, who won yet another IPL title in 2020.
Stephanie McMahon – WWE – Chief Brand Officer
Stephanie has been helping a number of initiatives to boost the profile and give greater opportunities to women in sport as well as having to be part of leading the WWE through Covid.
Susan Whelan – Leicester City FC, Chief Executive Officer
Susan is a high class operator who highly professional, clearly successful, but also a warm and generous person. Susan is an excellent role model and is overseeing an extremely positive period for Leicester City as a club.
Shortlisted: Ashley Ehlert – International Ice Hockey Federation, Barbara Slater – BBC, Fatma Samoura – FIFA, Hashimoto Seiko – Tokyo 2020, Joanna Coates – UK Athletics, Julia Fry – Extreme E, Louise Johnson – Fuse Sport & Entertainment, Lucia Montanarella – IOC, Soraya Sobh – Fnatic, Tatjana Haenni – Swiss Football Association, Tracy Power – Rugby League World Cup 2021.
The Inspirational Standout During Covid-19
Sarah Wall – NETFIT, Founder & Chief Executive Officer
Australian Netball player Sarah Wall's NETFIT saw their free Facebook Live fitness and skills series gain over 3,000,000 views through isolation-inspired streams lead by various elite and community players through NETFIT Netball's Facebook Page. NETFIT also partnered with the INF (International Netball Federation) to create the 24 Hour Live Netball Challenge.
Shortlisted: Mikaela Shiffrin – created the Jeff Shiffrin Athlete Resiliency Fund to support athletes that have been impacted by the COVID-19 pandemic. Tammy Parlour – co-founder of the Women's Sport Trust, who has pulled together a report on how women's sport responds to Covid. Sue Anstiss MBE – In 2020 she co-created the Women's Sport Collective, founded during Lockdown one it offers women working in sport the opportunity to connect, learn and share.
Up-And-Coming In Sport Business
Alexandra Willis – All England Lawn Tennis Club, Head of Communications, Content and Digital
Alexandra has been leading the digital transformation of one of the UK's most loved sporting brands, Wimbledon, while working for the AELTC. Later this year she will take up a new post as Communications and Marketing Director.
Shortlisted: Penelope Tomasi – UEFA, Anna Chanduvi – Facebook, Emily Frazer – Matchroom Sport.
Championing And Demonstrating Equality
Joanna Coates – UK Athletics, Chief Executive Officer
Joanna is an outstanding CEO who has for years has tirelessly worked towards greater inclusion, equality and diversity across sport and is now doing so at UK Athletics. Prior to that she had led strong work at England Netball, culminating in a Commonwealth Games gold medal for the team and hosting the successful 2019 Netball World Cup.
Shortlisted: Sue Anstiss MBE – Women's Sport Collective, Leadership Woman Football (Organisation), Jane Purdon – Women In Football.
Platform For Good: The Best Campaign Or Work Supporting Women In Sport
Burger King – Burger Queen Sponsorship With Stevenage FC
The fast food chain signed a deal to sponsor English Football League Two side Stevenage FC and were able to rework their logo to be named 'Burger Queen', something that was incredibly innovative and drew a huge amount of attention to women's football.
Shortlisted: Nike's 'You Can't Stop Us' campaign, Extreme E for creating the first gender equal sporting format in motorsport, the WNBA's Orange Sweater Campaign to engage with public figures to bring more attention to the league and women's sport.