iSportConnect Reveals Influential Women In Sport For 2022
March 8, 2022
iSportConnect reveals its annual women in sport list for 2022 on International Women's Day.
Each year the 8th of March represents International Women's Day, where we all acknowledge the challenges that women face on a daily basis. At iSportConnect we like to signify this date by recognising some of the female leaders in our industry.
This year, we asked eight of our key team members to select somebody who they feel is making a difference. Each person was allowed to choose anybody they wanted to, with the reasoning anything from somebody who you admire, a person who is on the rise in the industry, or has simply done some terrific work and is a great role model.
Here are our selections for 2022: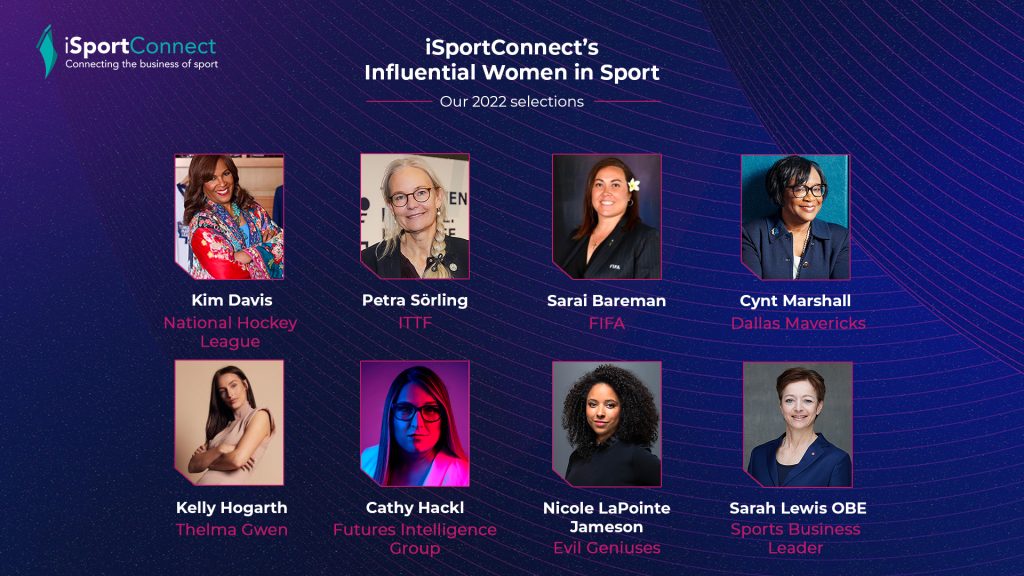 Kim Davis
National Hockey League – Senior Executive Vice President
"Kim is succeeding and leading the way in a league which is based around such a predominantly white male-dominated sport. This has been the case in many sports for years, but the NHL more than most with extremely minimal black players and coaches. I am a great admirer from afar and it is great to see her success."
Selected by Sree Varma
Petra Sörling
ITTF, CEO
"Table tennis is a truly global sport and therefore it needs a leader who really understands how to drive the organisation forward in a demanding sports landscape, with the commercial arm WTT and the ITTF. She is the first female president of the organisation and only the third female leader of a Summer Olympic International Federation. Petra has been on the organisation's executive committee since 2009 and has a huge focus on sustainability and social impact, which is of course a key driver for all of the industry in 2022."
Selected by Ray James
Sarai Bareman
FIFA, Chief Women's Football Officer
"Sarai is leading the charge for women's football within FIFA as the female side of the game continues to grow exponentially. She led the incredibly successful FIFA Women's World Cup in France back in 2019 which broke a huge amount of records and there is great anticipation that the same can be done for the tournament's next edition in Australia and New Zealand in 2023."
Selected by David Fowler
Cynt Marshall
Dallas Mavericks, CEO
"As the first black female CEO in the history of the NBA, Cynt has been tasked with helping to reshape the culture of organisation since her appointment to the role in 2018. Basketball has always been a progressive sport in America due to its player makeup and the culture that goes side by side with it. The WNBA are also making great strides for women in sport too."
Selected by Sandy Case
Nicole LaPointe Jameson
Evil Geniuses, CEO
"Nicole is one of the female leaders within the esports industry, heading up one of its biggest franchises. Hearing her great story in the lead up to our Digital & Data Masterclass and what she has achieved with Evil Geniuses is an inspiration. She is a Forbes 30 Under 30 honouree, Business Insider 2020 Transformer, and a member of the Advisory Board of the Esports Business Summit, she is one to keep your eyes on as she takes the esports world by storm."
Selected by Beth Hushon
Cathy Hackl
Chief Metaverse Officer, Futures Intelligence Group
"This is a slightly left-field selection as she does not operate fully in sport, however Cathy is one of the leading voices around the world on how we move into Web3 and the metaverse and is someone I follow a lot. Through her company, Futures Intelligence Group, she works with the biggest brands in the world on strategy in approaching their strategy for the future Web3 environment, on things such as NFTs and gaming, key to the future of the sports industry. Lots of work is going into building the metaverse and it's an area sport should be further expanding in. LinkedIn named her as one of their top voices in technology in 2019 and she's definitely someone that the sports business should pay attention to."
Cash Infused Dapper Labs Expands Sports Metaverse With Exclusive Soccer Deal Hoping To Unlock Future Of Fandom – one of Cathy's pieces for Forbes last September.
Selected by Joe Condon
Kelly Hogarth
Thelma Gwen, Founder
"As sports stars have become more self-aware of their ability to take control of their own brand and narrative it is imperative they get help in how they operate as it is easy to get it wrong. Kelly has played a role with some of the biggest names in sport through her quick rise at RocNation, helping Marcus Rashford create his brand as he became one of global sports most outspoken and prominent activists. She's since founded Thelma Gwen, with Rashford and Manchester City's Raheem Sterling her main clients. I'm sure there's a lot more to come from Kelly."
Selected by Ben Page
Sarah Lewis OBE
Global Sports Leader / Former Secretary General, FIS
"Sarah is somebody I have long admired within the sports industry, she has had a terrific journey from athlete to governance, being a key cog leading the International Ski Federation (FIS) for over 20 years as Secretary General. I had great admiration for her bold campaign to become the first female president of the International Ski Federation in 2021, where she managed to gain a strong vote against powerful opposition."
Selected by Jay Stuart