Report: Taking A Closer Look At Formula 1's Social Media & Sponsorship During 2021, By Hookit
September 27, 2021
Sponsorship experts Hookit recently released their latest Formula 1 mid-season report, charting the performance of the teams and brands across the league throughout the 2021 season so far, and comparing it to the Covid-19 affected 2020 season.
SPORTS MARKETING & SOCIAL MEDIA PERFORMANCE IN THE GLOBAL RACING SERIES
Now more than halfway through the race calendar, Formula 1 has seen massive growth in 2021 compared to the COVID-impacted 2020 season. With a global audience coming from every corner of the world, social media allows the series, teams, and drivers to share highlights, challenges, and behind the scenes moments directly with fans. The brands that partner with the sport have benefited greatly from social media sponsorship activation, on track to receive over $1B in sponsorship value AAV by the end of the season. Below we dive into the social media presence of the series, teams, and drivers, the fan engagement, the brand promotion, and noteworthy moments so far.
All below data is from the time period of 1 January, 2021 – 15 August, 2021. Year over year comparisons are from the same time period in 2020.
SOCIAL MEDIA IMPACT
Reach: 252M Social Media Fans / Followers (+33% year over year)
Activity: 52k Posts (+35% year over year)
Engagement: 4.9B Interactions + Video Views (+50% year over year)
While the data shows significant growth in all areas compared to the same period in 2020, it must be noted that the F1 season was delayed until July, so the 2020 period only contains data from 5 races compared to the 11 included in the 2021 date range. That likely accounts for the strong growth in activity and some of the fan engagement, but the follower growth figure is still excellent, with the average across sports in 2021 around +10%.
The majority of this social media impact comes from the series-owned accounts. Formula 1 series accounts have 41M followers, more than any individual driver or team. 7x champion Lewis Hamilton has the most followers among the drivers with 37M. For comparison, no other F1 driver has even 10M followers. Among the teams, Mercedes (23M) and Red Bull Racing (22M) are the only two teams with over 20M followers, ahead of McLaren and Ferrari F1, both with ~16M followers.
When it comes to fan engagement across the league on social media, the F1 owned accounts generate 60% of the interactions and video views, with teams generating 29% and drivers just 11%.
Among major pro sports leagues, Formula 1 has the 7th most followers on league owned accounts, well behind the NBA's 208M but ahead of MotoGP's 33M (2nd most among motorsports series). Similarly, when it comes to fan engagement so far in 2021, F1 has generated the 5th most among leagues (league owned accounts), and nearly triple that of MotoGP (2.9B interactions and video views compared to 1B), the second most engaging league in motorsports.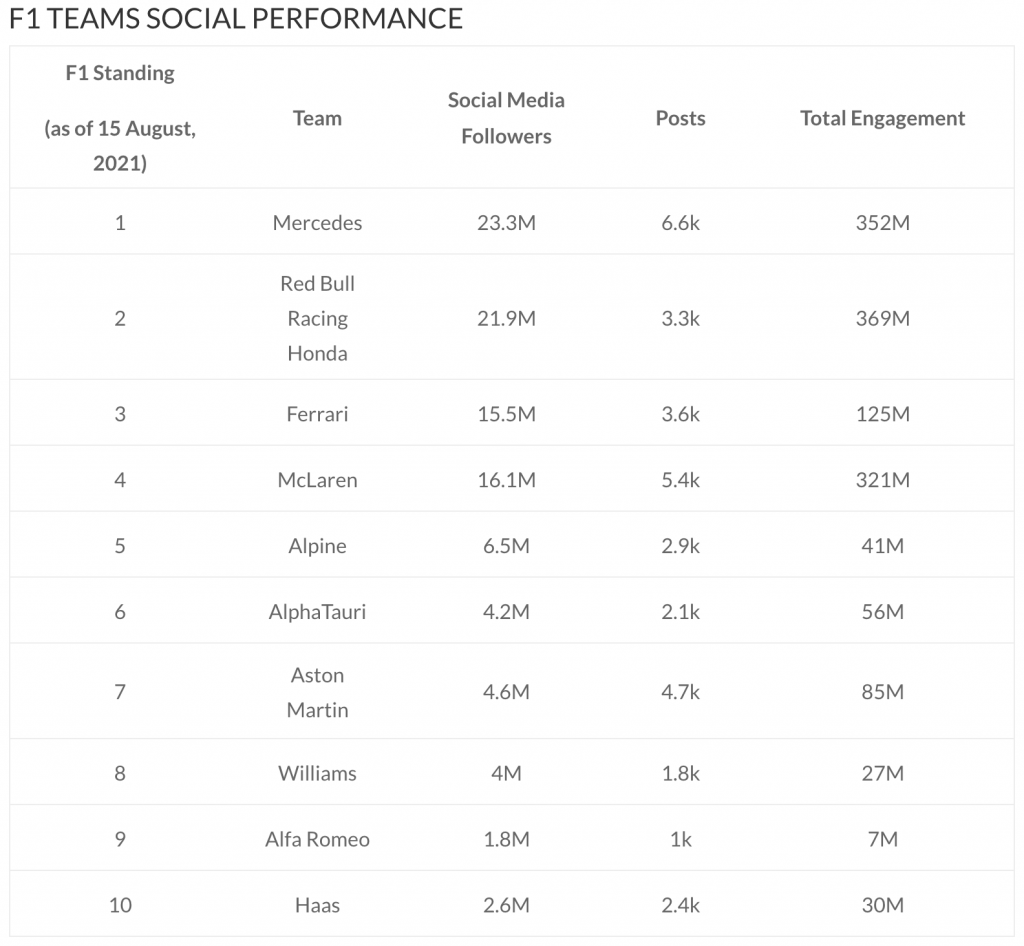 At first glance, it may seem that better performance on the track leads to more fan engagement on social media. The top 4 teams in the Constructor Standings have the most social media followers and total engagement so far this season. However, when looking at engagement rate, or how many fans engage with each post on average, AlphaTauri Honda rises to the top while Mercedes and Ferrari are among the bottom 3. This metric helps indicate how enthusiastic the fanbase is on social media. Another important metric to look at is follower growth rate. Red Bull Racing Honda (3.2M) and McLaren Mercedes (2.7M) have added the most total new followers, but Aston Martin Racing has grown its social media following by 47% so far this season, well above the average among the other teams of 15%.
Looking not just at the total volume of followers or engagement, but at the growth and engagement rate metrics can help a brand see below the surface of a team's social media presence and prowess.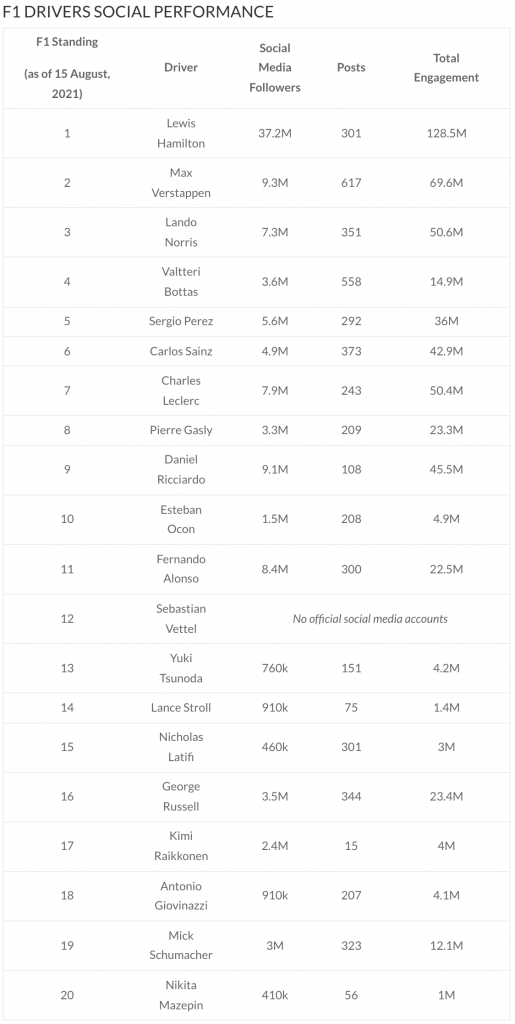 Lewis Hamilton is far and away the leader on social media when it comes to the drivers. He has 4x more followers and generated nearly 2x more fan engagement than any other driver so far this year. He has posted more than a majority of the drivers, but not nearly as often as Bottas or Verstappen who both are averaging over 2 posts per day. Nine drivers have gained over 1M followers so far this year, including eight of the current top 10 (excluding Bottas & Ocon).
BRANDS & SPONSORSHIPS ACROSS F1
Branded Posts: 35k (+36%)
Total Sponsorship Value AAV: $517M (+79%)
Average Promotion Quality: 21% (even)
Among motorsports, F1 is well ahead of other series in terms of fan engagement and sponsorship value generated for constructors and the sponsor brands. This year, from 1 January through 15 August, Formula 1 has rebounded strongly from a challenging 2020, nearly doubling the value generated for constructors and brands combined. Below, we have ranked the Constructors and the Sponsor Brands by sponsorship value received.
Within the Constructors, there is a massive gap from #1 Red Bull at nearly $60M in sponsorship value (AAV) to #9 Haas and #10 Alfa Romeo, both below 10% of Red Bull's value. The average sponsorship value received by Constructors so far this season has been $22M.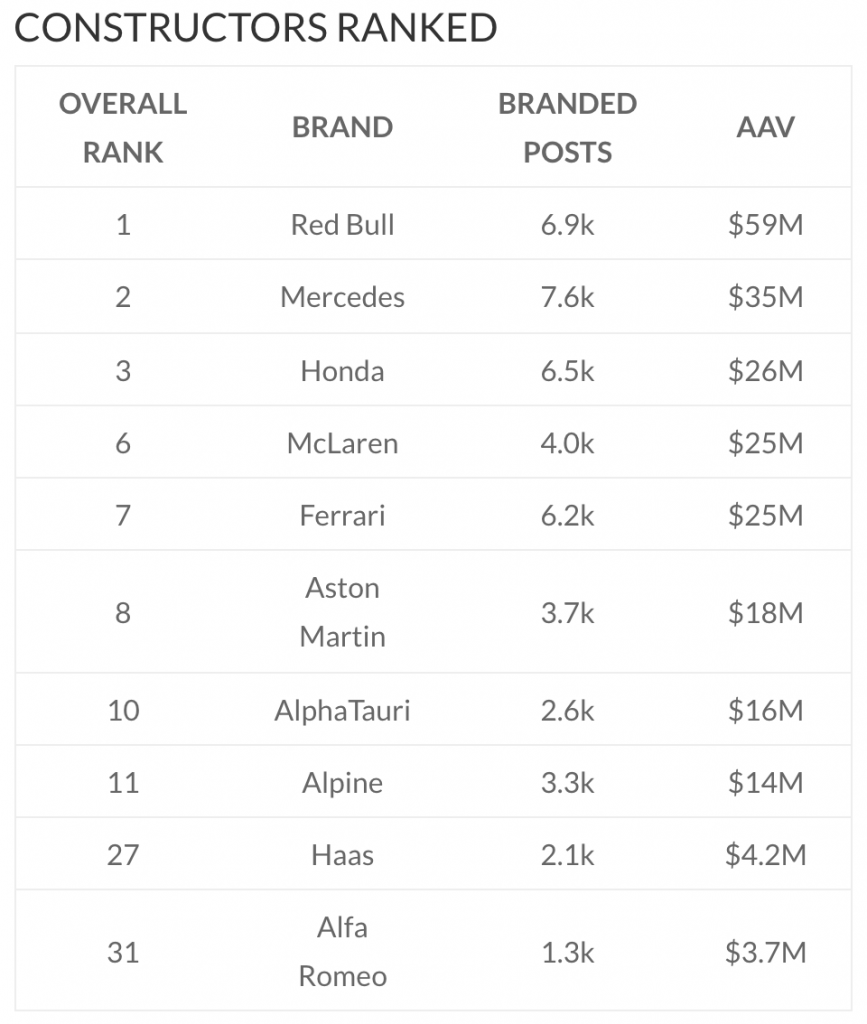 When looking at the sponsor brands, tire supplier Pirelli jumps out with more than double the number of branded posts as any other sponsor brand. This is no surprise as the Pirelli logo is visible on every tire of every racecar, giving the brand excellent visibility. However, by the nature of the sport, those tire logos are often blurry and rarely is the tire brand promoted deliberately (mentioned in the caption), reducing the promotion quality received by Pirelli. This explains how Pirelli only rose to 2nd among all sponsor brands even with the high volume of branded posts. Petronas, the #1 sponsor brand by AAV, also received a high volume of promoted posts, but had over double the number of deliberate promoted posts that Pirelli received, most of which came from team partner Mercedes. In fact, Petronas received the most value from deliberate promotion among all sponsor brands, followed by PKN Orlen and Emirates.
When it comes to drivers, the top 3 sponsor brands deliberately promoted were Telcel (Sergio Perez), Mission Winnow (Charles Leclerc), and IWC Watches (Lewis Hamilton). These direct partnerships with drivers netted these 3 brands a combined $1.5M in sponsorship value AAV.
NOTEWORTHY
TOP MOMENTS
Sponsorship value generated on race day throughout the 2021 Formula 1 season so far.
Thus far this season, the average sponsorship value AAV generated on race day across Formula 1 has been just over $10M. The two leading races by sponsorship value have been F1's most famous race in Monaco and the Grand Prix in Azerbaijan that ended with a series of unexpected events from Verstappen's shocking tire failure to Hamilton's mistake that set up a podium of Perez, Vettel, & Gasly. On 6th June (Azerbaijan Grand Prix race day), F1 drivers, teams, & the series posted over 950 times across social media channels, generating 130M interactions and video views. The top 10 posts on that day from these F1 entities combined to generate over $6M in sponsorship value.
In contrast, GP10 in Great Britain generated the season average value. The main difference was the fan engagement on posts from that day. Both races (GP6 & GP10) saw 900+ social media posts and an average promotion quality of 17%-18%. However, GP10 only generated 90M interactions and video views, 70% of the total fan engagement on posts from GP6. Similarly, GP3 in Portugal saw reduced fan engagement, but also significantly fewer posts (only ~600). This combination led to the lowest total sponsorship value on race day of the season so far.
The main takeaway: incredible moments in the race, especially ones that change the outcome, can have a massive impact on fan engagement and sponsorship value on race day. However, teams posting branded race recap posts are able to capture the day of fan engagement and generate significant deliberate sponsorship value for team sponsors.
SOCIAL PLATFORM ANALYSIS
Platforms matter nearly as much as content when it comes to fan engagement. Across F1 this season, 42% of all posts from drivers, teams, and the series have been on Twitter. However, only 6% of fan interactions and video views happened on those Tweets.
Instagram, where 23% of the posts happened, had the most fan engagement, the most total sponsorship value AAV, and the highest average sponsorship value per post. Across most sports, Instagram is the leading platform in fan engagement and sponsorship value and F1 is no different. However, more unique to F1 is that video platforms YouTube and TikTok have the 2nd & 3rd highest value per post, respectively. This data highlights a major opportunity for more content on these platforms as posts in these channels only account for less than 5% of all posts but over 10% of total sponsorship value AAV.
KEY TAKEAWAYS
Formula 1 drivers, teams, & the series itself have seen significant growth in 2021, bouncing back from a delayed season in 2020. Across the series, total social followers are up 33% from 15 August, 2020 and fan engagement in 2021 is up 50% over the same period in 2020.
When it comes to sponsorship value, the series owned accounts are the major driver, generating nearly ⅔ of all sponsorship value AAV. Five teams have generated more than $10M in AAV so far this season, including the four top ranked teams and Aston Martin. Among drivers, the top 5 drivers by sponsorship value are all ranked in the top 7 in the driver standings as of 15 August.
For brands, Petronas's Mercedes team partnership and Pirelli's series tire sponsorship pushes these two sponsors to the top of the sponsorship value rankings, followed by Rolex, Ineos, & Mobil 1. Two-thirds of the value generated across the series came from incidental logo exposure, proving the effectiveness of logos on the cars and track, but also suggesting huge opportunities for more deliberate brand promotion, especially from the series accounts.