Brands Generate $45m In Sponsorship Value Via Social Media Promotions During Golf's Mid-Season, Says Hookit
By Taruka Srivastav | May 25, 2021
Despite Covid-19, the golf season from 1st September , 2020 till 1st May, 2021 helped over 1,000 brands like Nike, Titleist, Callaway among others generate $45M in sponsorship value (AAV) by being promoted across professional golf (men's & women's) social media.
Hookit in their latest report titled "GOING FOR THE GREEN SPONSORSHIPS IN GOLF: 2020-'21 MIDSEASON ANALYSIS" has analyzed which brands, golfers, and tournaments came out on top across social media. Some of the findings are:
According to the report, the Leagues (PGA, LPGA, European Tour, etc) generated nearly 2/3 of the total sponsorship value for brands, with less than 1/4 the value coming from athletes. The US Open Championship in 2020 was the largest weekend by sponsorship value, which isn't surprising given that it was the first major after play resumed in 2020. Part of this is due to the volume of posts that the organizations generate compared to the players.
The PGA Tour, LPGA Tour, and European Tour each posted over 7,000 times during this period, whereas top golfer by AAV Ian Poulter posted "only" 500 times. Here, Event Promoters include official accounts of The Masters, US Open Championship, and the like. While these accounts see the majority of their fan engagement during only a matter of days each year, they drive significant value for brand partners of these events.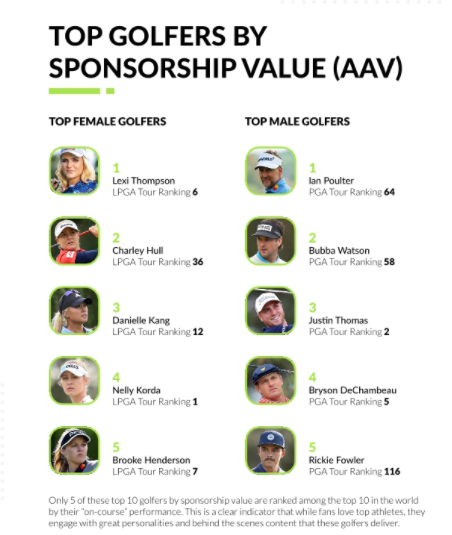 To access the report, please follow this link: https://www.linkedin.com/smart-links/AQG7AvPdiNz9kw/7fc87a3e-2b6e-4213-9e0a-0feceb2b7255
Comment.
NO comments