WTT Signs Double Fish As Global Partner, China Gold Appointed WTT China Partner
February 10, 2022
World Table Tennis is proud to announce that table tennis equipment supplier Guangzhou Double Fish Sports Goods Group. Co. Ltd. has agreed to a Global Partnership agreement until 2023.
"We are very happy to continue our global partnership with WTT," said Sam Zhao, General Manager of Double Fish. "It is our honour to support WTT at different events, and we hope more people would love and join in this great sport, especially for the youth."
The company is a longtime partner of the International Table Tennis Federation and supported WTT's first events. Double Fish provided equipment for the Macao Showcase in December 2020, the WTT Middle East Hub in March 2021, and the inaugural WTT Cup Finals in December 2021.
Double Fish will now provide the Official Ball for the 2022 and 2023 World Table Tennis Championships, one Grand Smash per year, and the WTT Women's events.
"As a leading sports brand that takes table tennis as the core of our brand DNA and one of our key competencies, we would like to see WTT expanding the game globally and launching new events for the female athletes," continued Zhao.
WTT is fully coming to life this year. Grand Smashes are the newest marquee events, set to become the pillars of WTT and the new pinnacle of professional table tennis. The event will deliver the highest-level table tennis with both singles, mixed and doubles competitions showcasing the talent of our highest ranked athletes.
The WTT Women's events include two major competitions: the WTT Women Champions, which will exclusively gather the best 32 players on the planet, and WTT Women Cup Finals is the new unmissable year-ending event.
The 2022 World Team Table Tennis Championships will take place in Chengdu, whilst the 2023 World Table Tennis Championships will be held in Durban, South Africa.
Matt Pound, WTT Managing Director, commented, "We are thrilled to welcome Double Fish as a global partner of WTT, continuing their support of WTT in redefining the sport of table tennis. WTT provides a professional platform for the top female athletes to shine and inspire others. We look forward to developing the sport of table tennis with Double Fish."
China Gold Appointed WTT China Partner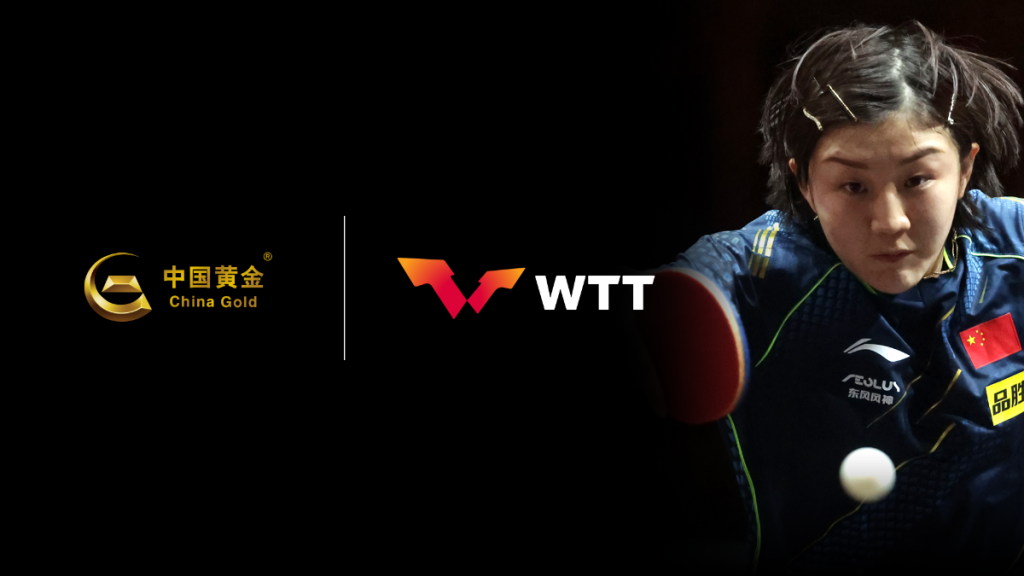 World Table Tennis (WTT) announced that China Gold has been appointed as a WTT China partner for 2022. Through this strategic partnership, China Gold looks forward to working closely with the organisation to promote nationwide healthy living and further drive the development of table tennis.
As part of the agreement, China Gold will receive brand exposure, ticketing and hospitality opportunities, and fan engagement rights at all WTT events held in China. In addition, China Gold and WTT will cooperate to enhance the trophies for the WTT Champions event.
Chen Xiongwei, Chairman of China Gold, commented, "As a state-owned enterprise, China Gold has always advocated the ethics of courage, hard work and a positive outlook. We believe that good faith can move mountains. Through our partnership with WTT, we would like to pay tribute to the spirit of continuous excellence table tennis embodies while carrying out China's national strategy of promoting healthy living among its people. Gold glitters, and so does the enduring spirit of a sports champion. We look forward to integrating the two and further promoting the development of both industries through our partnership with WTT."
China's leading gold and jewellery brand, China Gold has become a household name associated with genuine products and quality service. The brand is well established as an industry leader and a key innovator, with 30 brand service centres and nearly 4000 stores nationwide. With products that encompass all categories and age groups, China Gold truly lives up to the idea of "Gold for the People, Blessings for All".
Matt Pound, WTT Managing Director said, "It is our pleasure to welcome China Gold as WTT China partner. As the leading gold and jewellery brand in China, I am certain China Gold will work closely with WTT and our table tennis fans to develop the sport further, conveying China's table tennis culture and sportsmanship to the world."