"Working With These Social Partners Does Give Us Access To An Audience Which Is Different"
By Taruka Srivastav | July 14, 2021
Discovery today unveiled their new look 'Cube' technology that will form the base of their Tokyo 2020 coverage across Europe, iSportConnect were in attendance to witness the unveiling and spoke to Discovery Sports' President, Andrew Georgiou, and Senior VP of Content and Production, Scott Young.
Discovery, the official broadcaster of the Olympic games across Europe, has strengthened its broadcast offering by introducing the extended reality Cube studio which will be the centre-piece of Discovery's coverage of Tokyo 2020 showcasing new software and motion graphics thus giving viewers the chance to deep dive into the details of why an athlete won gold.
With no spectators allowed at the Tokyo 2020, and a much more minimal media presence allowed within the Japanese city, Discovery have been looking to create new, innovative ways to watch sport, the latest being through the Cube.
The launch complements International Olympic Committee's plans for ensuring unprecedented broadcast coverage and digital innovation to connect fans around the world to Tokyo 2020.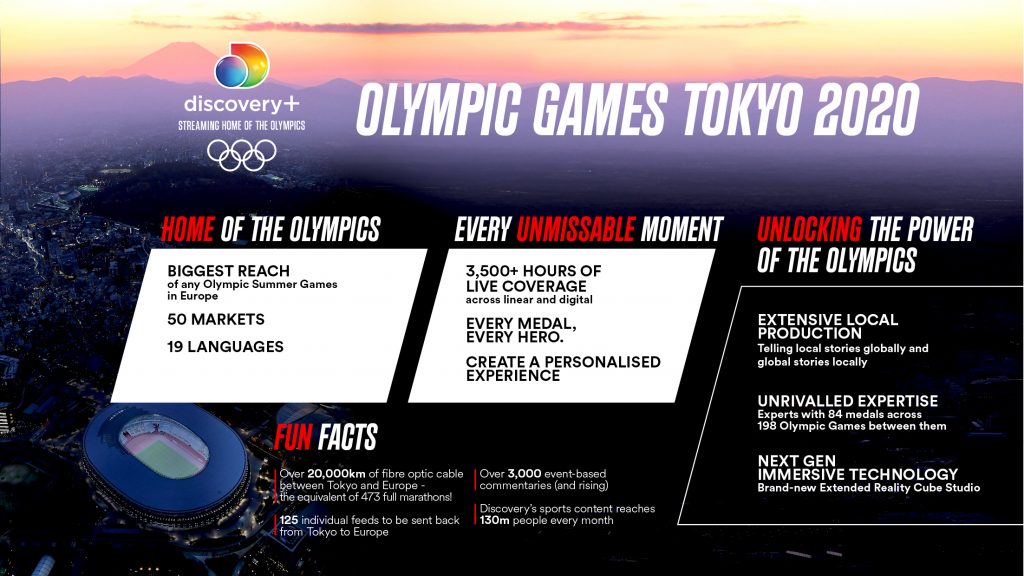 The multi-location Cube studio for Tokyo 2020 will also feature up to seven different immersive real-time video environment locations, bespoke 360-degree beauty shots of Tokyo as visually stunning backdrops, newly-released 3D Zoom software to allow viewers to see wider and more spectacular panoramic views of Cube locations and a virtual set extension with cameras able to roam around the digital environment.
iSportConnect's content team was part of the virtual launch which took place this morning where Andrew Georgiou, President of Sports, Discovery was joined by Scott Young, Senior VP of Content and Production, Discovery Sports to explain about the immersive technology.
"Our mission for Tokyo 2020 is to unlock the power of the Olympics." – Andrew Georgiou
Andrew Georgiou said: "After a challenging 18 months, all eyes will be on Tokyo next week, as the most eagerly anticipated Games in recent history finally get underway; and Team Discovery will be working hard to deliver the ultimate Olympic experience for all our viewers across Europe."
"Our mission for Tokyo 2020 is to unlock the power of the Olympics. Innovative, immersive technology such as the Cube is one of the ways that Discovery will enable the audience to take this journey with us. The Cube will be a significant part of what makes our coverage unique, alongside an unrivalled line-up of sports stars and experts, spanning our key markets.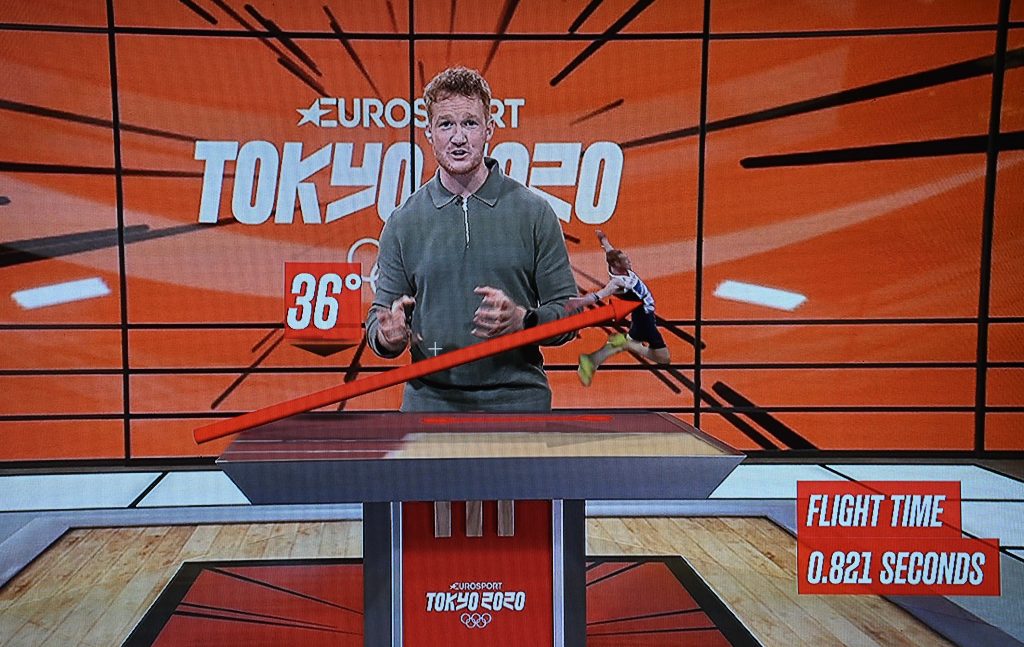 "As the Streaming Home of the Olympics across Europe, we've been building up the excitement with a stunning array of Road to Tokyo content; and in Tokyo we will be broadcasting every unmissable moment of every sport throughout the Games so fans can create a personalised Tokyo 2020 experience live and on-demand."
When asked by iSportConnect's Ben Page as to how the Cube technology has allowed Eurosport to be able to keep the numbers on the ground in Tokyo down, Scott said: "I think the ability of remote production, signal distribution around the world and a little bit of common sense has started to play into this. Tokyo was delayed by a year and we had a chance to look at what we were doing.
"What is the best way to connect the Games to our different platforms for different audiences. Sending the most people to an event doesn't necessarily get you the best sporting connection with the athletes. We've got very strong production bases in key markets across Europe, and to not rely on that and to not rely on those people seems to be missing an opportunity, so sport around the world now is about connecting the sport back to the main production hubs, and then creating the best distribution possible."
"There was a lot of conversation about virtual fans, in audio and in vision. They're working on this pretty quickly, we're having meetings about every day reacting to the current situation here in Japan." – Scott Young
"I think the pandemic has accelerated the ability for where remote production can really help, but I think it'd be remiss to say that we're doing all this because of COVID and the remote production, it creates a far better opportunity for us to create more content across more platforms."
Discovery have also worked to secure partnerships with a number of high-profile partnerships with a number of high-profile social media platforms, with Georgiou stating: "We've launched a partnership with YouTube just recently, we've got partnership with Twitter and Snap. We're working with these platforms, that's part of our ambition to give access to the games to the biggest audience ever in a European context for Summer Games.
"If you think about our platforms, how they complement the national broadcasters, or our own commercial free to air networks in some markets where we're covering the games ourselves, there's the opportunity to think about the different demographic of audience, where they like to consume and how we then might tease them back onto our own platform.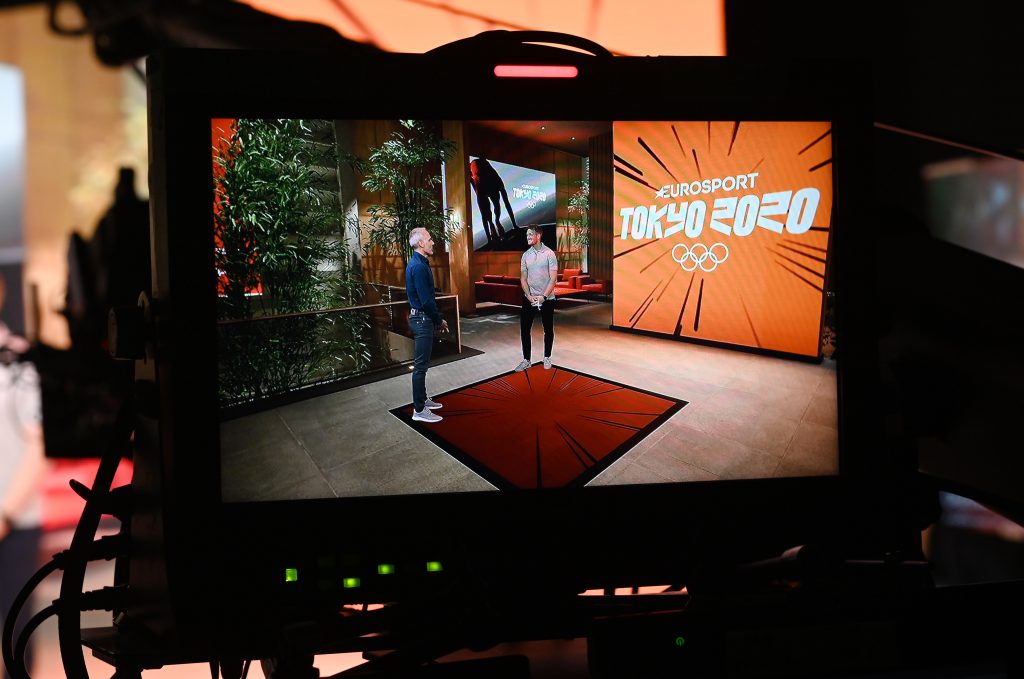 "So working with these social partners does give us access to an audience which is different to the kind of audiences we traditionally get. I think we can give them a taste of the Games and entice them back onto our platforms, so the social partners are fundamentally important."
When asked by iSportConnect if there was to be virtual crowds during the games, Young added: "There was a lot of conversation about virtual fans, in audio and in vision.
"That is not a small undertaking, that amplifies the complexity of the Cube off the charts. Everybody was confident that there would be enough fans in the venues that it would create an atmosphere. We didn't expect it would be the atmosphere of a full Olympic games, but there would be an attendance, and unfortunately that has changed for the safety of the local people here.
"The IOC and OBS have looked at how they're going to introduce virtual crowd noise, it's going to be done a little bit differently to football matches. It's not an additional audio channel we will add. It's going to be something that's going to be introduced as an effect that will be part of the overall atmosphere mics that would have been there to capture the audience anyway. They're working on this pretty quickly, we're having meetings about every day reacting to the current situation here in Japan."
Discovery's coverage of Tokyo 2020 will be broadcast on multiple platforms, including discovery+, Eurosport and Eurosport App. Discovery also boasts of partnerships with YouTube, Twitter and Snap to give access to the games to the audience of the games.