Will COP26 Provide Adequate Change From The Sports Industry?
November 12, 2021
iSportConnect's Abid Qidwai asks if the COP26 Summit will be enough for sport to become more sustainable…
With the effects of climate change becoming more and more visible to mankind, we as the habitants of earth have a responsibility towards protecting mother nature. We know the cause of current climate change is largely human activity, this has been widely addressed before, but since the carbon footprint does not seem to be on a halt, stricter measures are needed immediately.
Despite COP26 not being on any international sports calendar, the event has been attended by representatives of national and international bodies and sporting organisations. But will the summit have provided the change required once it is all said and done?
Among the speakers was Georgina Grenon, the director of environmental excellence for the organising committee of Paris 2024. With less than three years to go before the event, Paris 2024 has set itself up as a leader in this class. After presenting the policy of Paris 2024 in terms of sustainability, she explained that the Organising Committee was committed to halving its emissions by 2024 and completely offsetting them over the same period. The IOC has made a commitment through its president, Thomas Bach, to reduce its CO2 emissions by 50% by 2030. "We will achieve this goal six years earlier, for the Games of 2024," assured Georgina Grenon.
Nearly 300 sports organisations are signatories to the Sport for Climate Action (S4CA) framework, she said. "We are now challenging them to reduce their emissions by 50% by 2030 at the latest, and then to achieve net zero emissions by 2040. They must also commit to submitting plans outlining the concrete actions that will be taken to implement the 2030 targets. They will have to publish annual updates over the next eight years".
In the current situation, where decisive action on climate is more urgent than ever, Albert II, Prince of Monaco, reiterated: the next editions of the Olympic Games have all committed to being carbon neutral. "Starting in 2030, the IOC has mandated that all Olympic Games must be climate positive," he insisted.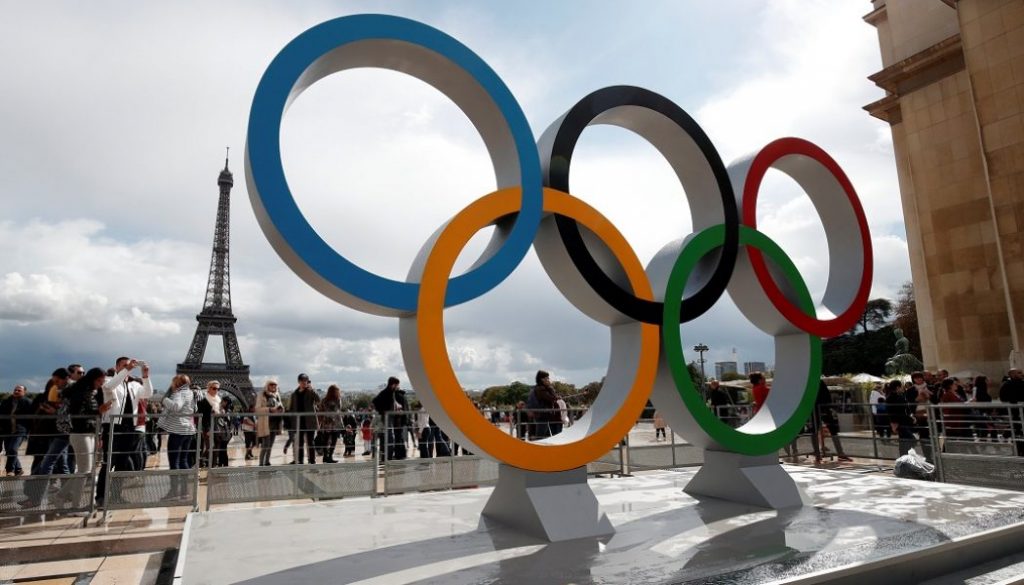 Joining the calls for action as world leaders meet at the UN Climate Change Conference (COP26) in Scotland, FIFA has committed to a leading role in the world of sport by confirming its pledge to the United Nations Framework Convention on Climate Change − Sports for Climate Action Framework. It is no coincidence that FIFA issued a statement on the same day detailing its climate strategy. The international soccer body also wants to be at the forefront. "This is a critical moment. The change in weather patterns is impacting the environment and its rich biodiversity, food security and access to fresh water, as well as the health and well-being of individuals," said FIFA President Gianni Infantino in a video address to the delegates gathered in Glasgow.
FIFA is committed to respecting the UN's demands, a reduction of half of the emissions by 2030, then net zero emissions in 2040. It recalls having concluded an agreement with Qatar to organise a carbon neutral soccer World Cup next year. The terrain will be favourable, with the stadiums for the global tournament all concentrated in and around Doha. But the task will be far more complex for the next edition, which FIFA has awarded to the United States, Mexico and Canada, with thousands of miles to fly for teams, officials, media and spectators.
When it comes to sustainability, professional soccer is struggling to put the fine words of its international leaders into action. Recently, Manchester United was criticised on social media for flying its team to Leicester, only 85 kilometres away, for a Premier League match, but exceptions like Forest Green are the trailblazers in this area. Their ground in Gloucestershire uses only renewable energy, rainwater and cooking oil are among the things recycled at the stadium and there are charging points for electric cars and a park and ride scheme.They were recognised by Fifa in 2017 as "the greenest football club in the world" and in 2018 became the first carbon-neutral football club, as certified by the United Nations.
The FIFA Climate Strategy consists of goals that will put FIFA on the path to climate-friendly performance, to protect FIFA's tournaments from the negative climate change impacts, and to ensure climate-resilient football development across FIFA operations and events by 2040.
"We, as inhabitants of this planet, must all make this our priority," added FIFA Council member Isha Johansen in addressing the Sports for Climate Action − On the Race to Zero session at COP26. "Football also has the power to radically shift mindsets on climate change and mainstream climate action. We have a huge, attentive audience and it is our duty to amplify these key messages. We will help educate fans on climate change and encourage them to play their part in protecting the planet and the beautiful game."
How to be a sustainable sports fan (ways to reduce your carbon footprint)
Walk, cycle or use public transport to the game
Go paperless – A printed ticket involves a receipt and an envelope at least, as well as carbon emissions involved in transporting it to you. Some clubs like Liverpool and Tottenham do not have single-use plastics, while Manchester City have trialled edible coffee cups.
A shirt made from polyester (as most football shirts are) has more than double the carbon footprint of one made from cotton (5.5kg of carbon dioxide per shirt compared to 2.1kg). In the UK, continuing to actively wear a garment for just nine months longer could diminish its environmental impacts by 20-30%.
Huge numbers of sporting organisations have reacted to the COP26 Summit by stating that they will become more sustainable, achieve net zero and so on, but what will truly be telling is whether those words are followed up by actions.
We have a moral, urgent duty to accelerate our actions, if we wish for the impact to not affect our children and their children, and hopefully many generations more, then the motive and commitment towards protecting the climate should be taken seriously and adapted by all. Let's hope COP26 can provide a solid step forwards.