"We're Aiming For WOW HYDRATE To Become First To Mind When People Think About Healthy Hydration"
By Ben Page | October 28, 2021
iSportConnect recently spoke to WOW HYDRATE's Managing Director Jon Hayman, to discuss how the drinks brand looking at providing benefits to athletes at both the amateur and professional level are looking to grow and expand, and are using authentic partnerships with athletes such as Tyson Fury and Kevin De Bruyne to do so.
Explain to us how WOW HYDRATE started and what makes you a unique brand?
I always refer to us as a startup, despite the fact we're far beyond that in terms of where we sit in the marketplace. Our two founders both come from outside the food and drink industry, but what they recognised back around 2014/15 was that there was going to be a shift towards drinks more focused on health and wellbeing.
They realised the options for sugar-free drinks were very limited, and the original focus was looking more towards the children's market. How can you get children to drink sugar-free drinks? So they set about the campaign to look into what was available and how they could compete.
"Vitamins that are exposed to temperature, light and moisture increases the rate in which that are degraded by chemical reaction, so by storing the ingredients inside our cap, we are able to contain the strength of them. This means that consumers can benefit fully from our ingredients."
But what we discovered at the time was that while we had identified the children's market as a good opportunity, worldwide there isn't a brand that is health orientated around wellbeing in sport. People like BodyArmor in the US or Lucozade in the UK, none of them are truly recognised as that health brand and healthy hydration. Therefore sport became the key focus.
Our USP is our push-cap technology. We store our ingredients inside the cap, and when consumers are ready to drink WOW HYDRATE, they simply have to push down the red button on the bottle, shake the drink and watch it change colour.
Vitamins that are exposed to temperature, light and moisture increases the rate in which that are degraded by chemical reaction, so by storing the ingredients inside our cap, we are able to contain the strength of them. This means that consumers can benefit fully from our ingredients.
We're therefore working towards our ambition to create this new category with our two product ranges. We have an electrolyte water, which is for pre and during training, and then we have a protein water for post-training. There are currently electrolyte waters available, they're very big market share, and there are protein waters available, but nobody around the world is marketing a purely sports-based drink.
The next thing we're aiming for with WOW HYDRATE is to become first to mind, so when people do think about healthy hydration, not only in sport but primarily in sport, they say 'WOW HYDRATE'. Now that's really difficult, we're a new company who rebranded in 2018, so really we're just coming up to three years old, but our aim is to become that first thought.
You have some high-profile athletes who you are working with, where do these partnerships come from and what is the key for you?
One of the reasons that we use elite ambassadors is because we recognise that through associations with them, we can get our brand name across, showcasing WOW HYDRATE as the healthy hydration market leader. But what is absolutely critical for us is that they are genuinely partnerships with purpose, all of our ambassadors and partners are people we're already working with.
When you look at somebody like Tyson Fury for example, we knew Ben Davison, his coach while he was undergoing his big weight loss journey for his successful return to boxing. Ben liked and understood the drink and introduced us to Tyson, who then started to use it in his everyday life for his training regime and lifestyle routine. He then approached us saying 'I really like the brand, I want to work with you'.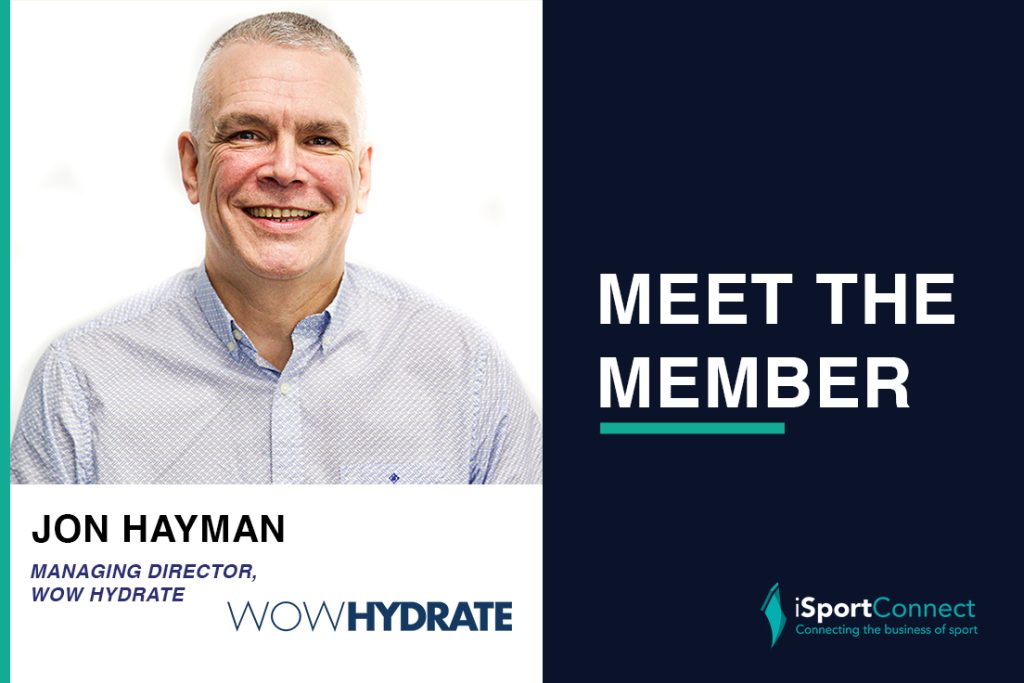 That's our approach with everybody we work with, because that gives us authenticity as a brand. Everything about our brand is the quality of the product. When we look at Tyson Fury and what he does for the brand, he goes above and beyond what many ambassadors would probably do, based on the fact he's engaged with the brand and loves the product.
Through our creative campaigns, our ambassadors are great at helping us to spread our message, educating consumers on the benefits of our drinks.
Do you think that the athlete, whether it's a Tyson Fury, Kevin De Bruyne or others, becomes the most effective marketing tool for the person on the street as they see the benefits it provides to them?
Definitely, if you see a player or team getting onto a coach with the drink in their hand, that is an activation to us and important because we recognise consumers are becoming more and more savvy to what an ambassador is in comparison to an influencer.
I would class an influencer as someone with a bottle of WOW HYDRATE who's holding it up and smiling because they've been paid for it. Whereas what we want is people that are actually using the drink genuinely. The authenticity is so important to us, and if you follow our stories on Instagram you will see lots of people that are using the drink in their everyday lives.
You mentioned the innovation in the drink's cap at the beginning. Once it drops in, is there an ideal consumption time in order to get the most out of the product?
In terms of that reduction in effectiveness of the vitamins, that's more generally from when a drink with those in has been sitting on a shelf or in a warehouse for three to six months, rather than needing to use it immediately, but in hydration for sport and maximising performance, there are absolutely plans to ensure effectiveness.
"It's a difficult communication piece about how those benefits work for the person that trains twice a week or plays football on a Saturday afternoon."
There are hydration plans that sports people would stick to, but the people that we want to have with them currently have no access to that information. It's a difficult communication piece about how those benefits work for the person that trains twice a week or plays football on a Saturday afternoon.
Not only then educating them about the benefits, but secondly the hydration plan of 'when should I drink it'. Now that's complicated and we're still learning the messaging and how best to communicate it as we go along. Because our aim is to be a mass market brand, we don't want to be seen as a scientific brand even though our products have scientific elements.
The electrolyte water works for everybody, anywhere. Playing sport, in the workplace, it doesn't matter, you're replacing vital vitamins that you use in your everyday life. It would boost anybody at any time during the day. Most people, when they think of a food or beverage with benefits, they feel there's a compromise in the taste or flavour. What's critical to us and what we also focus on is tasting good.
So not only are we saying to people, if you're going to drink water then drink water with benefits, actually if you're going to drink any drink, as long as it tastes good on consumption you might as well drink the one with the benefits. Therefore the taste of the product is really important to us.
I suppose it's like the child at the dining table who doesn't want to eat his broccoli because it doesn't taste good despite it being good for you? If it tasted like a burger they would…
It is. When you go into a store you probably know what you want to buy beforehand and it will be based on flavour, you're going to buy one that tastes good. That's fully understandable. But we've got to educate people that ours actually tastes really good and that's the idea of it. It is a drink with a benefit that sits against water, fizzy drinks and the existing sports drinks.
With your partnerships, are there any metrics in particular you are searching for, how do you kind of chart their success?
How we measure our success is ultimately via the engagement and feedback that we receive both from in the industry and online. We will do certain activations like competitions and giveaways, and see whether our page views increase, or if we post about people it's the number of hits, all the standard metrics.
Another key for us is how it's received by our retail partners – our ambassadors and the work we do with them are always good for retail partners. Recently we have done an activation with Harry Maguire promoting grassroots clubs in association with Tesco – the fit there is important as well.
In addition to all this though, is the work that we do with certain teams that we don't even really speak about. Despite the fact we don't have any Premier League team associations currently, we do actually supply drinks to a number of them.
As we don't have the marketing ability or rights to say that we're supplying drinks to these teams, we actually sell the drinks to them. So we've got a huge number of clubs using these drinks but we don't actually supply those drinks for free.
That may lead in time to us finding a couple of clubs that we do want to work with in terms of doing a commercial deal in one, two or three years time. Coming back to what's really important, it's people that are already using the drinks, that's the metric for us. How are they using them? What is the feedback that we get from them? What is their engagement with the brand?
You've just announced a new deal with BOXXER, where you're also going to be working with the sport at a grassroots level. Is that a way for you to feed the product in more easily with amatuer athletes to help with the educational piece behind the drinks?
Absolutely, and the laudable piece is that we want to draw attention to grassroots and support grassroots, which we already do with a large, large number of clubs across many sports, but we don't use that as a marketing tool.
We're trying to help teams that need help as well of course, we also recognise that it is a great way to start educating people at that level.
Our most recent grassroots campaign involved teaming up with Harry Maguire and Tesco to provide 500 grassroots football teams with a free three month supply of WOW HYDRATE. With so many teams having suffered over the last year and a half, we wanted to be able to give back, and we were so pleased when we found out that Harry was on board, too. In November, we will also be announcing a winner of the campaign – both us and Harry Maguire will be sponsoring their team for a year.
The mass market sits at grassroots, we all know that, it's where our core market is always going to be as we're here to sell drinks. But yes we understand that going back into grassroots and educating at that level is one way we can get the benefits across.
We do actually have ambassadors at all levels, which is something we've done from day one. For example, we took an amateur boxer who nobody had ever heard of, Dennis McCann, who is superbly talented and may end up becoming a world champion.
"We're already available in GCC, but we're looking to expand further in the Middle East… And of course, like everybody we've got eyes on the USA."
There's many we're supporting that we don't discuss, at both academy and amateur level, who are associated with the brand. So while association with elite athletes matters, we only see the elite athletes as the top of the triangle.
Finally, what are your next goals as a brand? Are you looking at international expansion and partnerships with overseas athletes or is that potentially further down the line after establishing a big UK base?
The fundamentals of the UK office is to establish ourselves in the UK. The UK grocery industry is recognised as being one of the most difficult in the world for new brands to launch and be successful. We have to put a lot of time and focus in here to make sure that we're successful and grow to the level that we're aspiring to.
That said, international expansion is a goal. We're already available in GCC, but we're looking to expand further in the Middle East. In-depth discussions are ongoing about a potential launch into India through 2022, which is really interesting trying to identify talent that will be able to help us promote the brand in the right way. Cricket's an easy sport to pick but there are other sports in India we'd want to have.
And of course, like everybody we've got eyes on the USA. We already have an office and legal entity in the US and under the radar we're working with the rugby 7s international side and a number of soccer teams. But this is mainly about feedback on the product and a couple of scientific studies we're doing so that when we launch in the US it will carry credibility as to the benefit of the drinks.