"Everyone Is Looking For Solutions – This Is No Longer Just About 'Ticking A Box'"
March 22, 2021
George Strong co-founded Veraco in 2020 in response to the COVID-19 pandemic and their first products included a range of certified antimicrobial wraps and door pads. As stadiums slowly start to reopen, Veraco have become the supplier of Wolverhampton Wanderers. iSPORTCONNECT spoke with George to find out more about the deal and the product.
What are the services which Veraco offers?
We manufacture antimicrobial products that make touchpoints more hygienic and safer to use. We use Silver Ions technology that breaks down the biological makeup of dangerous pathogens, reducing microbial growth by up to 99.99%, as well as being effective against Human Coronavirus. The products are easy to install, long-lasting and can be customised to suit different environments.
What are the challenges you face?
This technology is not new and has been used in critical care for some time, but now it has much broader important relevance. However, education around how this technology works and the role it can play in creating safer environments is still needed. We have all learnt that there is not one single solution to deal with this and future pandemics and we see our products as a valuable tool alongside measures like social distancing and hygiene.
Every day, without thinking, we all touch the same doors, handrails and touch screens, the list of frequently touched surfaces is endless. Of course, we are much more aware that viruses can spread on surfaces and the importance of good hygiene. However, cleaning can't be done continuously and people can forget to clean their hands. What is important about our products is that they work 24/7 on touch, providing an important line of defense. Helping people understand the important role products like ours play is our biggest challenge.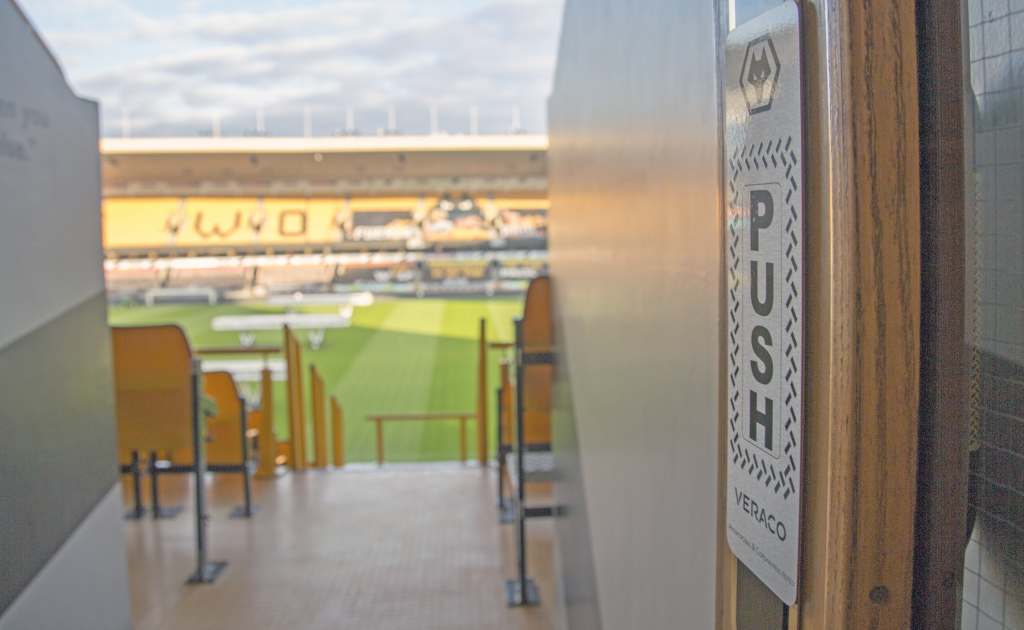 Tell us more about the partnership with the Wolves. Was the sports vertical the obvious choice?
Absolutely, we profiled stadiums as an obvious focus. It is critical that football stadiums do everything they can to create safe environments for fans and employees. As football authorities and clubs prepare to welcome back fans, multiple measures need to be in place to satisfy fans that they are doing everything possible to protect them, as many will be anxious about being in big crowds again. Wolves recognised the importance of doing this and see our products as a very important tool going forward.
The demand for hygiene in the sports realm has shot up due to covid. What has been the response so far?
The people we have spoken to are deeply focused on ensuring fans, players, staff and media personnel are protected the best they can. Everyone is looking for solutions that will help with this – this is no longer just about 'ticking a box' and clubs and sporting associations who go above that will certainly benefit.
Hygiene around touchpoints is essential where large numbers of people are repeatedly touching the same points. It is well documented that viruses spread through droplets that land on surfaces, but so far solutions that address the actual surface have been overlooked in favour of hand sanitiser and cleaning. Stadiums have multiple high-frequency touchpoints across staff and fan areas like rails, turnstiles, touch screens and doors that have to be protected. Cleaning cannot be done continuously so protecting the actual surface is a logical backup.
What are your future plans for Veraco?
The antimicrobial industry has become one of the fastest-growing industries over the last year and it's likely to continue to grow at a rapid rate. Every crisis triggers innovation and this pandemic has seen an abundance of that from businesses and individuals all over the world. In many ways, the financial crash in 2008 triggered the fin-tech revolution. This crisis is no different and antimicrobial innovations will continue to develop. We are already talking with many architectural firms and consulting with them on how this technology can be best leveraged in a way that means new buildings will be developed with this technology built-in.