"We've Already Been Taking The Next Step" – Formula E Sustainability Director Julia Pallé On What Comes After Net Zero
By Ben Page | November 11, 2021
With COP26 coming to a close at the end of this week, iSportConnect spoke with Julia Pallé, Sustainability Director at Formula E, who has been representing the organisation at the event in Glasgow to showcase sustainability in elite sport. Julia discusses the recent ISO20121 recertification, how Formula E impacts the wider world and more…
How did you become involved in the sustainability side of sport, did you enter from working in the sustainability sector?
Yes, I trained as a sustainability professional, but I did also train in business school on sustainability seen from the business environment. By chance I happened to start working in motorsport for tyre manufacturer Michelin. My focus was work in heavily polluting industries, because that's where you have the most potential to create a positive impact.
"It's so important for sports because it has always had this 'sport for good' mentality. There's something that goes beyond just the game and carries strong humanitarian values."
Motorsport seemed to be a perfect environment around ten years ago because that was not really the environment you were not expecting to have a true sustainable and authentic approach. After three years at Michelin, I was recruited by Formula E to carry out a similar role at the championship and that's how everything started eight years ago.
You have been talking at COP26 this week on behalf of Formula E, but why is it so important for sport to make a difference and what's the role sport has in creating a more sustainable world?
I guess it's so important for sports because it has always had this 'sport for good' mentality. There's something that goes beyond just the game and carries strong humanitarian values. Going back to the challenge we're facing in relation to COP26 looking at climate change, we know – as it was noted down by the United Nations a couple of years ago – beyond the negative environmental impact of sports events, the huge, huge positive impact that they can create is that they captivate the heart, mind, body and soul of their fans.
With billions of people, fans of sport, either watching or coming to the event who are inspired by the practices that are being showcased, that's why collectively sports need to play a very strong role in tackling climate change and walking the talk, showing what is the right thing to do for their fans and their audiences.
As you were just saying about the size of sport, because it is such a big industry and involves things like travel for teams and players constantly that creates a lot of emissions, so there is a lot that can be done within it at the same time.
Absolutely, I'll echo back to what UNFCCC have done with their Sport for Climate Action Framework, where they put in place these five initial guiding principles to showcase what can be done in terms of measurement and reduction in terms of impact.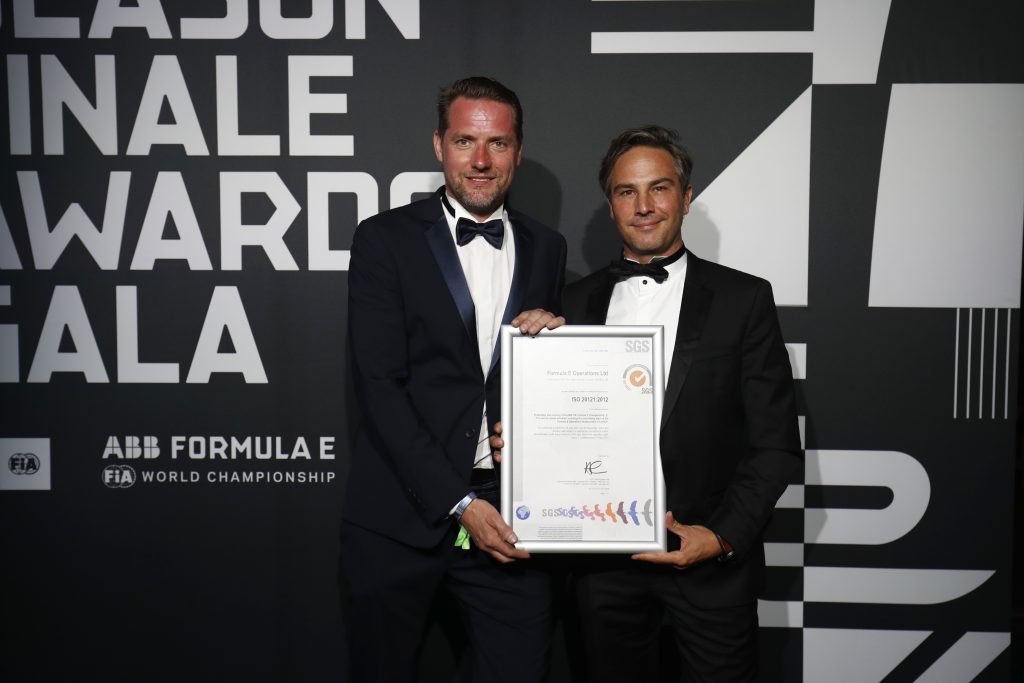 It's a great initiative and while there still needs to be a bit more ambition, even amongst the signatories, but also more widely in the sports industry there is a lot to do to be authentic. To inspire people to change you need to have your own house in order before telling the rest of the world what can be done.
Leading on from that, Formula E were recently recertified with ISO20121, the only motorsport that has done so. How does that showcase that Formula E is leading the way by having that certification and really backing up the words.
The first thing is ISO20121 is the international standard for sustainable event management and it has now been over four years that the championship has been backed up by the highest standard, verified by a third party. Three times a year at our events we check to ensure we deliver our races in accordance to the standard and the auditor is expecting continual improvement, so year on year we do more.
That basically means our championship is aligning with the overarching reason we were created, to help advance potential solutions for mobility issues that are generating air pollution and CO2 emissions but at the same time the way we use this platform, it's inherently sustainable itself. We try to provide, in a way, the future to our fans, a sustainable future that is going to be extremely exciting.
Most people will see Formula E and on the face of it think much of the project is just the cars being electric, but of course there is much more to it than that. What are some of the other aspects that are making the championship sustainable?
On the ground the examples are the renewable energy that we use for power, the fact that there is no plastic bottle to the fact that there are vegetarian options and so on. We get a day out to showcase that it's just not doom and gloom, there are solutions to live a sustainable life, which may be the coolest thing actually.
It's also a really holistic sustainability approach, what I've just mentioned are classic environmental measures – I say classic, in reality it's still difficult to implement for 12/14/16 races in a row in just eight months – but there's also the social side, we work a lot in the local communities that are hosting us. We invest in our carbon offsetting projects that were all renewable energy generation projects that were giving back social benefits to these local communities.
"Another element is where we work extensively with our teams and our partners so that we align all our sustainability strategies and make sure that we keep growing the credentials of the championship."
The day before a race, we host a group varying between 100/200 local people from neighbourhoods, local businesses, local schools, local students, so that they understand it's much more than the race and it's an opportunity to change your city. We organise what we call 'girls on track' events where we try and promote STEM activities and STEM careers to girls from the local community with diverse, social backgrounds. Because we know that one of the problems with motorsport is that it's a very white male, rich-dominated environment and we want to break that barrier and show them that they can picture themselves being an engineer, a mechanic, a journalist or even a racing driver.
Another element is where we work extensively with our teams and our partners so that we align all our sustainability strategies and make sure that we keep growing the credentials of the championship. One example is Heineken last year revealed their greener bar, a completely new concept of a bar conceived with the principles of circular economy, so everything was recyclable and recycled – a world first in their industry. They did that in partnership with us and some of our other partners, which is something we're very proud of, because we're showcasing a complete change in the industry which is going to be scaled up at other events. It's not the pride of being part of that and saying it's from us, it's the pride of showing that it's possible and it can be replicated.
There's also a lot more backing from the younger generation who are riding the wave of sustainability a lot more and forcing big brands to change by saying 'Look, your products need to be more sustainable or we'll go and buy something else'.
It is, because like you say we're seeing them say 'we'll find something else' now. That's why we did this partnership with UNICEF over three years. It's a long term commitment because we want to empower the next generation to be the agents of change. The climate crisis is a children's crisis. We are messing up our planet today, but those that will have to bear the impact are the young generation.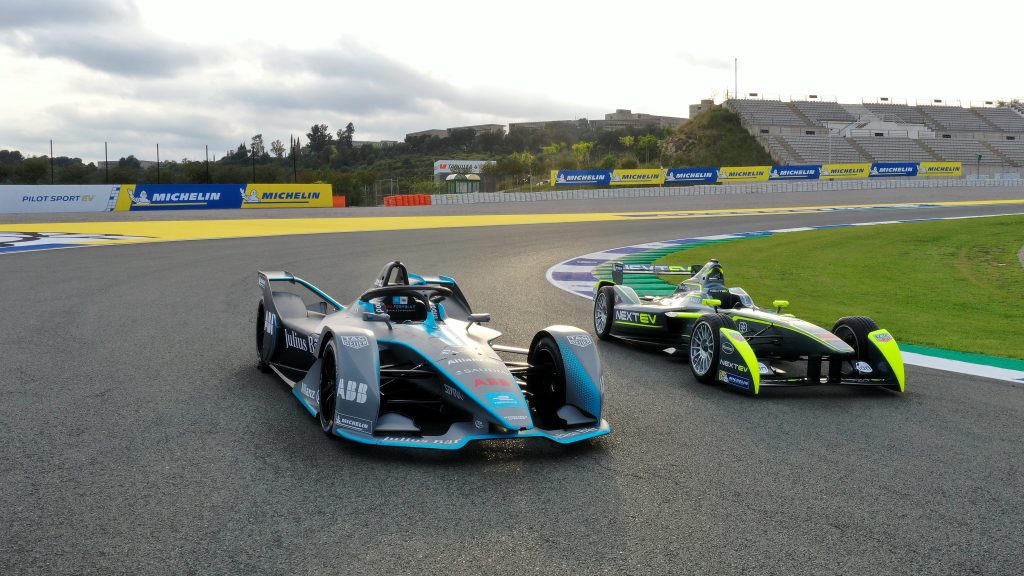 Those who are kids today obviously don't have any voting rights, but they can lobby to be listened to and so on. And so it's very important to us to have this partnership with the safe and healthy environment front of UNICEF, where our aim is to impact three million children positively over this three year partnership so that they can have the tools to fight climate change.
How important do you think it is that some of the world's major car brands like Nissan, Jaguar Land Rover and Porsche are part of this championship, hopefully showing their commitment to creating a planet?
It's critical from all the different perspectives possible. It's critical for them to be relevant on the road, because we know that countries are stopping the sale of IC (internal combustion) cars.
So in simple terms if this major car manufacturer wants to keep selling cars, they will have to develop EV (electric vehicle) equivalents and the best platform for them to develop the technology, test it in a very intense mode, and then showcase the product and the reliability to consumers is Formula E. So that's why it's so important for them to be associated with us.
What do you think that Formula E can do for the wider world to from a sustainability perspective? We've seen technology that has been created in other car championships be utilised, is that happening from Formula E too?
Some of it is already there. The Jaguar i-pace was developed with technology that was researched in the Formula E garage. So from a racing car to the model you can buy which is a great passenger success it's already happening.
"After achieving net zero in 2020, our science based targets, by 2030 the company is committed to cut down our CO2 emissions by 45%."
If you multiply that by the millions of cars that will be purchased in terms of EVs over the coming years and put that in perspective, the impact of Formula E is huge. There is no question that this technology of electric cars is the mainstream way forward, so the wider societal impact is absolutely enormous.
Finally, Formula E has been leading the way with its environmental goals since inception, but many others are now saying they are looking to also become 'net zero', some of which could be seen as a token statement. What is Formula E doing in terms of continuing to go far beyond this?
I'm going to give two comments to this. The first of which is yes, absolutely, we've already been taking the next step. So after achieving net zero in 2020, our science based targets, by 2030 the company is committed to cut down our CO2 emissions by 45%. This is ratified by the International PharmaCare panel of experts, composed by WWF, CDP, United Nations and so on.
What is interesting is people keep saying 'so what's next?' What more can you do to be carbon positive and so on. I'm always smiling because being carbon positive is almost impossible in reality, you can only do that if you have renewable energy production that goes beyond what you use yourself as an entity.
It's something that as a concept for sport, in reality, probably none of us are able to do because most of our energy is actually used in the travel that is needed, whereas it's something that is probably more relevant for the manufacturing industry. So I'm always a bit wary when I hear people saying they're carbon positive. Because technically no, maybe by the way it is recognised by the United Nations, but that doesn't mean because you buy more carbon credits you will be positive.