The View From The Middle East: The top 10 drivers of sport in the Middle East
April 13, 2023
In this View From article Donal McElwee, Head of Middle East and Africa for Portas Consulting looks into what is driving sport in the Middle East.
Sport is booming in the Middle East and will continue to accelerate. A recent World Economic Forum report suggested that the Middle East's sports industry is expected to grow by 8.7% by 2026 – compared with global sector growth of 3.3% over the same period. This is driven by a significant public investment, underpinned by both economic and social policy ambitions, and increasingly supported by local and global private sector investors.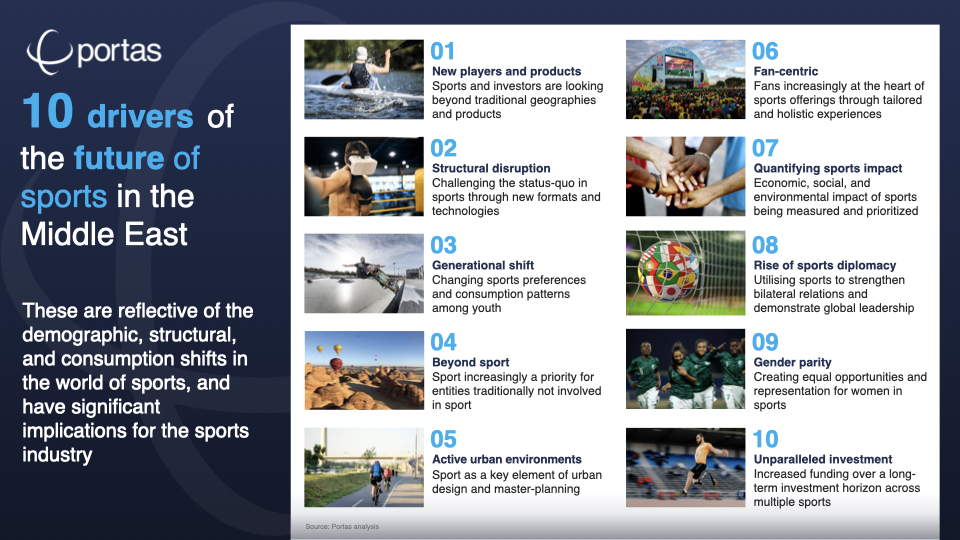 This article highlights 10 drivers of this growth in the Middle East. These are reflective of the demographic, structural, and consumption shifts in the world of sports, and have significant implications for the sports industry.
1. New players and products – Sport is looking beyond traditional markets and evolving its product to capture the next big opportunity.
Geographies: Rightsholders are expanding their calendars beyond Europe and the US e.g., Saudi Arabian GP and Qatar GP added to F1 calendar since 2021
Product: Traditional sports are evolving to capture new audiences e.g., Influencer boxing – Tommy Fury vs Jake Paul sold over 775k PPV buys as part of Diriyah Season 2023 in Saudi Arabia
2. Structural disruption – New entrants, formats and technologies are challenging the status quo:
Competitions: Long-established tournament structures are being challenged e.g., LIV offering an alternative to the PGA for professional golfers and fans.
Consumers: Technology is allowing the lifetime value of sports consumers, which has historically been fragmented, to be captured and monetised more successfully e.g., AlHilal Blu mobile app is enabling the Saudi club to have a direct-to-consumer relationship with its large local and global fanbase.
3. Generational shift – Youth are participating and consuming sports differently to previous generations, accelerated in the Middle East by the uniqely young demographics:
Participation: Non-traditional sports are thriving e.g., padel has grown 40-50% annually from 2019-2022 in the UAE
Consumption: Sports content is being viewed differently e.g., usage of short-form content platform TikTok has increased from 24% to 60% from 2020 to 2022 among Saudi youth
4. Beyond sport – Sport is no longer just for dedicated sports entities, with non-sport ministries, cities, destinations and investors also recognising its value:
National objectives: Sports supports wider economic and social objectives for governments e.g., Saudi Vision 2030 requires multiple entities to deliver on sports objectives, to deliver quality of life, health, job creation, economic, education and tourism outcomes.
Measuring success: Sports is increasingly included as a KPI for non-sports ministries e.g., minimum physical education policy provision of 150 minutes per week for all schools in Dubai.
5. Active urban environments – Sport and physical activity is increasingly integrated into urban planning from the outset and viewed as fundamental to liveability and quality of life:
Master planning: Sport facilities are an essential part of the master planning of large-scale megaprojects and are being developed to leverage the unique landscapes e.g., sport is 1 of the 16 economic sectors for NEOM, with aquatic and adventure sports among those benefiting from the coastline and mountains
Public facilities: Cities are creating more public spaces for sports to improve the quality of life for citizens e.g., Riyadh Sports Boulevard being developed with 4.2m sqm of green and open spaces, 135km of cycling paths, and over 60 sport facilities
6. Fan-centric – Fans are increasingly placed at the heart of sports offerings with tailored and holistic experiences:
Immersive experiences: New sport events are putting fans at the heart of the action e.g., GridPlay during Extreme E Desert X Prix allows fans to vote to influence race outcomes
Holistic experiences: Large-scale purpose-built fan zones are being put in place to provide engaging activations beyond the main sports event e.g., 2022 Saudi Games offered fan zones with dedicated live music, sport activities, F&B pop ups
7. Quantifying sports impact – Economic and social value of sport is now top of mind for public and private investors in the sector:
Impact of sport and physical activity: Governments are setting targets that benefit the nation and investing heavily into achieving them e.g., Saudi Vision 2030 set a goal of 40% of the population exercising weekly and a 3% target for sports contribution to GDP
Impact on environment: Sport, and major events in particular, is seeking to minimise environmental impact e.g., 2022 Qatar World Cup as first carbon neutral world cup aligned with FIFA sustainability objectives
8. Rise of sports diplomacy – Sport is increasingly an avenue to foster bilateral collaboration and demonstrate global leadership
Bilateral relations: Sports as a part of trade collaborations between countries e.g., esports, smart city infrastructure, and entertainment industry initiatives are part of Saudi Arabia-South Korea bilateral agreement
Cultural shifts: Development of new sport events demonstrating global leadership e.g., Aramco Saudi Ladies International shows Saudi Arabia's commitment to gender equality
9. Gender parity – Globally sport is providing females with better opportunities, with the Middle East is part of this movement:
Participation: Creation of entirely new sporting ecosystems in the past 5 years has allowed for equal opportunities from the outset e.g., sports participation for females in Saudi Arabia has increased 150% from 2015 to 2021
Workforce: Women are increasingly entering the sports workforce and represented in senior leadership positions – all 97 sports federations and committees in Saudi Arabia have female representation on their boards
10. Unparalleled investment – Increased public sector liquidity and longer-term investment horizons are enabling funding across multiple sports and products:
Breadth: Increase in the number of sporting options available e.g., number of sports federations and committees in Saudi Arabia has increased from 50 to 97 between 2018 and 2023
Depth: Increase in the funding to federations to drive development of their respective sports e.g., KSA Quality of Life program, Ministry of Sports and Saudi Olympic and Paralympic Committee allocated SAR2.6b to support Saudi sport federations to achieve sporting, economic and tourism goals.
These 10 drivers require the sports industry to take a broader cross-sectoral approach to partnerships, embrace technology and innovation, with coordinated and continued investment from the public and private sectors.