The View From The Middle East: Maximising the impact of sporting events
May 18, 2023
In this View From piece Clayton D'Costa, Head of Global Events and Partner at Portas Consulting, looks into how the region has made the most out of hosting global sporting events.
The Middle East has recently experienced an exceptional era of Major Events, putting the global spotlight on this region. According to the World Economic Forum, the Middle East is already a powerhouse in sports tourism, with a market value of $600 billion. From hosting prestigious global mega-events like the 2022 FIFA World Cup in Qatar and the 2019 Special Olympics World Games in Abu Dhabi, to annual Formula One races in Abu Dhabi and Jeddah, as well as organizing large-scale national games such as the Saudi Games, the region has proven its remarkable ability to successfully stage and showcase major sporting spectacles.
The growth of major events in the Middle East can be leveraged to deliver impact for an increasingly uncertain world facing several challenges.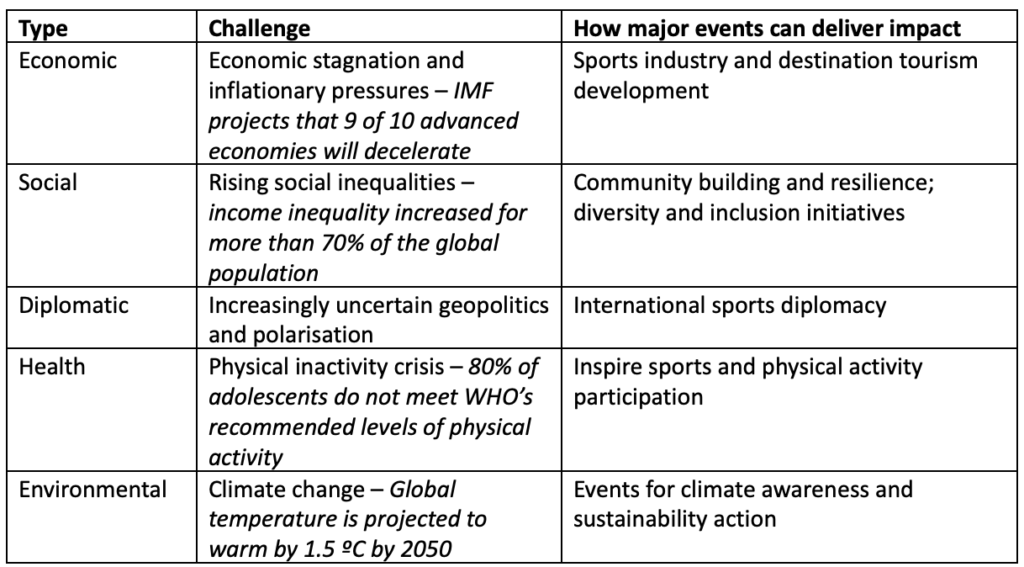 A strategically planned and executed event is key to ensuring maximum impact, as research suggests – 86% of mega-events are unprofitable from strategic mismanagement. This article highlights the seven success factors in delivering an impactful major sporting event.
Not subscribed to our weekly newsletter? Click here to sign up and receive more content like this to your inbox every week.
Leadership, Governance, & Team
Just like a great team who is successful at a sporting event, an exceptional and experienced team is needed to organise a major event. Clearly defined roles and responsibilities are needed to align various ministries or government departments, city halls, federations, and rights holders to ensure coordination, collaboration, and integration for delivery success.
Strategy and Legacy
Strategic planning serves as the foundation for a successful major sporting event. Strategic planning ensures objectives, underpinning tactical plans and roadmaps for successful events. A supporting robust legacy strategy ensures impact beyond the event.
Integrated Planning Framework
An integrated planning framework ensures a comprehensive and coordinated approach to delivery. The framework provides a blueprint for how different components of the event (clients, functions and venues for example) will be brought together in a seamless and efficient manner. Crucially, the integrated planning framework also ensures that potential event risks are identified and managed in the run up to operations.
Benefits Realisation Planning
Benefits realisation planning ensures the achievement of desired outcomes (e.g., social, economic, environmental) for an event. By mapping event outcomes to measurable actions and key performance indicators (KPIs), it ensures continuous progress and tangible benefits throughout the event.
Commercial Innovation
Continued commercial innovation is essential to gain the funding and investment needed to deliver maximum impact. A robust commercial strategy secures optimal partnerships, develops effective marketing strategies to increase reach, and explores all potential revenue streams to maximise funding.
Infrastructure Strategy
An effective infrastructure strategy enhances event execution and leaves a lasting impact through state-of-the-art facilities, considering long-term use and repurposing. This includes the development or enhancement of both competition and non-competition venues, transportation systems, accommodation, and other essential facilities.
Immersive Technology
Immersive technologies, including Virtual and Augmented reality, 360 Live Streaming, and more, strongly contribute to enhancing event experiences and extending global reach. When integrated into comprehensive planning, these technologies play a pivotal role in fostering commercial innovation, creating revenue opportunities, and enhancing fan engagement.
In conclusion the Middle East has become a prominent destination for major sporting events, demonstrating its successful hosting capabilities for global and national competitions. Exploiting the growth of these events can have a positive impact in an uncertain world. Our ongoing research indicates significant disparities across all 7 areas between the perceived exceptional events and those considered mediocre. Given the magnitude and number of events scheduled in the Middle East over the next decade, along with the associated costs, revenues, SROI impact, and sustainability impact, the potential value at stake is substantial. With our experience highlighting a minimum of 30% difference in impact between exceptional and mediocre events, it is crucial major event organizers to consider the criteria noted in this article as key differentiators for success.
Click here to find out more about the work done by Clayton and Portas Consulting