The view from Lausanne: The sources of income for Sports Federations
March 23, 2023
In the world of sports federations, one of the most difficult challenges undoubtedly concerns the sources of income needed to enable their core business and achieve sustainable growth of the sport at international and national levels.
This article is not intended to discuss the aims and objectives of a sports federation, but rather to outline some of the challenges that these organisations face in making their existence possible.
It is clear that the success of any sport depends on the efforts of these federations and the resources they have at their disposal.
However, many non-profit sports federations have limited resources, making it difficult to provide the best possible support for their sports and their communities.
To understand this reality, it is necessary to discuss the business model of these organisations, which are commonly set up as non-profit associations.
Being a non-profit organisation means that the organisation cannot share its profits among its members. So, unlike a for-profit company or corporation, the purpose of an association (or sports federation) is not to make a profit but to develop its purposes regarding the sport they are governing.
This observation is relevant because this characteristic ends up driving the way these organisations are managed, creating some difficulties from a financial point of view on the one hand but also ensuring a responsible and transparent attitude in governance and compliance issues on the other.
As the sports federations are not for profit, they cannot promise a return on investment in relation to the financial contributions that may eventually be made by other organisations, such as sponsors, the government, investors, donors, etc.
The counterpart that an association can offer is to ensure that these resources are being applied properly, responsibly, efficiently, and productively for their purposes, which ultimately are the development of the sport.
Just to clarify, being a non-profit organisation does not mean that you cannot be a profitable organisation, much less that you cannot get revenues and income from several different sources.
On the contrary. It can and should be profitable, after all, the maintenance and growth of the organisation depend, above all, on the financial capacity to make its activities and its existence economically possible.
The problem is that being a non-profit organisation, it is more difficult to access financial sources because the counterpart is based on other advantages that are not directly based on profit.
Of course, sponsors who eventually provide financial resources to federations can enjoy brand visibility, marketing activations, and all the other benefits of associating their brands with a particular organisation, sport, or competition.
But this return is not profit distribution and therefore differs from other types of commercial businesses.
This is also true for public or private financiers, donors, and any other type of entity that provides financial resources to a federation; i.e., the federation will not be able to return this investment in the form of profit.
This is where the difficulties begin, because a sports federation needs to offer many attractive assets to benefit the entity that decides to invest, lend, or donate a certain financial contribution to this type of organisation.
On the other hand, the sports federation has many other ways of raising revenues that do not necessarily require a sponsor, investor, or donor.
In order to identify all the possible sources of income for sports federations, I have made a study entitled the "Hive Model", in which I have identified 25 different sources of income that can be used by a sports federation to "nurture" its organisations in order to fulfil its purposes and objectives.
Here follows the model, which you can also see explained in the following link: The Hive Model (Michel Cutait)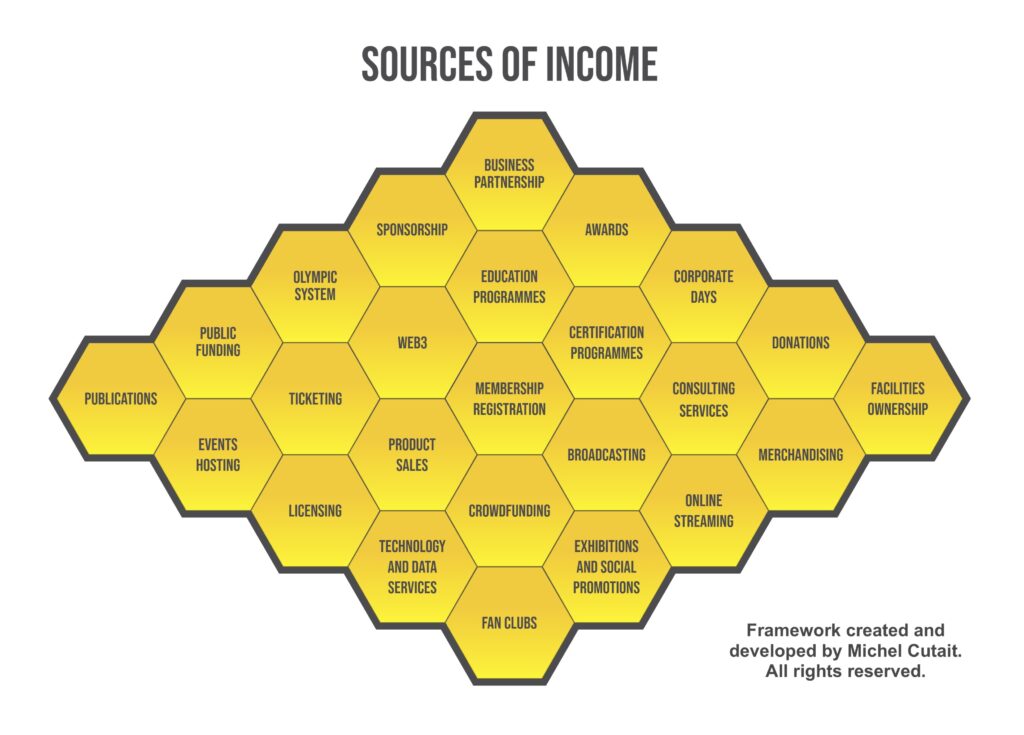 All these resources are feasible and compatible with the principles of governance and accountability required for non-profit organisations such as federations, associations, and even foundations that are dedicated to the world of sport.
The proposal for this study was obtained through a process of reverse engineering.
Instead of defining the main objectives, we can specify the sources of income and, recognising those that we consider feasible, we can establish new objectives and, consequently, the strategic actions to achieve positive results.
This model proposes interesting advantages for managing a sports federation because it allows to expand strategic perspectives, discover new ideas that were out of our pipeline, and be more assertive in finding solutions that will be successful in materialising these sources of income.
Not subscribed to our weekly newsletter? Click here to sign up and receive more content like this to your inbox every week.
Obviously, not all sports federations will be able to develop projects that are compatible with all the income sources I identified in the study above.
Some income sources are more common than others, for example, membership fees, sponsorships, events and competitions, broadcasting, and product licensing.
However, in order to ensure that their sports are properly developed, non-profit sports federations need to find different ways to generate extra revenue.
For this strategy to be implemented efficiently and cost-effectively, sports federations need to reach a level of maturity and improvement that is neither easy nor simple or quick to achieve, especially if the organisation has limited resources.
The organisation needs to have a clear awareness of what its strengths are, to know deeply who the members of its community are and their needs and aspirations, to have a professional team capable of delivering its activities, and also to have a leadership that has a broad, modern, and creative vision to take the organisation to the next level.
Obviously, it's not as simple as writing an article, but faced with the challenges of the non-profit business model of sports federations, finding new sources of income is a fundamental step to ensure that these organisations, and consequently their sports and their communities, continue to grow in a sustainable, solid, and promising way.
Michel Cutait, Executive Sports Manager, lawyer and professor. He currently works as Acting Secretary General at World Obstacle, institutional name Fédération Internationale de Sports d'Obstacles, the international governing body for obstacle sports (Obstacle Course Racing, Ninja and Adventure Racing) and related events, where he runs the Secretariat working actively in the areas of governance, membership, partnership, development and compliance. He also formerly worked as Strategy Advisor for Brazilian Triathlon. Graduated in Law, has a Masters in Social Relations (Brazil), Marketing (Australia) and a Masters in Sports Administration and Technology at EPFL (AISTS) in Lausanne, Olympic Capital. He has written 5 books, the last one called Management Performance Rio 2016 Olympic Games.