The Importance Of Branding In Sport
February 12, 2021
Branding is crucially important to every company, but in sports it often carries an even greater weight in the significance of a franchise with its history. In this week's Meet The Team piece, our CRM and Membership Manager Raghav Chawla looks at the importance of branding in sport and some recent major changes across the sporting world.
What lies at the core of all the marketing efforts? It's branding.
In sports, brands are everything. Fans like us find identity in logos, those unique emblems elevate the singular symbol of the emotions and experiences of fandom. Branding gives a fan that unique identity and provides a personality with which we can relate to. 
From a business point of view, there comes a point where the brand has to reconnect with its audience and needs to be updated to match their evolving personalities or to engage a new market with a different identity, and this is where the concept of rebranding comes into play.
Rebranding is a tool that could be used to recapture the excitement or to expand boundaries. The concept of rebranding in sports is risky since it requires a change in the existing culture, and a change of culture in a sports organization is not always welcome due to the sentiments involved. However, when executed correctly, it has been seen to induce a positive effect on customer engagement.
There is no particular formula for recreating a brand, it all depends on the situation and what an organisation wants to achieve with its brand. 
Thankfully, we have a company like Cravens to ease out the process, it gives the audience insights that really help the rebranding process to eventually position one organisation stronger and better in the market. In addition to that, it helps the organisation to connect with brands, which facilitates the process of branding.
Here are some of the positives and negatives from prominent rebranding campaigns by some of the major Rights-Holders:
City Football Group
With more money being poured into the industry, the owners of Manchester City have begun to invest in multiple teams. A few years ago, with Manchester City having a rebranding, we also saw a somewhat similar New York City Football Club logo pop up, emphasising the uniformity within the brand.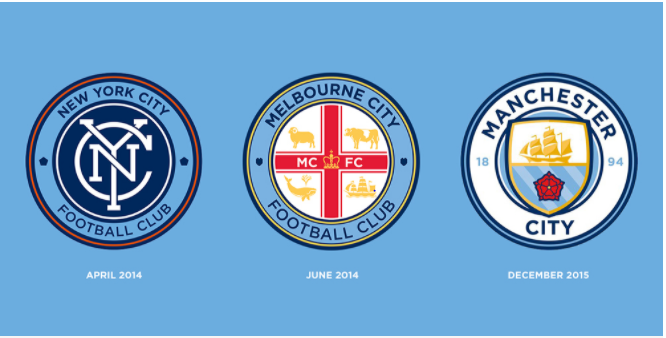 New York City has a worldwide reputation as a city, but not so much as a football (soccer) city. This alliance with Manchester City aims to clamp down on the US market and make New York City FC a well-known club nationwide.
This is a multi-directional strategy, as it not just helps the flagship club, i.e. Manchester City to build its brand globally, but it also gives a reputation boost to the other clubs owned by the City Football Group.
From New York City FC to Mumbai City FC to Melbourne City FC, all of these clubs reap the benefits of shared Manchester City FC's vision.
WWE (World Wrestling Entertainment)
When it came to their branding way back at the turn of the century, WWE (formerly WWF) had a fascinating conundrum.
They were already facing a legal battle with the other WWF (World Wildlife Fund) and also had to face a reputational issue, with professional wrestlers drinking beer, being generally violent and occasionally foul-mouthed. Hence, during the late '90s, Wrestling was considered to be a product for teenagers and above.
What was fascinating about the whole rebranding was what it allowed the company to do:
The transition to WWE made it possible for them to remove the stigma attached to its brand and helped them to open the floodgates to a mass family market; something that the brand's image was missing before.
The transition from the word federation to entertainment also helped the brand to claim that it's not just about wrestlers, WWE can offer an "action soap opera" where the matches occur between "superstars."  And those "superstars" might not be just wrestlers.
They could be karate experts, parkour experts, ninjas, acrobats, street brawlers, Thai boxers, kick fighters, anything at all, notoriously having Floyd Mayweather 'fight' the Big Show at Wrestlemania.
Los Angeles Chargers
A classic example of reactive rebranding: minutes after the Chargers announced that they were leaving San Diego for Los Angeles, the team unveiled a new alternate logo incorporating the letters "LA" with a lightning bolt on its Twitter page.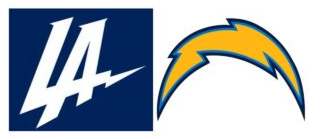 The logo was immediately and widely ridiculed/mocked by fans, the media, and even other professional sports franchises, in part for its resemblance to the Los Angeles Dodgers logo. By changing the colour scheme of the new logo before scrapping it completely after two days, the team sought to defuse the controversy, by sticking to the mantra- "if it ain't broke, don't fix it."
There is not always a need to discard a proven brand.
Cardiff City FC
Under new ownership, it was decided to change the Cardiff City's brand as much as possible.
The football team which was known as the "Bluebirds", always had blue kits and a blue logo.

In 2012, it was announced that forever blue Cardiff City would change their home kit to red with the traditional bluebird crest dropped for a dragon too. The Bluebirds had to play in red with their kit logo being a red Welsh dragon. This rebranding move sparked strong opposition from some fans who have held previous demonstrations.
Following the pressure from fans, it was then decided in 2015 that the club will be moving back to its original colour, i.e. blue and the club also redesigned its badge which featured a bluebird as the primary focus.
It could be understood from the above example that how history and heritage play an imperative role in branding and why it should be respected.
Major takeaways from the above examples
There are plenty of things to be considered when it comes to sports branding. The situation needs to be assessed and identified correctly, only then can it be figured out whether a reactive or a proactive approach is required to rebrand, or whether it is best to not try to fix something which is not broken.
The consumer or the fan needs to understand what the organisation is trying to achieve, while the organisation should know that if it tries to change every rule, it will lose its audience. 
"Branding is not purely visual, it's cultural, and a logo is not just an emblem, it's a story."
REFERENCES:
https://blog.designcrowd.com/article/818/10-sports-associations-which-recently-rebranded
https://bleacherreport.com/articles/654037-wwe-5-postive-counterpoints-to-wwes-rebrandlanguage-changes