"The Convergence Between Sport And Entertainment Is Happening All Over The Globe"
March 17, 2021
Euroleague Basketball, the organising body of the Europe's elite club  basketball competition, recently partnered with Elevate Sports Ventures, who will support the global strategy, ticketing, fan and premium hospitality experience and event management for the league's showcase event, the Turkish Airlines EuroLeague Final Four. iSPORTCONNECT  spoke with Chip Bowers, President of Elevate Sports Ventures, and Luca Scafati, Euroleague Basketball Business Operations Director, to hear more.
Let's start with you Chip, why did you feel like this partnership with Euroleague enticing for Elevate?
Chip: For us at Elevate, it has always been about aligning with the best organisations and brands. When we think about partnership, we think about "Who are we partnering with? How do they operate? Are they innovative? Are they creative? Are they truly understanding of their fan and constituent needs?"  So when we look at Euroleague, and they approached us with this opportunity, it was immediately obvious to our team that one, they wanted to continue to evolve the Euroleague brand and evolve the Final Four even further from the huge event it already is.
"That's where we get excited, to be able to partner with someone who says, "Look, we want to test the boundaries of what's possible, we want to do bigger things."" – Chip Bowers.
But how do we continue to make it an even better event on a global scale? And that's where we get excited, to be able to partner with someone who says, "Look, we want to test the boundaries of what's possible, we want to do bigger things." Here in the States, of course, we've had experience working with large global events that are a week long festivals, if you will, the Super Bowl, or a college football playoffs or an NCAA tournament, these are the things that we know pretty well, from an operator standpoint.
And so when we think about our core competencies, sales, marketing consultation, strategy, these are things that we saw Euroleague saying, hey, look, we would love some additional insights into how we can continue to grow and get better. It's already a global brand, and a very big event and the fact that they see much more potential and opportunity really excited us because that that's the type of partner that we know that not only we feel like we can assist, but just as importantly, we'll learn a lot from ourselves. And I think that's what a partnership is, it's for both parties to engage in a way that allows for mutual education and information sharing that creates the best outcome for the event and for ultimately the fans.
What are Euroleague's goals behind trying to grow the final four?
Luca: Well since we partnered with the NBA for some events a few years back, where we took clubs on a tour in the US around the New York City area, its venues, teams and actually met with with Commissioner David Stern at the time in the NBA office. We were inspired by the North American professional league approach to sports and entertainment.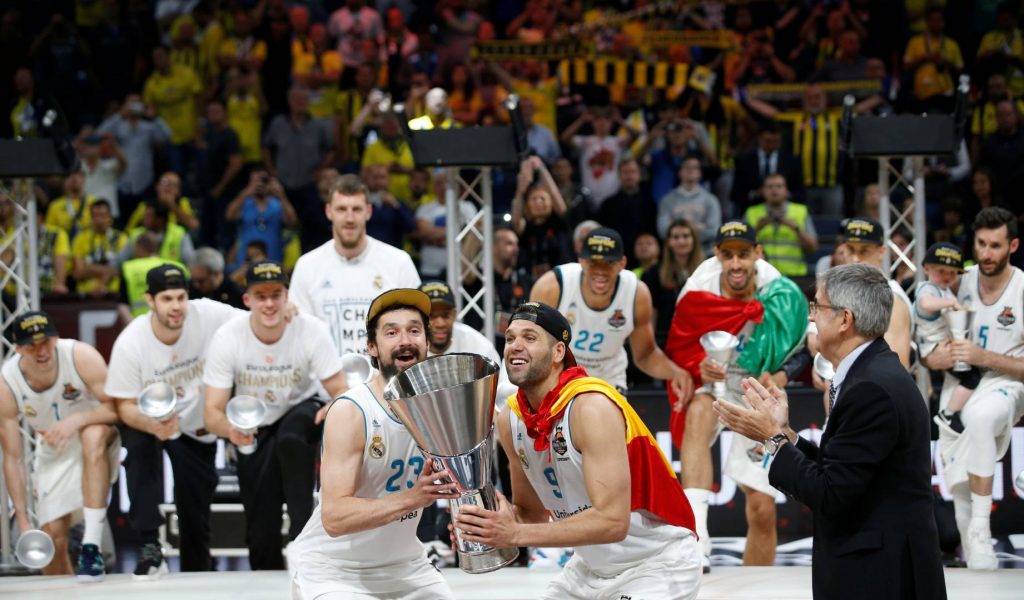 When we heard about Chip in all the conferences here in Europe and after seeing what they have done in the sports entertainment vertical in the States, through football, basketball, hockey, even soccer, we thought that they were perfect for us to 'elevate' our main event. We never stop innovating and we never stop trying to offer our fans a best-in-class experience when they come to our event.
Our event has evolved in the last 20 years, and even though we've taken good steps forward in the last few years to get the wider public interested in coming to our event, we think that Elevate will give that support and insights and assistance in trying to reach these objectives, one of our key goals.
You've been involved in basketball for many years and obviously in America the men's and women's College Basketball the Final Four weekend is huge, what can you take from that in terms of boosting the marketing strategy around the event?
Chip: I think it starts with understanding your constituency base, your fans, your corporate partners, the communities and cultures from which they come from. And they come to this world class event with this great week, that is really steeped in, I think, a lot of information sharing and data points. So we think we can learn a lot from the ticket buyers and people who are looking to attend the event, the reasons for which they want to go to the event, what maybe some of their other interests or passions are in life are and share those insights with our friends at Euroleague.
To start thinking about, from an activation perspective, how do they bring their event to life in a way that creates shared passion points with their fans, and with the club's fans, and that could be everything through music or health and wellness, activation, the list is really endless food beverage. You want to make sure that an event like this of this scale truly feels like a home away from home. If you go to the NCAA tournament, and Final Four in the United States, you could have schools from Kansas, North Carolina, California and New York. And I would like to think there are some commonalities there, but I can assure you, there are a lot of differences.
"For us to be able to understand how we've been able to do that domestically in the States, and push it on an international scale is something that we're pretty excited about." – Chip Bowers.
But when you go, and you're surrounded by people who also share their passion for the game of basketball, and support the same things in life, that you support the schools and those four markets, it's a very powerful experience. So for us to be able to understand how we've been able to do that domestically in the States, and push it on an international scale is something that we're pretty excited about. Given my 18 years in the NBA and others on our team, we think we have a pretty good appreciation for how best to bring that all together.
What do you think is Euroleague's potential in terms of being able to take the product further with initiatives such as this and expanding the audience?
Chip: I think anytime you can take what is a sport-centred event, so the game of basketball, which is truly a gold global game, and turn it into something that people are very passionate about is amazing. I grew up playing basketball in a rural area in North Carolina, because it was easy to put up a basket. Honestly, my first basket was on a tree! Baseball fields and football fields and soccer fields are much more expansive in nature, you can play basketball anywhere.
I think a lot of people around the world understand and appreciate this a game that you can play regardless of size and you can play it pretty much anywhere. That shared passion is enough to get people to pay attention. What brings people together is the overarching experience of what else am I going to see, what else can I appreciate? what are the other things in life that I love, that are also going to be a part of this so I can take my experiences elsewhere and collide them with the game of basketball.
The convergence between sport and entertainment is happening all over the globe. We see it every day between music, celebrity and sport. For us to be able to do that with a league in a way that people are talking about the people that can experience it either through linear or digital mediums but also physically sharing that passion now through social media and other forms of communication, that's going to get more people excited about coming.
I can tell you now as a music fan, I've been dying to go to Glastonbury. So there are massive music festivals in Europe that people love. And so for us to be able to think about here in the States, what it would take to go to an event like that we have a true appreciation for it because of what we've seen through social and digital media and the storytelling that comes along from fans. We need to help Luca and his team ensure that they can accomplish that by being really thoughtful about how that message comes to life. 
What are you looking to create with Elevate around the Final Four experiences for fans in particular?
Luca: Well there's a lot we can look at together and a lot that we have to improve. But I would probably focus on one aspect if we're as this is really important, which is personalisation of the event. So we're talking about that, and now people are talking about hyper-personalisation, we want to offer a product and content that is interesting to the public. So we want to build an event that is appealing to Gen-Z, but also to women, business-people, or any other groups of people who might have completely different interests.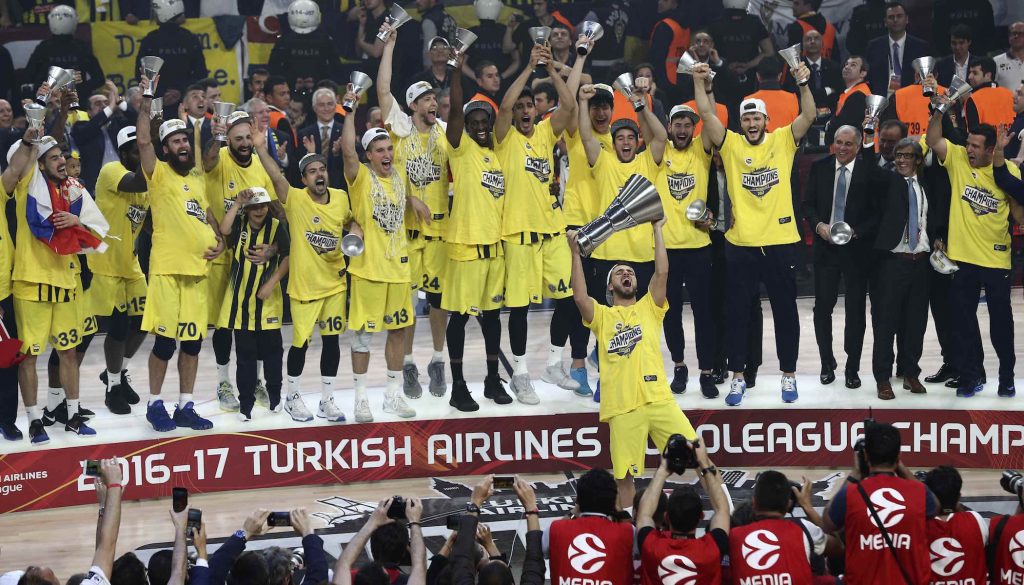 I think then having an impact in the local market do something that, that we believe that is this key, particularly for an event like ours, which is moving every day in a different market. This year, we are in Cologne, two years ago we had Madrid or Barcelona or Milan. So we want to have an impact in the local community where we are and I think that in order to do that we have to tailor our event to the needs and requirements of the people living in these different areas.
I think there's where we have a lot of potential, because the Final Four is not just basketball or the four games or the four teams coming over. The Final Four event lasts at least four days from Thursday to Sunday, and is a mix of different initiatives and activities. But I'm sure that we have the potential to highlight every aspect of this event and make an event that will get everyone involved beyond basketball. I want the people to say I want to go to the Final Four because it's the Final Four, not just because my team is there or because I just want to see some basketball.
How has Elevate been able to push through Covid, as of course it's still a relatively young company so what was the impact?
Chip: Well, for us at Elevate this period has been a period of growth. We found that a lot of organisations and companies have been fairly self-reflective during this difficult time to say, how was I structured heading in to the pandemic? How should I look coming out of the pandemic? How can we improve? How can we reset our revenue infrastructure? How can we do it better? And many more along those lines. But how can we actually lean on some third party assistants to help us really think through that process, because the future's so bright.
What I love about the Euroleague event is that, like here in the US, where the NCAA final or the Super Bowl are travelling experiences, people can go and experience a new culture, at the location in a way that has them looking forward to the next city and the next destination. That's something they talk about, and to bring that that local community with the fans from those other communities together is very impactful.
"We call ourselves a sports entertainment property, we want to bring value, entertainment and emotion to the people." – Luca Scafati
We have to create the right type of engagement so that ultimately there's this sense of inquisitiveness with the fan to always question what else can we do? What else should I expect? Euroleague is keeping me on my toes from one event to one year to the next, or from one city to the next. I'm never quite sure what I'm going to get, yet there's something familiar within that.
It's familiar because the fans have the passion, the game is strong, customer service is excellent. But there's always the sense of discovery that fans have when they go to an event which keeps them coming back time and time again.
How is Euroleague approaching everything currently for the 'bounce-back' phase post-covid?
Luca: First of all, we never stopped and I would say that we worked more than ever because we have had to find out the best ways to reopen and restart better than ever. Last year we stopped our competition in March. But right after we were thinking of ways to reopen and be ready.
We developed pandemic response guidelines for our clubs, in order to adopt and implement measures to present to the authorities in order to reopen. We had conversations with our players, staff, constant communication with fans, sponsors and broadcasters, but of course nobody knows when it will truly end. So we had to be innovative and creative in tackling every aspect in a new way. I'm so proud because many of our clubs have started to develop initiatives that are going to benefit the digital experience for our fans.
And this, this for us is key. Every day we're thinking about the best ways to keep everyone engaged, because we understood that in this challenging time it's important to keep delivering sports and entertainment to the people. We did have to reinvent ourselves, and there were real challenges, but every sector has been experiencing those.
But we call ourselves a sports entertainment property, we want to bring value, entertainment and emotion to the people, so we really hope that we can soon go back to the live experience, because it's something that we're missing. But I am sure that when we return we'll be better than ever.