The channels sports brands can't ignore
May 17, 2023
In this insight piece Heikki Rotko, Executive Chairman of Choicely, dives into second screen habits while watching sports.
How do our fans consume sports media?
It's a question that sports organisations should ask on a regular basis. It's the fans who choose the channels and platforms, and the organisations that understand the fan behaviour and adjust the best will win in fan engagement.
We asked this question from professionals working in sports organisations, and looked into existing research where fans' consumption was studied.
We found a surprising result. Only 2% of sports industry professionals think TV is fans' favourite channel, and it held the last place among digital channels. In reality, TV is the clear number 1 channel to follow sports in the US and in the UK.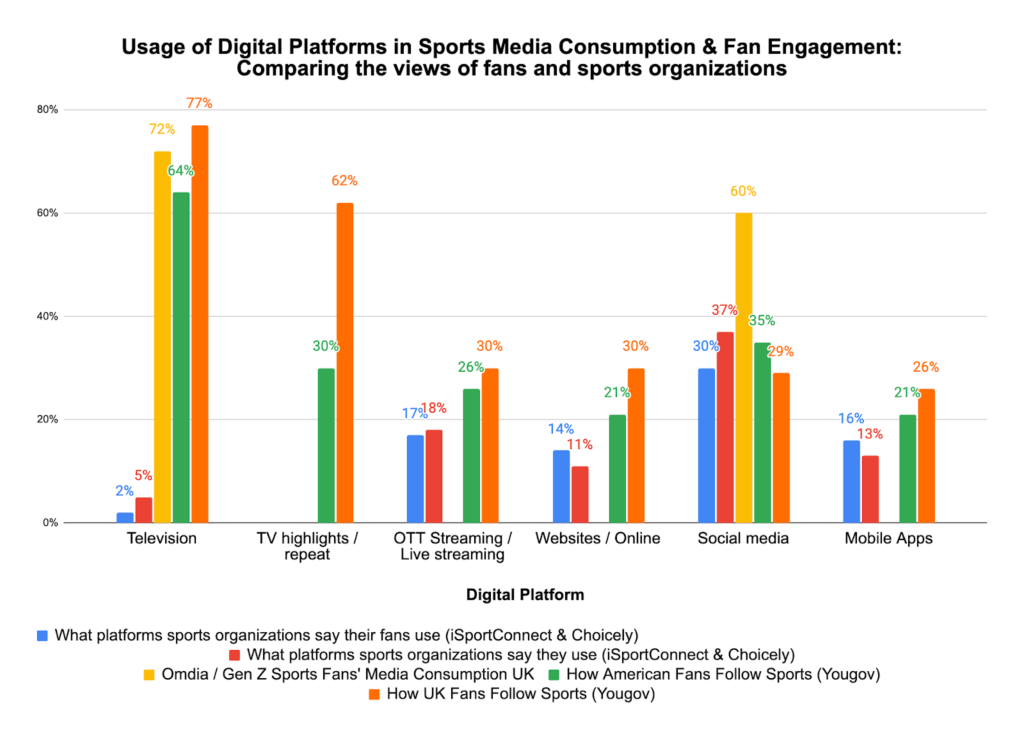 These professionals' answers were a part of the State of Sports Fan Engagement 2023 survey conducted by iSportConnect in partnership with Choicely. Fans' media consumption statistics are from YouGov.
How did sports business professionals get TV so wrong?
How come television was so undervalued?
Maybe the sports business professionals overvalued other channels like social media because TV is a 'traditional channel'?
Digital channels have received much more hype, and there might be a belief that TV isn't very much used by younger generations anymore. But the fact is, TV is also popular among Gen Z.
The TV screen is even more popular than before, considering it's not only used for linear TV but also for accessing OTT streaming services, among other things.
So what to do with this information?
Make sure you're on TV if you're a bigger sport.
And for organisations of all sizes: build visibility on streaming services: their options range from free options to larger platforms.
The main goal is to provide ways to view your events in an easy way, and preferably on the TV screen.
Second screening: a great chance to strengthen engagement with fans
Another clear finding when looking at studies on fans' media consumption is the huge importance of second screening.
While fans are watching the live event, 96% have used another device and for 74% it's the phone – according to Global Web Insights.
When it comes to regular activities during a sports broadcast, 46% of Gen Z use apps.
According to Nielsen, mobile apps are the most popular means of second screening, making them an ideal platform to engage fans during and between events.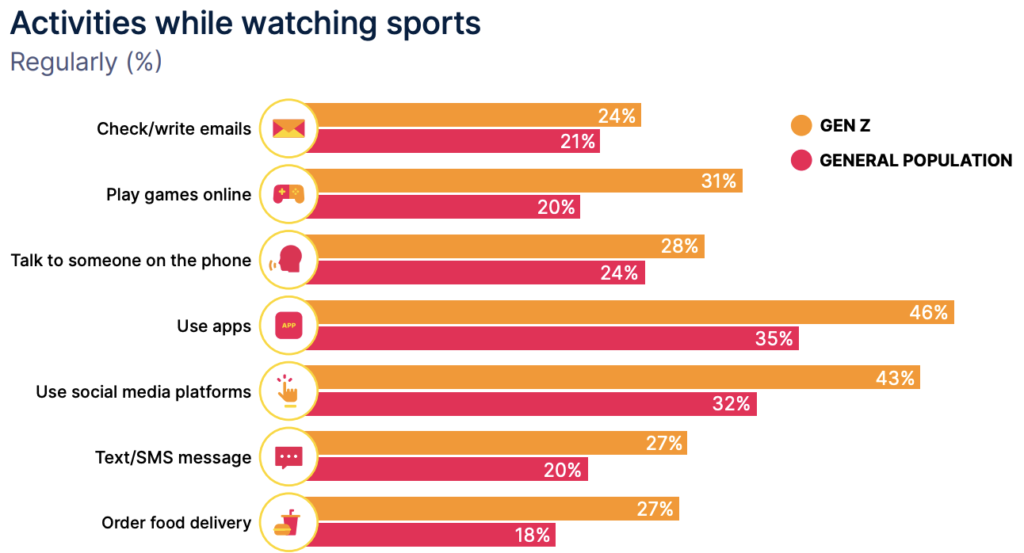 So what to do with this information?
Sports organisations should leverage second screening and provide information and entertainment, during and in between their events.
Apps are the most popular platform for second screening. By building their own app, sports organisations can enhance the overall fan experience and increase the brand's engagement with their fans.
Building a comprehensive mobile app allows sports organisations to aggregate content from various channels, including social media, ticketing, merchandise stores, and live streaming.
Offer a premium '360 fan experience', to your passionate and engaged fans who spend 6 times more on your brand than casual fans.
To maximise the engagement with mobile apps, organisations can incorporate features such as voting, ratings, surveys, gamification, and cutting-edge experiences powered by AI or AR solutions.
Additionally, seamless integration with ticket stores enables the fans that are already engaged to conveniently purchase tickets while watching a match.
A well-designed mobile app enhances fan loyalty, provides real-time updates, and fosters a strong connection between fans and sports organisations.
Conclusion
In today's sports media landscape, the consumption of sports content spans multiple screens.
The reality is that television still is the primary channel for sports media consumption. The rise of second screening and the prevalence of smartphones have opened new avenues for fan engagement.
There, mobile apps have taken the centre stage. When you recognise their importance and offer a comprehensive fan experience, your organisation can deepen fan connections, generate monetisation opportunities, and embrace trends in both consumer behavior and technology.
Make full use of the power of multiple screens and you will build stronger relationships with your fans.
Find Choicely's comprehensive blog post "Digital fan engagement insights: How fans consume sports media today" here.
Learn more results from The State of Sports Fan Engagement 2023 study here.