Social Audiences Are Rocketing – Is This Quantity Over Quality For Sport?
By David Granger | November 17, 2021
In the latest Digital Cafe, David Granger explores a recent report stating that, while we wait for Facebook's metaverse to virtually transport us to venues, non-traditional social channels are boosting audiences in big numbers.
Fan engagement company Mediacells has tracked audiences across three main sporting competitions this year: Euro 2020, Tokyo 2020 and the English Premier League. Through this research they've found that the reach of sport is bigger than ever thanks to the adoption of social by athletes and clubs. 
There are some interesting insights into non-traditional platform viewing figures. If you consider social media channels which skew younger (we're looking at you TikTok), more people watched the Italy-England Euro 2020 final match than England winning the World Cup in 1966.
TikTok's on the official UEFA Euro 2020 account were played 650m times and liked by 69m people. And then you can add on to that the England team's official TikTok account on which 9 million people liked 40 official videos: that's 2 million more than BBC iPlayer streams requests for the England final and 5 million more than on the ITV Hub service. 
It was a similar situation for the Olympics. The delayed opening ceremony in Tokyo drew the smallest audience for the event in the past 33 years – but, as Mediacells points out, there was a younger audience that was not immediately acknowledged in the headline TV statistics.
Half of younger audiences said they were more engaged with Olympians who had some sort of activism platform. The most prominent was US gymnast Simone Biles who attracted more than 15 million Instagram interactions, a 460% growth in engagement, after she announced she would withdraw from some events. That figure again: 15 million.
The rise of short format social on TikTok and Instagram is also increasing reach beyond tournaments, through the first month of the English Premier League they saw a significant levelling up of smaller clubs in fan engagement. 
Premier League newcomers Brentford FC outperformed 15 of the 20 Premier League clubs on social, including Spurs and Arsenal, hitting more than 4.5 million plays from one TikTok – one excellent clip and a great caption. The social team deserves a pat on their back for that one.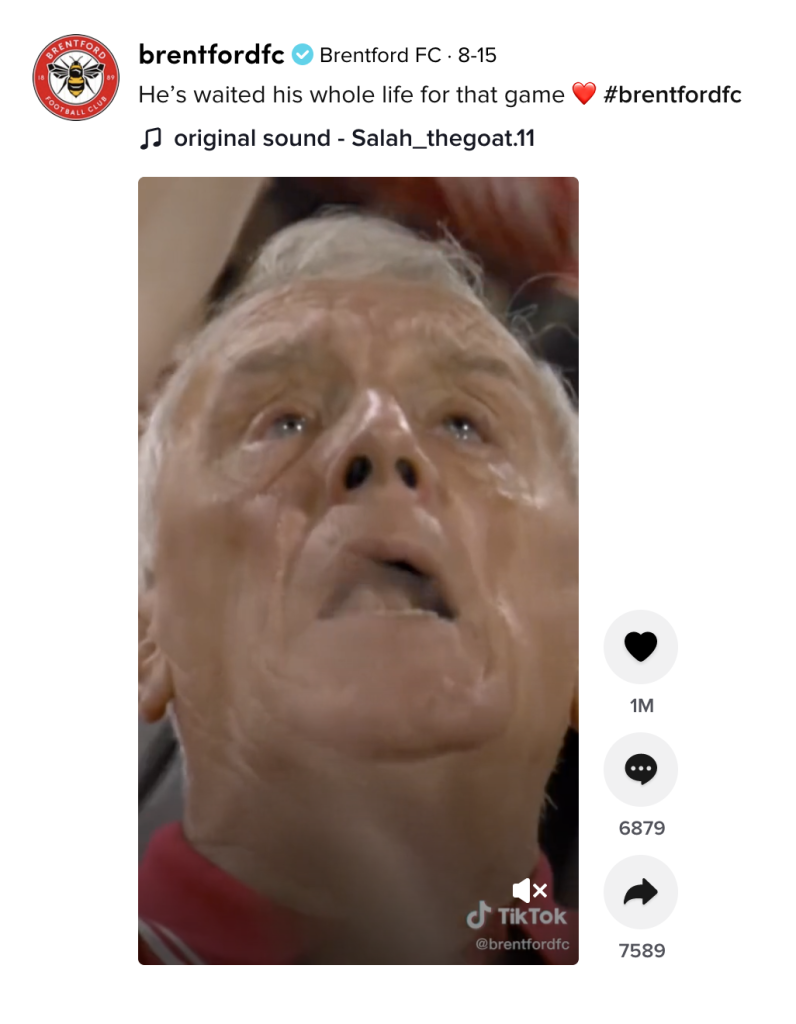 With the 2022 FIFA World Cup in Qatar coming soon, the roll out of new fan engagement metrics for sponsors is looking likely, according to Brad Rees, Mediacells CEO. "UEFA was the first football organisation to partner with digital entertainment platform TikTok, but will not be the last." 
But will highlights reels, social clips and best-of series translate to an increase in core fans? Should the alternative audience platform spectators count towards reach and engagement figures for sponsors? And does it actually matter, since sponsors and partners are ultimately getting exposure to their target audiences and, via social at least, to that occasionally elusive younger demographic.
The Netflix series, Drive to Survive has, apparently, given F1 a promotional shot in its arm, but will fans of the series become fans in the grandstands on a wet Silverstone weekend?
The series may indeed have reignited interest in the sport, and this is despite some of its flaws (it's become too self-referential, management personnel are turning into self-parody and the faux commentary still grates). One current narrative is that the popularity of the series, despite these flaws, is saving Formula One and doing so with the tough to reach fanbase in the US. 
But, is it? The grand prix in Texas has been, since its inception in 2012, hailed as a triumph. But those 2021 headline attendance numbers deserve a little scrutiny. The capacity of the Circuit of the Americas is 140,000 but attendance was put at 400,000 – does the Netflix effect actually mean that no-one attended more than one day?
There's no doubt that splicing action content into shorter segments and condensing whole seasons into ten-part series will increase reach, but the return on this investment needs to consider context and importantly for teams, federations and especially sponsors how that translated to engagement with them as well.
You can download the full Mediacells Next in Sport report here.