Skateboard GB Launch 12-Year Strategy Plan
By Community | October 18, 2021
Skateboard GB are happy to announce the launch of a twelve year strategy, which outlines the role they want to play to support the growth of skateboarding across all levels, from skateboarding in local communities up to the Olympics.
Skateboard GB's purpose is to provide skateboarders the opportunity to "Skate More, Skate Better" ensuring they are skater-focused in everything that they do as they aim to lead, support, empower and facilitate. It's the role of Skateboard GB to add value to the skateboarding community so that skateboarding continues to grow and thrive, with better and more spaces to skate, whilst providing best practice support so that skateboarding can take place in a fun and safe environment.
The Strategic Plan is based on four key pillars which focus on three distinct phases – Building, Refining and Transforming. The first phase (to 2025) will look at creating the appropriate system, programmes, people and culture in order to help transform skateboarding through grass roots to world class performance. In this period it will build purpose & capacity which adds value, supports growth & helps create community so that skateboarding continues to flourish.
James Hope-Gill, CEO of Skateboard GB said 'It's an amazing milestone for Skateboard GB to launch our first twelve year strategy and we are hugely excited about the potential growth of skateboarding in the UK. This strategic plan is really important as we look to attract investment into skateboarding to help us support the community to ensure that the sport flourishes, at both a local and national level.".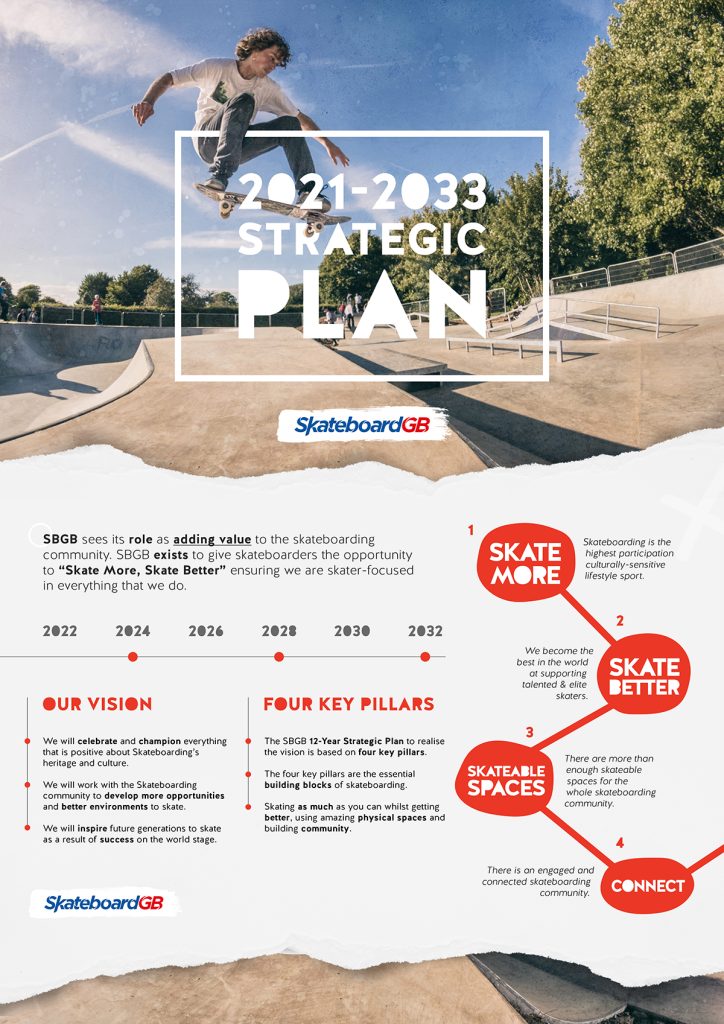 Tim Hollingsworth, CEO of Sport England said "The publication of the strategic plan for Skateboard GB is an important step towards helping skateboarding grow and become more sustainable. The sport holds a distinct position with its emphasis on taking part, having fun and having recently made its debut in the Olympic Games. We look forward to continue working with Skateboard GB to realise their plans and use the power of skateboarding to help tackle inequalities across the country."
Sally Munday, CEO at UK Sport, said: "It was fantastic to witness skateboarding enjoy such a successful Olympic debut in Tokyo this summer and we welcome the publication of Skateboard GB's 12-year strategy as they look to support the growth of the sport at all levels. As a newer member of our high-performance community, skateboarding has made a significant impact and we look forward to working together with Skateboard GB to capitalise on their successes as we build towards Paris and beyond."
Skateboard GB (SBGB) is the UK-wide governing body for skateboarding with responsibility for Olympic and the world class performance program (WCP), in addition to grassroots skateboarding and talent within England.
SBGB was formed by the Home Nation governing bodies at the end of 2017 and in December 2020 restructured to include Skateboard England within its constitution. Skateboard Scotland, Skateboard:NI and a soon to be set-up Skateboard Wales are responsible for grassroots skateboarding in the home countries.