See PSG & Snapchat's Partner To Celebrate Its Historic 10th Ligue 1 Title, Transforming The Eiffel Tower Using Augmented Reality
May 24, 2022
Paris Saint-Germain are French Ligue 1 Champions. A historic achievement for the Parisian club and French football as they equal St. Etienne's 10 titles, a record that has been held since 1981 when the team was captained by the iconic Michel Platini.
To celebrate the momentous achievement PSG have created an augmented reality experience that invites fans globally to be a part of the celebration through a Snap Face Lens that overlays a golden PSG logo and a celebratory message. For local Parisian fans, PSG has gone one step further with the experience, enabling them to transform one of the most iconic emblems of France, the Eiffel Tower, into a PSG celebration through Snap's Landmarker technology. When fans point the Snapchat camera at the Eiffel Tower, it will magically transform through Augmented Reality with a rain of golden stars, a gold redress and the PSG emblem highlighting this iconic 10th Ligue 1 title.  
This unique AR activation supports Paris St. Germain''s campaign, "millions of stars", a tribute to all the current and former players, but most importantly the fans, employees and partners who have collectively helped the club of the capital achieve this landmark moment in French football history.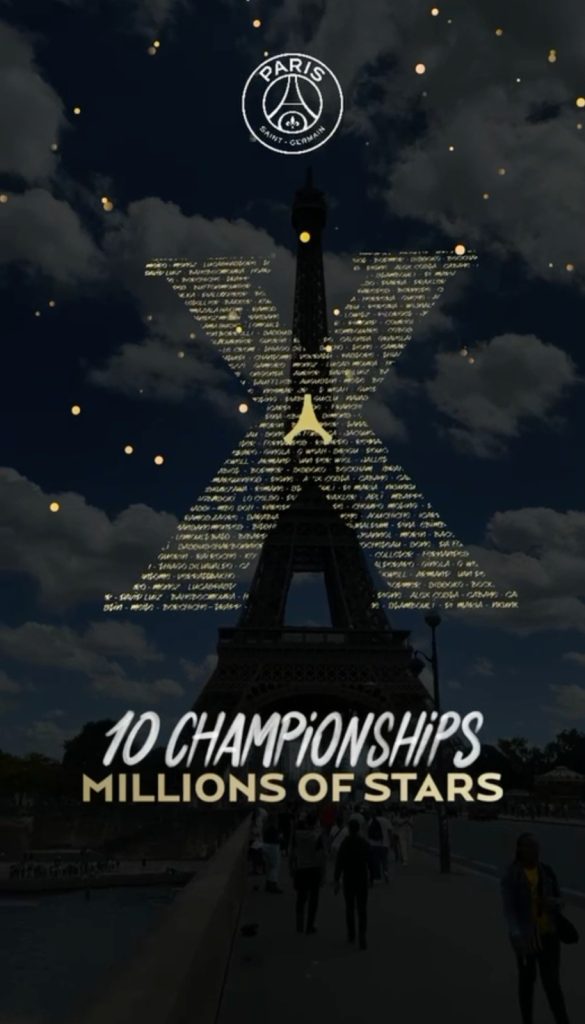 PSG and Snapchat have been working together for many years and as one of the most digitally native and influential football clubs globally, it's a perfect match.
"Always eager to propose entertaining experiences for its many fans in France and abroad, Paris Saint-Germain is taking advantage of its 10th French championship title to offer a Lens on Snapchat. The club invites its French fans and the many tourists to transform the Eiffel Tower from their Snap app," says Anthony Baca, Deputy Digital Director at PSG.
"We are delighted and honoured to work with Paris St. Germain to celebrate this momentous moment in French football history. A 10th title is an incredible achievement and as one of the most creative and progressive teams digitally, we are proud to bring this achievement to life through Augmented Reality, offering fans a truly unique experience at the most iconic Parisian monument: the Eiffel Tower." said Kahlen Macaulay, Head of International Sports Partnerships at Snap.