"Rugby Has Always Under Invested Off The Pitch Compared To Other Sports, But We Have An Opportunity To Change It."
By Ben Page | December 16, 2021
Nick Garcia joined Ospreys as CEO at the start of 2021, with a task to try and transform the Welsh rugby club who have big goals for the future under new owners Y11 Sports & Media, who took over the club in 2020. Nick, formerly of City Football Group and CSM Sport & Entertainment, spoke to Ben Page about the challenge of reshaping the culture at Ospreys and providing a much greater commercial proposition.
You joined Ospreys at the beginning of the year Nick, what persuaded you to come on board and what are the overarching goals that Y11 are looking to achieve with the club?
I came on board because I love sports transformation projects. I set up Fast Track in Abu Dhabi which was later rebranded to CSM Middle East, then did some transformational work with City Football group from 2012 to 2017, before a turnaround of Al Jazira football club in the Middle East, which has links to CFG.
It's always been about these projects for me and when I heard about Ospreys, it really excited me as you've got a club which has a strong history of innovation and success, in a country where rugby is the number one sport. The platform is really good domestically, albeit challenging, but I think the opportunity is enormous.
"CVC lit the touch paper when they said rugby is massively under commercialised and they're right."
There's a lot of private equity going in at the top end of the sport which is really interesting. CVC have put a huge amount of investment into the northern hemisphere rugby ecosystem and Silver Lake are doing things in Australia and New Zealand, plus people are looking at the US quite seriously. CVC lit the touch paper when they said rugby is massively under commercialised and they're right.
With the Ospreys our vision is clear and ambitious. We want to create a global rugby powerhouse that sets the industry benchmark through integrity, excellence and inclusiveness. That's a big vision, right? Everyone gets caught up on 'global rugby powerhouse' and doing it with integrity, which isn't always easy.
So what attracted me was the ability to take the Ospreys on that journey and into our global ambitions, which I'm not able to go into currently.
So what are the key themes you're trying to establish behind this?
It's about being brilliant off the pitch as well as on it, organisations in sport aren't always the most transparent. We want to be inclusive to all our stakeholders, not just our supporters but those who govern the game too. That includes the players. I presented our vision to the board and wider team, but also the players too, and the fact they were interested shows they care deeply about the club.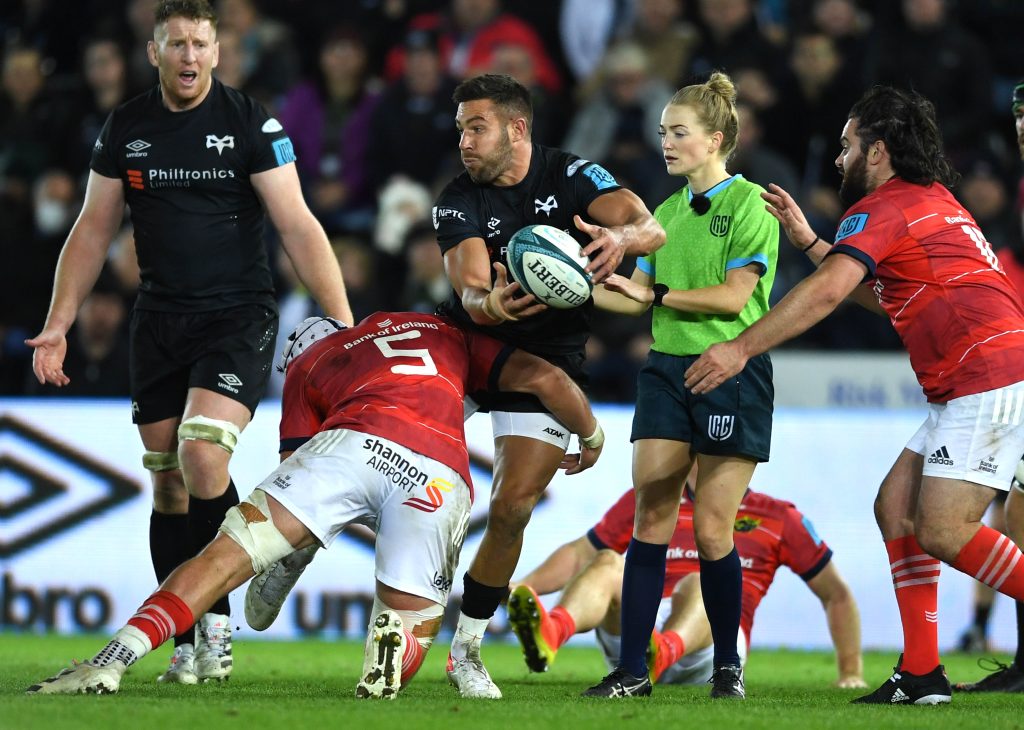 The 'global powerhouse' part I think is absolutely achievable. We've got a sleeping giant of a global sport in a country which punches massively above its weight in terms of the population size. If we make the operations side really efficient then the opportunity is enormous.
One thing that we're sure of is that we need Ospreys to be a club that wins sustainably. The more you win, the easier everything becomes. You need a really good brand, to invest in your people and have a good commercial proposition.
You've mentioned winning sustainably, what does that look like to you and how would you classify that?
We're building our squad around a style of play, rather than having a squad and creating a style of play around that, which I think happens too much in football trying to rely on one or two star players. Our coach, Toby Booth, who came in last year, has got a really clear idea on the style he wants to play and that's fast flowing, aggressive, attacking rugby.
The players Toby wants to bring in, he calls them 'kings of chaos' players. From a commercial side this style is great, it gets fans excited and fills seats.
In the short term, we need to be efficient and strategic about the way we recruit, because we want to get success quickly. The next thing we're going to focus on is the academy. We're not classing academy success as winning at that level, we care about how many players are progressing into the first team, because that's where sustainability lives.
"It blows my mind that in rugby an average of 23% of your squad will be injured at any given time."
We've done a full strategic review of our academy and it's in good shape, there are some great young players like Max Nagy coming through. We'll start seeing that benefit come in 1-3 years, but we need to invest now.
Another key is innovation and technology. It blows my mind that in rugby an average of 23% of your squad will be injured at any given time. I look at that and think about the term marginal gains, 23% of our squad budget is never going to get on the bench, let alone the pitch, how can we change that?
We're doing a lot of work around injury prevention and load management. We've co-created this product PROTECHT, a gumshield now being used in the Premier League too. It serves two benefits. One is that we need to get on top of the head injury issue and look after our players as well as we can, but it also enables us to track general load management.
There were lots of squad changes in the off season to start that change for this style of play. When talking about those 'kings of chaos' players, is data involved much in those decisions?
Quite a bit, although the data is only growing compared to football. We're looking at two things, first the data and physical characteristics of a player, which are measurable. On the other side we're looking at character, which is much harder to decipher. We want a culture of winning and cohesiveness.
How would you say that the initial process has been going to this point?
We've been doing this for a year now and before Y11 bought the club there was some difficulty. Look at where we are right now, the top team in Wales and fifth in the whole URC, so we're doing well, but sustainable winning is a slow burn. We won't just throw money at it, there might be some more losses and painful nights, that's okay as long as we're working towards this overall plan.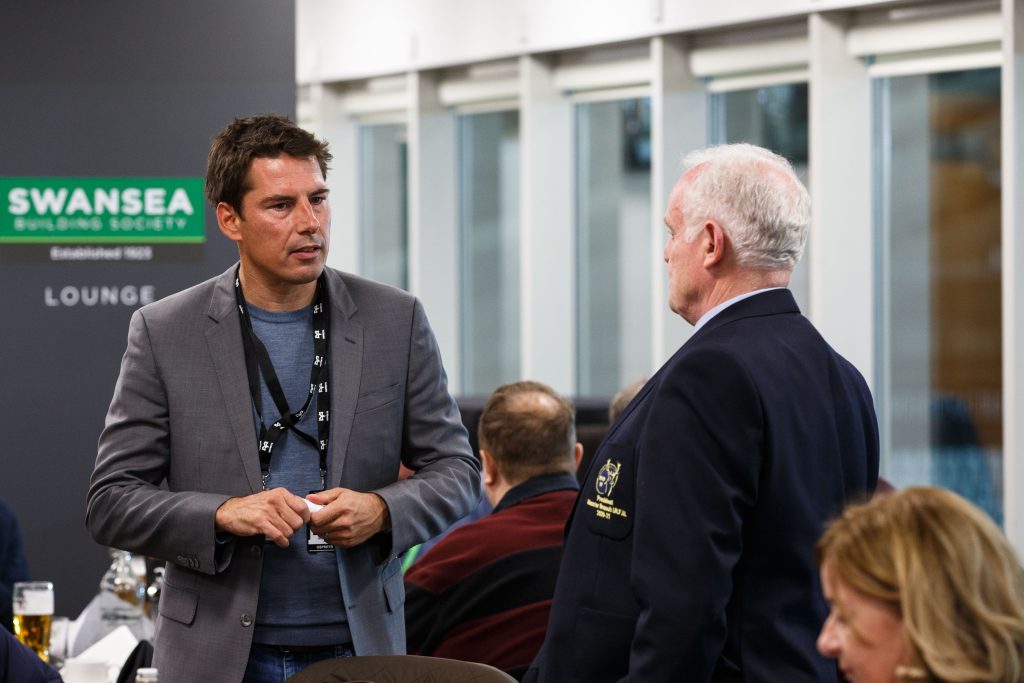 We recruited a performance director from the PRL called Corin Palmer, who's great at putting a real structure around the business side of rugby. We've also renovated the High Performance Centre and the guys who were away for the Lions tour were blown away when they came back and saw it.
Rugby has always under invested off the pitch compared to other sports, but we have an opportunity to change it. On the pitch, what URC are doing is incredible. It's great to have South African teams involved and their numbers are growing on social media positively. Bringing in RocNation and what they're doing with athletes, such as Maro Itoje in rugby, I think is fantastic, we're involved with them too as we want to be pioneers. The latest TV came back recently and our games were up 237% from last year. It's incredible.
Our big challenge is needing to get more people in the stadium. We've got a 20,000 seater stadium with great facilities and amazing hospitality, but filling it is going to be tough.
What are some of the key aspects you've been focusing on so far in order to keep the progression moving forward?
We've done a lot of work to define a clear vision, values and narrative, because I want to unite every single person in the organisation behind one vision.
I want people to be innovative and think outside what they normally do and be almost a bit reckless, as that's where good ideas can come from. So mainly empowering people to step up, to be responsible and take pride in their work. We're doing that cultural shift inside and experienced people are critical.
"We need to reimagine our commercial offering. The goal is to get to a point where we have a partner centric business model which has demonstrable value."
Then if you strip that through to fans, we just need more of them. Rugby needs more of them. We need more diversity, women, young people and families. TV is going to be critical, on social media we've got a clear roadmap to start really increasing those numbers.
A key part is understanding our fans and having a deep understanding so you can serve them better and work better for commercial partners.
That brings us to the commercial side. We need to reimagine our commercial offering. The goal is to get to a point where we have a partner centric business model which has demonstrable value and starts talking to brands that want that proposition. We're having really good conversations with global brands but these take time.
I think we're going to see some impressive growth in the next few years, as we did at City, and you want partners that can be on the journey and integrated into your business with an already credible story to tell. We need to give them a compelling story, escalating fan bases both on TV and through our own channels, but most importantly really deep data on the fans we know.
We're working with Pumpjack Dataworks to try and understand our fan data more, and we're now going six fields deep on every one of our supporters to understand exactly what their habits and likes/dislikes are, so we can serve them much better directly as a club.
Fan data has been a strong topic from many people I've spoken to this year, why do you think sport has been naive about the area and getting fan insights for so long?
Naive or maybe even lazy, I'd say. Sport has been trading crazy television numbers for years but I think we've got a really exciting time for sport. As everything starts to move digital you can start to really measure interaction, the only way you're credible is to know your fan better. If you know those fans better that gets commercial growth, which in turn goes back into performance.
You mentioned earlier the 'global powerhouse' side of things, how are you looking at that in terms of growing the overall fanbase globally too, such as your partnership with WAVEtv?
We want to be more global as a fan base. Everyone always asks me 'can Wales support four professional rugby franchises?' Absolutely, 100%. But you can't just be fishing in Wales for your fans, you've got to be global brands. England wouldn't support 20 Premier League clubs at those levels of revenues without having the majority of fans overseas.
WAVEtv is a really interesting example. North America is really interesting in the growth of rugby, they're going after the World Cup in 2031 and MLR [Major League Rugby] is starting to take off. In the last 12 months we've had 17 million views of Ospreys content on WAVEtv, which is crazy.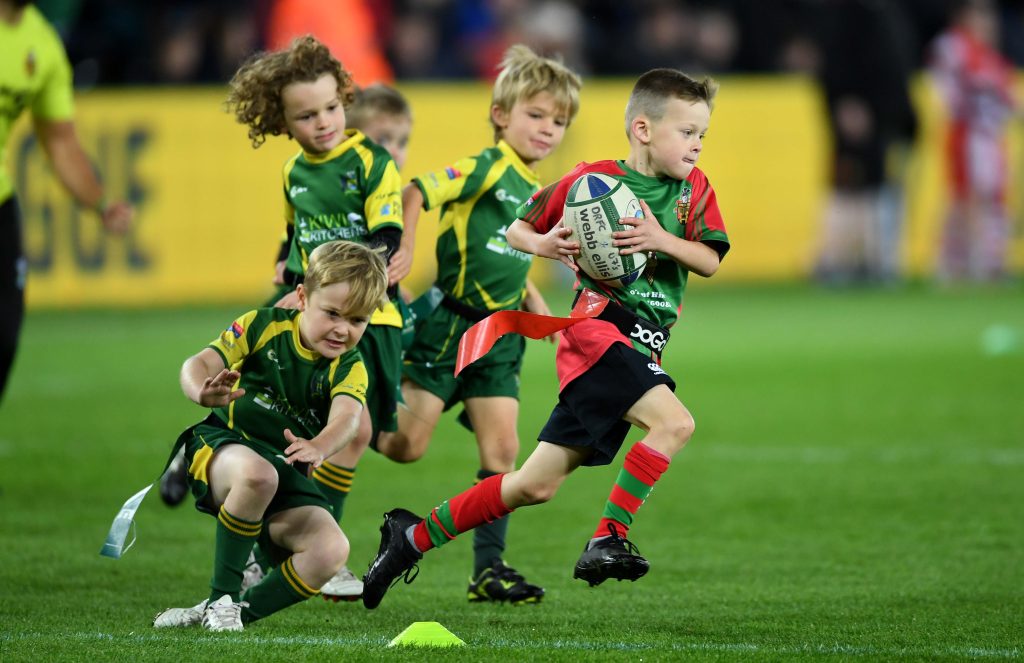 It's okay to have more than core fans. Before it was all about how many season tickets you can sell and how many people you can get in the stadium. But I'm also interested in all the people around the world who want to see exciting rugby in social media who can engage with us in the content world.
Learnings from football are that these can be huge, huge numbers of people. We've already got twice as many global fans as any other Welsh region but the number is too small, we've got to build and grow that and WAVEtv is one way to do it.
As just mentioned, there are many people overseas who now have those connections to teams they have watched and decided they like, but what's the difficulty like in converting those 'third-party' fans into true fans?
I'm actually not sure you have to. If a young person in the US is really interested in Ospreys, it doesn't matter if they like Racing 92 or another club as well, it just matters that they're interested in us. Because for a commercial partner who's looking to tap into that fan the emotion is there, they might not be turning up to every game but I think the world is just different now.
You've mentioned your three-year plan for Ospreys, but what is your focus for the next 12 months?
By next year I want to have a fully optimised squad, so as many players as we feel necessary are 'kings of chaos' players, which I feel we'll have after one more recruitment run. I think the academy needs to be dialled up, so the consistent style of play in training goes right throughout the whole pipeline.
I'd like to see increased fan numbers. We have really good fan engagement right now, but we need to invest in our content team. I want to have more information and deeper data on our fans, so our PumpJack partnership we've been running for 6-12 months should really start to drive dividends soon for commercial partners.
"If we've learnt anything in the last two years it's that the world changes incredibly quickly."
And I guess the most important thing to me is by this time next year, I want to have a really compelling commercial proposition. That's delivered through two things, one is having a really clear narrative, brand and identity that we can use to marry with partners who are like-minded. The second is being able to really show true value, we're also working with Blinkfire to get a good idea of the value that our partners are getting back from social media.
Having a clear partner servicing model is crucial. If we've learnt anything in the last two years it's that the world changes incredibly quickly. I want people in the organisation with a brand mentality who can provide the best value. My definition of a bad partnership is when you're constantly looking at the contract.
And of course, I want to always be in Europe!