Niccolo Campriani: "Our Shooters Are Representing Their Refugee Community At Tokyo 2020 And They're Very Proud Of Their Story"
By Taruka Srivastav | July 19, 2021
Three-time Olympic Gold Medallist Niccolo Campriani has leveraged his position and connections as an Olympic champion to train and prepare refugees Khaoula, Mahdi and Luna for Tokyo 2020.  iSportConnect's Taruka Srivastav spoke with Niccolo about the nuances of his 'Make A Mark' project ahead of the Olympics.
Tell us about the 'Make A Mark' project.
Make A Mark was never meant to be a structured project. The idea sprung out of my desire to give back to the shooting and sporting community. On my retirement, even though not I'm not a licensed coach in my sport, I ended up doing a lot of coaching among peers. I was inspired by the idea of IOC of a refugee team in Rio and I knew there was going to be another team in Tokyo so instead of extending financial support which I have been doing for many years to the UNHCR, I decided to donate my time as well as leveraging my network as being an Olympic champion it helps to reach out to the sponsors in my community.
I wanted to contribute to the Olympic refugee team of Tokyo by training the refugees/asylum seekers for Tokyo. In my mind it was just finding good candidates and then training after work. Of course they require much more than that and that's why we decided to be more structured. We rely on specific foundations in order to collect all the different donations through the crowdfunding. Former Olympic Gold Medal shooter Abhinav Bindra coming in really was a game changer for us, especially for the fundraising. The whole paper work, travelling with refugees in order to compete abroad, it was also quite an experience.
I guess the point here is that we don't want this project to end with, with the closing ceremony of Tokyo and we'd really wanted to transfer the knowledge or the lessons to whoever wants to do it next. It can be another Olympic champion who wants to do the same thing in his/her own sport community or for refugees.
We also have onboard Juan Carlos Holgado, an Olympic gold medallist in archery, who will take the next project forward, selecting and mentoring a number of refugees with the aim of competing at the Olympic Games Paris 2024. So I think I got very lucky to find the right people. So, it also shows the power of good idea with the right mindset in the right place. I think we attracted the right people and are very happy and grateful of the team around us.
How much has COVID affected the project and how did you tackle the challenges?
Covid-19 has been like the ultimate test. We knew that if we survived this, whoever is going to pick up the project after this, they will have an easier life. We kind of made it through time of the pandemic and are now in Tokyo. I think that the trickiest thing is at the very beginning because of course, by scouting, recruiting refugees who never tried your disciplined as they were not athletes and they needed to become athletes. And that part was executed with the help of funding and donations which was made possible by my friends from my playing days.
 We now have the support of the Dynasty Scholarship. We tested it as a pilot, we learn a lot of lessons from it and once again when it comes to the transparent knowledge we can pass lots of learnings.
How do you mentor the refugees?
Well I think one point is not to treat them differently from other athletes I think that's the beauty of sports right, everybody's the same on the starting line. And, and I think one side it's, it's important to be aware of the background and the context and on the other is the most important to treat them equally like you would treat any other athlete. Of course, the beauty of my sport, being a mental sport is also the possibility to engage with certified professional so licensed psychiatrist, which we would normally work with because it's part of our preparation, and basically put them on the disposal of our athletes.
Because at the end of the day our committed goal is to be more composed and manage the emotions when it comes to that large shot. But in reality, it allows you to, to discuss much more like what are your deepest emotions, your deepest desires, your fears etc. So for me it was always an amazing opportunity to actually work on myself and it wasn't really about getting rid of emotions. It was about dealing with my emotions and with my past, in the most positive way, and it's an important skill to have as a top athlete. It is an extremely helpful skill in life as well, and I thought that particularly for them to find a positive way to deal with their past. It's an interesting skill to be transferred from the field of play to their daily lives.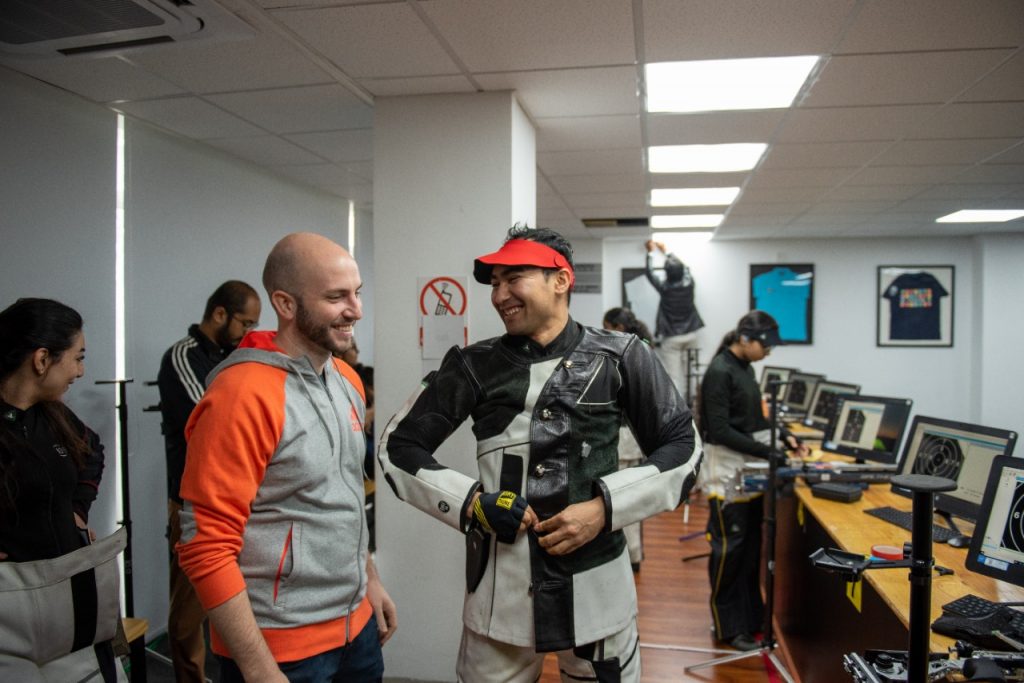 On Refugee community representation
They are fully aware that they are role models, even if they didn't ask for it and people will watch them but I would say the opportunity to, to inspire many, many others, not only fellow refugees, but also all of us that have personal opinion about the refugee.  It is still a delegation, there is still a flag and they still wear uniform and it's a quite a unique team.
How supporting are the brands when it comes to sponsoring refugee team and athletes?
We have a number of technical sponsors, which is literally what we needed in order to start the project. We have suppliers for kits, rifles, electronic targets, pellets, different accessories of the rifles themselves and even the Centre where we train. Adidas for instance was one of the sponsors that approached us and support us throughout the project.
Are you looking to expand the project to sports other than Shooting and Archery?
Yes we are looking to expand into other the sports. There are some practical things to consider like it is easier to target individual events because if you are looking to train a full team then the training arrangement becomes much more. And that's one of the reason why you have 29 refugees in the Olympic refugee team and they're mostly competing individually.  Yes there are some things that you can do out of individual performances like the mix team in judo but otherwise they all train in different countries so we have to keep that in mind. Other than that, it's not a specific sport. I think you just need the right ingredients so to find the elite athletes first that wants to do this so that depends where we want to do it.
And then you need to find motivated candidates and anybody can reach out to the local immigration office in any part of the world. They will always find a pool of potential refugees that would like to get involved in a project like this. Then it's about funding and having some sort of support of the international federation.
Also, I am not just looking at summer sport but also looking at any of the seven Winter Olympic sports. I do think that could be also another interesting project.