Member Insights: Thomas Bach's Decade Of Living Dangerously As President Of The IOC
October 17, 2023
Olympic advisor Michael Pirrie looks at the IOC's historic weekend session in Mumbai, marking the ten-year anniversary of Thomas Bach's presidency of the Olympic Movement, the most senior position in world sport.
Sport's constant movement into spectacle and entertainment will take a giant leap forward when Hollywood joins the Olympics at the 2028 Los Angeles Games – more than four decades after 84 pianists simultaneously performed Gershwin's Rhapsody in Blue on 84 grand pianos perched on raised platforms at the Opening of the Los Angles 1984 Summer Games.
India may now follow in Hollywood's footsteps, and bring Bollywood to the Olympics after Prime Minister Modi signalled strong interest in hosting the 2036 Games at the IOC's historic weekend session in Mumbai.
The Mumbai session was vital to progressing Bach's Olympic legacy and vision, targeting host cities and sports to cushion the Games in unpredictable global conditions.
OLYMPICS BOWLED OVER BY CRICKET
The elevation of cricket, India's most powerful social, commercial, and political sport, to the Olympic program was critical to engaging the nation as a rising economic superpower and potential Olympic Games host.
The announcement, at the IOC Executive Board meeting also in Mumbai, was perfectly timed with the ICC Men's Cricket World Cup also underway in India and the home team in commanding form.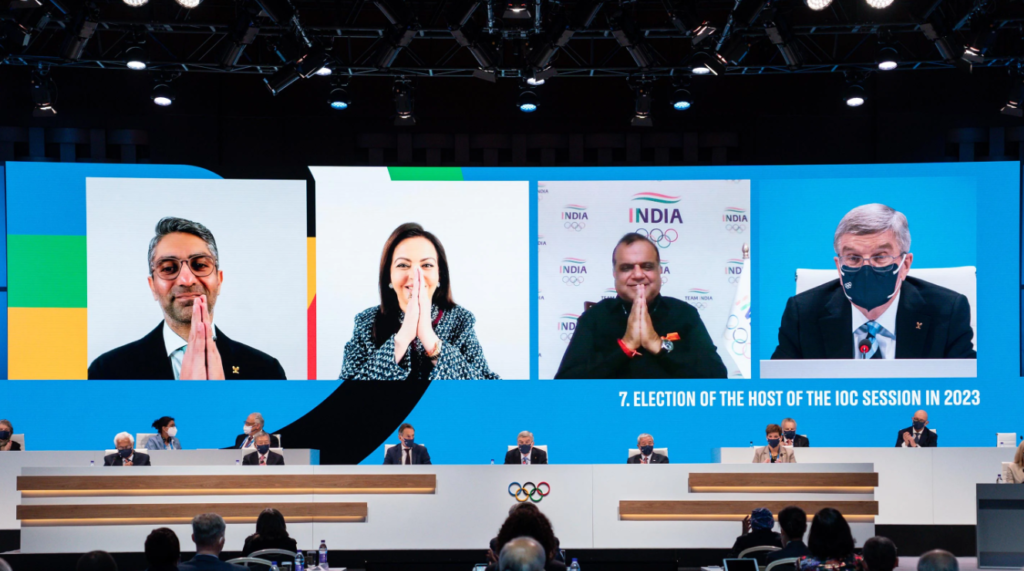 The move sets the scene for India's development as a future Olympic events destination, and counterbalance to a growing reliance on China.
The IOC's cricket play will make the Olympics more relevant to Games nations also passionate about cricket, such as Bangladesh, Pakistan, Sri Lanka, and South Africa, and Caribbean nations.
It will also help to generate vital revenues in ticket sales for the Brisbane 2032 Olympic Games in Australia, also a cricket powerhouse.
Bach's tenure as IOC chief and effective leader of world sport, was also celebrated and discussed at dinners and on the sidelines of Mumbai, ten years on from his presidential election at the Buenos Aires Olympic session.
While Bach's experience as an Olympic fencing champion and elite sports administrator for Germany were important in his election win, his expanding vision beyond nation horizons has been vital since to understanding and responding to the rapidly changing international landscapes of his presidency.
"Bach has managed to keep the vast multi-billion dollar Olympic enterprise of global Games operations, sports events, and commercial programs and assets functioning and performing more effectively than most might have thought possible in such turbulent times."
Bach has moved quickly to reform and modernise; the Olympic Movement was not left in a post-election holding pattern, as often happens under new leadership in sprawling international organisations operating in fast moving, politically and commercially sensitive environments, with complex business models and diverse stakeholder needs.
Nor was there a paralysis in decision making despite hostile global conditions, although delays in deferring the Tokyo 2020 Olympic Games as the fatal Covid virus rapidly shut down the world did surprise.
This has been a presidency steeped in the historic sweep and scale of world events and change, which have marked and shaped Bach's time at the apex of world sport.
From clandestine meetings between North and South Korean government and Olympic officials, under satellite surveillance in a demilitarised war zone, to helping Afghan athletes escape with humanitarian visas and their lives after the Taliban's brutal return, the IOC's presidential and executive offices in Lausanne have often been on high alert.
Anticipating the likely mood and managing expectations of the international community and world sport to unexpected developments – such as Russia's invasion of Ukraine and the recent Hamas attack on Israel and its response – has been one of the major challenges of the Bach administration.
There were new war crimes and crimes against sport, clashing with traditional values and rules of sport and international society.
This was an Olympic decade that witnessed a generational cross-over of politics, conflict, security and intelligence operations, human rights violations and drugs in sport.
The cross over involved nations like Russia that see sport and the world differently.
DECADE OF DANGER
The optimism that followed the spectacular success of the Vancouver 2010 and London 2012 Olympic Games, and Bach's election, faded rapidly as a decade of existential Russian despair descended from the pages of 'War and Peace' and 'Crime and Punishment' on the sporting world and beyond.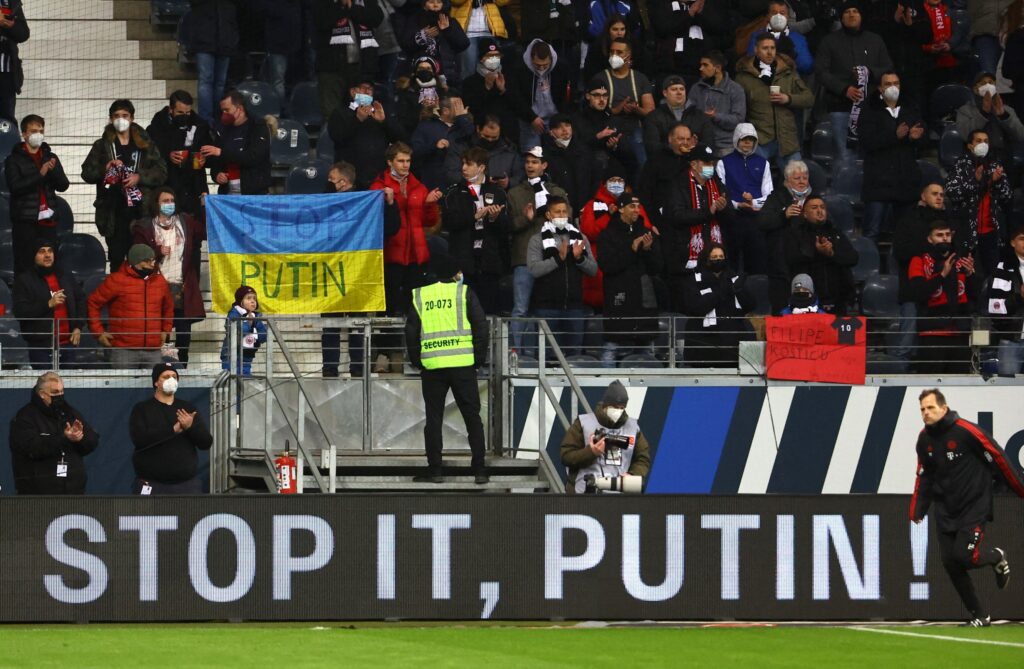 The distress and desperation were triggered initially by whistle blower revelations of Russia's covert doping operations at the Sochi 2014 Winter Olympic Games.
WADA's subsequent investigations would alert the world to the enormous, hidden scale of Russia's doping, the fall-out from which has spanned the decade.
The WADA reports would also highlight the need to urgently dismantle Russia's doping culture and programs, although it still remains unclear how many lives and careers had been ruined by the state sanctioned illicit drugs program.
Following his election, Bach likened his role as president to a worldwide orchestra conductor. If so, the score for the decade that has followed might have come from the epic musical drama, 'Ride of the Valkyries,' rather than Beethoven's 'Ode to Joy.'
This was the Olympic decade of living dangerously in a global obstacles course of near misses and close calls.
These included the finish of the Beijing Winter Olympics just a few days before Russia's Ukraine invasion; issuing of shoot-to-kill orders against protestors in Almaty, the only alternative host city to Beijing for last year's Winter Games; and diplomatic boycotts against human rights violations in China that did not develop into a withdrawal of athletes from the Beijing Games.
The soundtracks to Olympic competition events and routines, such as "Oblivion," "Secret Spies," and "Ring of Death," would also reflect the political intrigue and danger of the decade.
United States Olympic basketballer Brittney Griner was detained by Russia on the eve of Putin's invasion, and Chinese Olympic tennis star Peng Shuai disappeared suddenly after accusing a Communist Party official of sexual abuse.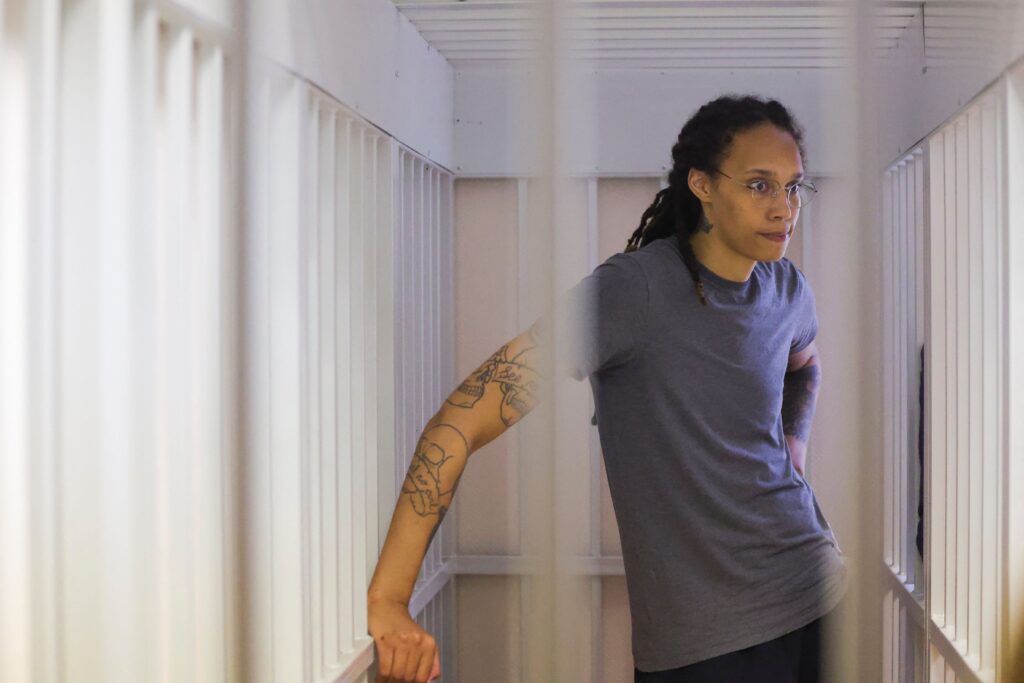 Sir Craig Reedie, a former IOC vice president who led WADA during its investigations into Russian doping, was targeted by a Russian spy suspected in the poisoning plot of a former Russian double agent living in the UK with his daughter.
Meanwhile, Bach's concern for Russian teenage skater, Kamila Valieva, who tested positive for a banned substance before competing at the Beijing Winter Olympics, was criticised as inappropriate and wrong by Russia's deputy prime minister.
There were miraculous comebacks and escapes too. These included, in particular, the global effort against Covid and rapid vaccine development, enabling the world and international sport to recover more quickly than expected.
There were also new ways, new mantras and new mottos under Bach as the Olympic Movement sought to move Together in Unity through Diversity.
Bach did more than change the Olympic lyrics and background music. There has been much substance as well as symbolism.
CHANGING OLYMPIC FORTUNES
While Bach's performance will be judged favourably against a variety of outcomes, Games and host cities for Games – the movement's revenue lifeblood and global flagships – must be the essential key performance indicators.
If so, this has been a consequential presidency with consequential outcomes, achieved in some of the most daunting of circumstances.
The safe, successful and surreal delivery of the Tokyo Games in pandemic conditions transformed traditional thinking about sport and complex events.
This was essentially a world-wide sporting event held inside a giant Tokyo medical science laboratory. The Games fascinated and gripped the planet.
Hope floats, and Bach has expanded the Olympic narrative and lexicon, promoting the Games as a metaphor for hope in difficult times.
Athletes also spoke with hope in Tokyo's mixed zones after performing under strict anti-virus protocols.
This broadened the appeal of the Tokyo Games to a world struggling with fear and death.
"I don't want anyone to feel sorry for me, or feel like silver or any other medal besides gold is a disappointment or anything," said US swimming legend Katie Ledecky.
"I would much rather people be concerned about people who are really, truly struggling in life."
The Olympic Truce brokered between the two Koreas for the Pyeongchang Winter Games also defied expectations, a discreet network of diplomatic and political back channels and connections helping to secure the unlikely peace deal.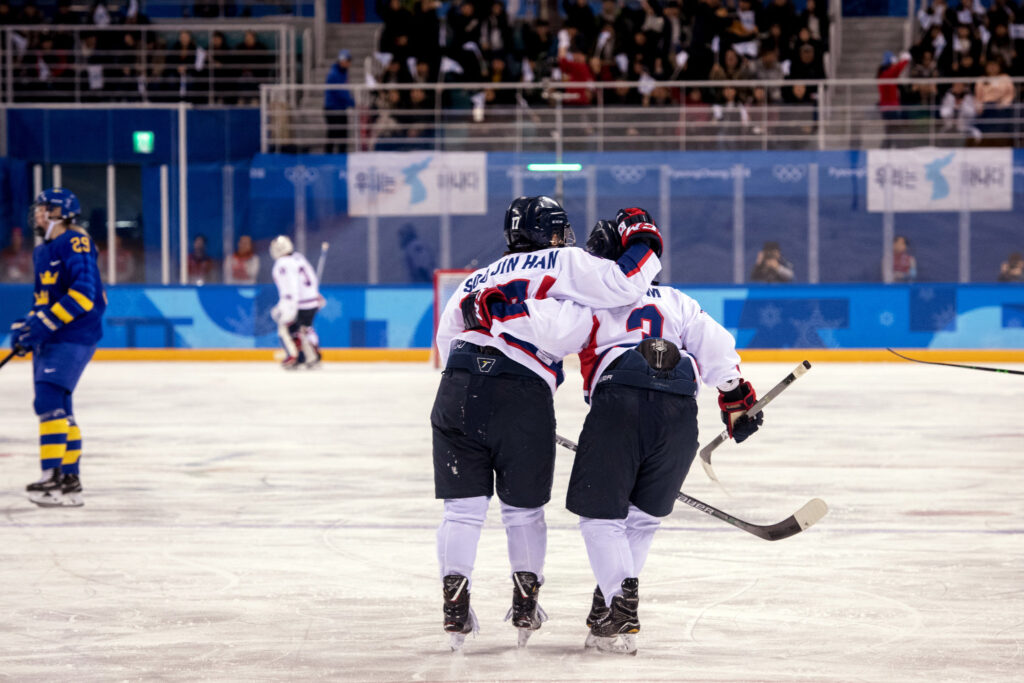 The Unified Korea Women's ice hockey team brought the reclusive North temporarily out of cold isolation, and reconnected the Olympic Movement with its focus on peace.
Bach was recognised with a peace prize, and a post Olympic diplomatic career with the United Nations may await after his presidential term, which is expected to end in 2025.
OLYMPIC LEADERS
Bach was earmarked as a potential Olympic leader, along with middle distance running champion Seb Coe, who were both chosen by the late former legendary IOC president, Juan Antonio Samaranch, to represent the athletes at the Baden-Baden Olympic Congress in 1981, a landmark for the Olympic Movement.
While Samaranch brought more of the sporting world to the Games and the Games to more of the world during an unprecedented period of Olympic expansion, Bach has guided the Olympics through an era of dramatic turbulence and uncertainty with his Agenda 2020+5 roadmap; 'Change or be Changed.' Another mantra.
Bach has been supported in key areas by Coe and John Coates, an IOC vice president, who both dined with the future president and his wife on the eve of the Buenos Aires session vote.
As one of Bach's key lieutenants, Coates played a central role in delivering the Tokyo Olympic Games – along with billions in revenues for Olympic sports – and in repairing the broken host city selection process.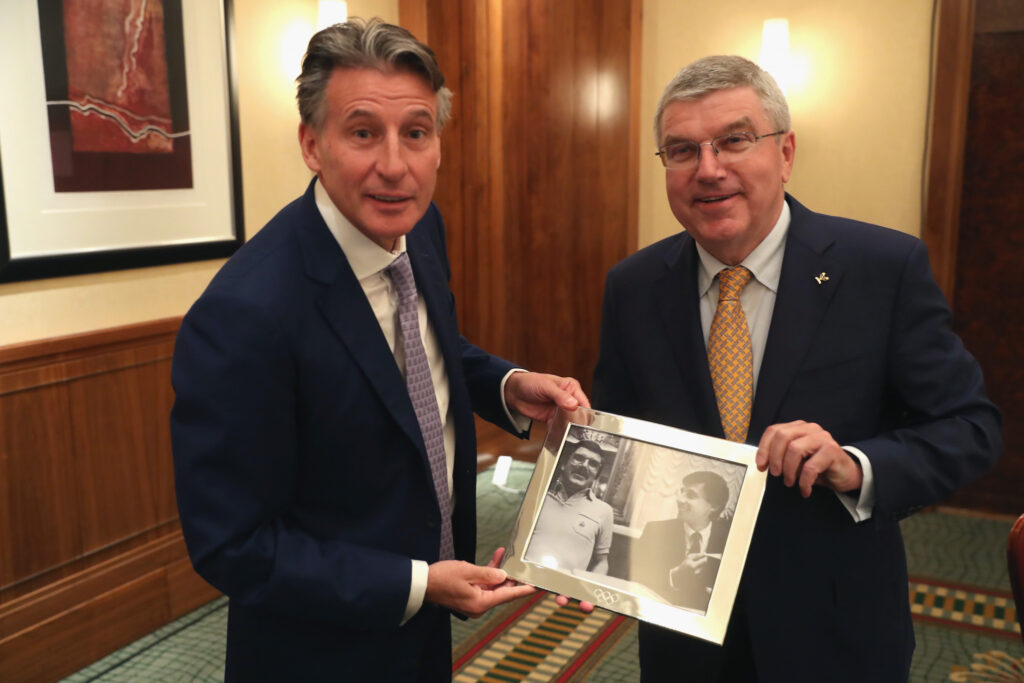 The reforms have helped to reverse the decline in cities bidding for the Games – due to high costs and lack of local support – by making the world's biggest event more affordable, sustainable and relevant for host nations, cities and communities.
Coe, as President of World Athletics, has reformed and rescued track and field with new sponsors, formats, and audiences following a series of devastating doping and corruption scandals, also involving Russia.
Coe's successful overhaul of track and field has helped to transform world athletics, the most important Olympic Games sport.
The first Olympian to win consecutive 1500 metre gold medals – Coe is also a highly gifted and thoughtful international sports administrator and diplomat who led the organisation of the globally acclaimed London 2012 Olympic Games, and may be a potential candidate with skills and experience to also lead the Olympic Movement, as Samaranch envisioned.
SAFEGUARDING SPORT & ATHLETES
The intense negotiations and lobbying in the Olympic family to secure a majority position on Russia's war and position in sport also continued in Mumbai, heralding a new geopolitical era in sport.
This was also reflected in IOC plans announced in Mumbai to establish regional sports safeguarding hubs for athletes, beginning in Southern Africa and Pacific Islands.
"Our world has changed in fundamental ways in recent years,' Bach said on the eve of the Mumbai session.
"As we anticipated at the beginning of the Covid-19 crisis, we are now facing its far reaching social, financial, economic and political consequences, which are exacerbated by the ongoing conflicts, wars, and natural catastrophes which we must address."
Bach has also brought the IOC much closer to the United Nations for support in troubled times, in areas important to both organisations, such as climate change and human rights.
The introduction of the Olympic Refugees team, in particular, has been important, focussing international attention on the talents, skills and needs of this globally disenfranchised and disadvantaged group.
Russia's war continues to take world sport deeper into territory it had not anticipated nor prepared for, with UEFA recently banning the Russian U-17 team from the upcoming European Championship qualifications.
RUSSIA'S WAR ON HUMAN LIFE & SPORT
The war continues to challenge and divide the international community, on whether sport can be neutral to Russia's unrelenting slaughter of human life and possible presence at the Paris Games.
Senior international sports figures fear the unique Olympic Games vision, of athletes from the nations of the world gathering in one city for peaceful competition, may be undermined when the conduct of one nation sets it so far apart from the wider family of nations that its presence threatens the Games experience for the rest of the world.
Russia's murderous war and ideology for many has made Olympic participation in Paris about sport's heart, soul and humanity even more than neutrality.
While many of Ukraine's athletes have perished on the front lines, Russia's athletes are expected by their national Olympic Committee to support the war, but are spared military service to prepare for a possible Paris Games call up.
Their places in the war are taken by legions of disadvantaged young Russian men regarded as expendable because they are not gifted enough to compete in Paris. Instead, they are sent to early deaths by the Kremlin in a purposeless war.
While neutrality may provide a pathway back to Olympic competition for Russia, there may be no way back after Paris for Ukraine's athletes if Putin prevails in his 'special military project' to destroy Ukraine.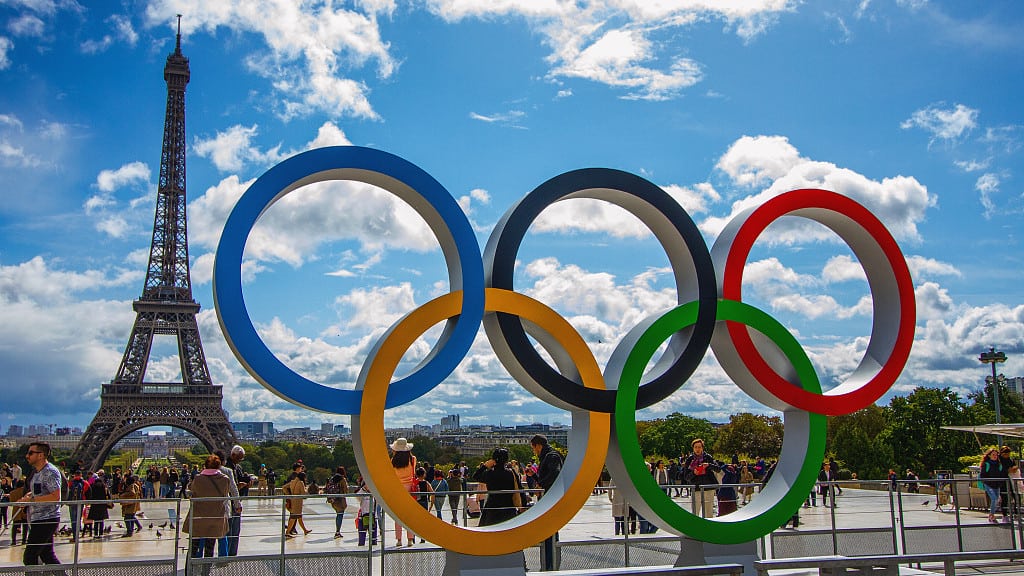 Several of the western nations that have helped to grow, fund, and globalise the Olympic Movement are also supplying military training and weapons to Ukraine, further complicating the position on sport, Russia and warnings of nuclear attack.
A final decision about Russia's Olympic participation is also of growing significance in how the Olympic Movement is historically perceived and positioned as the death toll escalates in Ukraine.
While Hitler's infamous 1936 Berlin Olympic Games was used to promote Nazism pre-war, Putin's war in contrast is already well underway, posing a growing modern-day risk to Europe and beyond in the countdown to Paris.
While Olympic leaders believe neutrality is fundamental to the identity of the Games, privately, there are also concerns about identifying the Olympic Games and brand with a war of unimaginable suffering, and a dictator also wanted by the International Criminal Court for kidnapping Ukraine's children.
Any pretence at neutrality in Paris could ring tragically hollow, with the prospect of athletes from Russia competing in the French capital while fellow compatriots conduct mass murder and assassination operations in neighbourhoods and homes occupied by children, elderly parents, the disabled and civilians less than four flying hours away in Ukraine.
With the world heavily invested in both the Olympic Games and in saving Ukraine from genocide, the recent weekend discussions in Mumbai might prove pivotal to the future of the Paris Games and final Satz of Bach's unfinished Olympic symphony.