Member Insights: The urgent need for RFEF to do some soul-searching
September 6, 2023
In this week's Member Insight piece David Alexander, MD of Calacus PR, spotlights on the inequalities which female footballers continue to face.
The 2023 FIFA Women's World Cup saw the Spanish national team lift the trophy for the first time after defeating England's Lionesses by a single goal in the final at Stadium Australia in Sydney.
But what should have been a moment of celebration quickly turned into a crisis that has spread far beyond the pitch in Sydney.
There had been controversy from the outset, when a player-led campaign successfully removed Visit Saudi as a sponsor while the Nigerian team were one of many who were locked in a pay dispute with their own federation.
England goalkeeper Mary Earps also criticised Nike's decision not to sell her jersey, despite her being one of the stars of the World Cup and in the context of a vast gap in prize money offered by FIFA between this Women's World Cup and the men's 2022 edition in Qatar, it was clear that equality in football – and indeed sport and society in general – has a long way to go.
No wonder iconic USWNT star Megan Rapinoe said that female players are constantly "playing two games at the same time" – off the pitch as well as on it.
Never could this have been more apparent than in the case of the eventual champions Spain, who came into the tournament under a cloud.
At the back end of 2022, a group of 15 first-team players had sent identical emails to the Spanish football federation (RFEF) requesting the removal of Jorge Vilda as manager related to his personal behaviour as well as his tactical shortcomings.
In response, the RFEF doubled down and backed their man, declaring that "Las 15" had been "poorly advised" and threatened bans of up to five years with Vilda given a vote of confidence.
The recriminations continued during the tournament, with two-time Ballon d'Or winner Alexia Putellas blatantly blanked Vilda as she was substituted in the semi-final against Sweden.
When Spain arrived to face England in the final, the capacity crowd in Sydney showed whose side they were on as a chorus of boos greeted the announcement of Vilda's name.
A goal from captain Olga Carmona was enough to win beat England and lift the trophy, notable for separate groups of celebrations at the full-time whistle.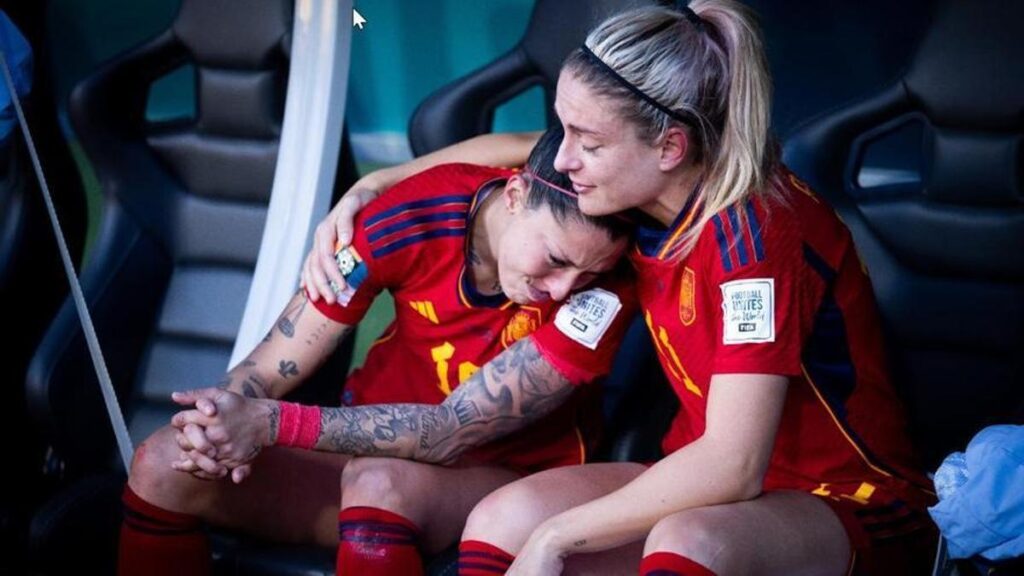 But it was the actions of RFEF President, Luis Rubiales, that dominated the headlines.
He was initially caught on camera making an obscene gesture with his groin in the stands right beside Queen Letizia of Spain and her 16-year-old daughter.
On the podium, Rubiales, having already unnecessarily hugged, touched the face and kissed the cheek of various English and Spanish players, planted a kiss on the lips of Spanish attacker Jenni Hermoso.
What possessed the RFEF to then tweet "Vilda In" and ignore the elephant in the room – the behaviour of their leader?
What Rubiales should have done, in the face of mounting criticism regarding his post-match conduct, was to acknowledge that he had become overwhelmed by the situation, accept his mistake and apologise.
Instead, he dismissed criticism of his actions referring to critics as "idiots" and "stupid people. It was a kiss between two friends celebrating something. Let's ignore them [the critics] and enjoy the good things."
In a later short video address, Rubiales did seem to show some remorse: "I was surely wrong, I have to admit it, because at a moment of maximum effusiveness, without any bad intentions, without any bad faith, well, what happened happened.
"We didn't understand [the controversy] because we saw it as something natural, normal," he added. "But outside it seems that a commotion has formed, and of course if there are people who have felt damaged by this, I have to apologise, I have no other choice."
That could have been the start of the process of rebuilding both his reputation and that of the RFEF, but they then published a statement from Hermoso defending Rubiales which later proved to have been released without her involvement.
Hermoso finally spoke out four days after the final and two days after the false statement had been released, issuing her own joint statement with FUTPRO.
"We express our firm and resounding condemnation of conduct that violates the dignity of women.
"From our association, we ask the Royal Spanish Football Federation to implement the necessary protocols, ensure the rights of our players and adopt exemplary measures.
"It is essential that our national team, current world champion, is always represented by figures that project values of equality and respect in all areas."
That prompted widespread condemnation for Rubiales and the RFEF, with Beatriz Álvarez Mesa, the president of Liga F writing an open letter to the government attacking Rubiales. Her comment that "the person that many of us know in private has been unveiled publicly" was utterly damning.
The Spanish Prime Minister, Pedro Sánchez, described Rubiales' gesture as "unacceptable" and said that his "apologies are not enough."
Tamara Ramos, a former employee of the Spanish players' association and colleague of Rubiales, then spoke out about past humiliating treatment at the hands of the president.
When a press conference was called for the following Friday morning, it was widely expected that Rubiales would announce his resignation, and he shocked the audience by defiantly repeating that he would not resign. He went on to describe "false feminism" as "one of the scourges of this country" and placed himself as the victim of a witch hunt.
Needless to say, senior male players such as Borja Iglesias ruled himself out of national team selection while Hector Bellerin vented his frustration via his Instagram story, and Barcelona captain Sergi Roberto quoted Putellas on Twitter to show support. Legendary Spanish goalkeepers David de Gea and Iker Casillas also denounced the "embarrassment" of Rubiales.
Hermoso responded to the press conference, confirming via her Twitter that the kiss was not "consensual".
Her teammates then launched a boycott of the national team until the "federation leadership is removed."
Rubiales' attitude was seen as symptomatic of a long-standing issue within the system of Spanish football governance.
This idea was further enforced when details of complaints against Rubiales going back as far as 2016 surfaced, as well as a disturbing video of disgraced former national team manager, Ignacio Quereda, intimidating and physically assaulting Spanish players.
Wary of the unprecedented damage that this drama was doing to their national reputation, the Spanish government opened up proceedings against Rubiales to get him forcibly removed from his post via tribunal and he was then provisionally suspended from all football activity by FIFA.
Still the RFEF defended their man and threatened to take legal action against Hermoso for her "lies", releasing their own breakdown of the kiss, claiming that Hermoso had initiated it.
A mass resignation of the Spanish coaching staff then left just Villa still in situ, but his position was hardly stable with squad member Misa Rodriguez demanding his removal before the players could consider a return.
The issue went as far as the UN Human Rights office, who said that the public stance on the kiss could be "a turning point" in terms of sexism and misogyny.
Eventually, more than a week after the World Cup final incident, the RFEF released an official statement requesting Rubiales to resign, a plea he has so far ignored.
The saga has been widely reported as a 'Me Too' moment for Spanish society. The hashtag "#SeAcabó" ("It's Over") has trended on social media and has become the slogan for an end to gender inequality across the country.
Rubiales' defiance is doing further damage to the reputation of Spanish football, and indeed the wider sporting and national landscape.
His words and actions have shone a light on a deeply entrenched problem within Spanish society which may just be the catalyst to push forward a long overdue cultural clean-up.
Rubiales appeared to have cemented himself into a position of untouchable authority within Spanish football, but the force of the united messaging by those in opposition to him has completely shattered that misconception.
The sacking of Vilda earlier this week may not have come as a shock, but it did give the RFEF the opportunity to start to address the problems that they had allowed to occur.
Interim RFEF President Pedro Rocha, who has taken on the role while Rubiales is suspended by FIFA, issued an apology which stated: "The Royal Spanish Football Federation, through its president, Mr. Pedro Rocha, considers it is essential to present the most sincere apologies to the football institutions, the players, especially the players of the Spanish National Football Team and the English National Football Team, stakeholders involved in football and the fans around the world for the totally unacceptable behaviour of its highest institutional representative during the final of the FIFA Women's World Cup 2023 and in the moments that followed.
"The damage caused to Spanish football, to Spanish sport, to Spanish society and the values ​​of football and sport as a whole have been enormous.
"The RFEF wants to transmit to the whole of society and to the whole of the football world its utmost regret for what happened that has tarnished our team, our football and our society.
"We must apologise most sincerely and make a firm and absolute commitment that events like these can never happen again."
The RFEF debacle is a further example of a sporting organisation seeming to ignore its role in society and responding poorly when crisis strikes. Rocha's apology was well overdue, but it will take a long time to restore a reputation now lying in tatters.