Member Insight: How viewer interaction is going to take the broadcast experience to the next level
By Community | December 13, 2022
What's new under the sports viewing sun?
It's no secret that technology has changed the way we watch sporting events. Viewership has changed since the days of cheering for your favourite team from the sidelines of a grassy field or listening to the game on radio.
While the consumption of sporting events has become a lot more convenient with the invention of plasma TVs and smartphones — no technology has significantly changed the way viewers interact with sporting events since television sets became a mainstay in people's homes through the 1960s.
Screens are light years ahead of where they started off, as well as sound and availability across mobile devices, but at the end of the day when it comes to our TV experience, it's still us and the remote with little to no engagement with the content we consume.
Big events such as the World Cup and the Olympics shine a spotlight on our viewing experience. In 2018, more than 3.5 billion people tuned in to watch the World Cup at home and FIFA predicted that 5 billion people will be glued to their screens during the 2022 tournament.
According to a study about the 2022 World Cup conducted by Amdocs, viewers have a growing desire for more interactive experiences with 25 per cent saying they'd like to participate in interactive gaming challenges, 37 per cent reporting a desire to receive player insights throughout the game, and 36 per cent saying they want to view behind-the-scenes content during the game.
The Content Marketing Institute also found interactive content is twice as likely to engage viewers over standard content, and that 81 per cent of respondents felt that interactivity retains attention more effectively than non-interactive content.
This tells us a lot about the future of sports viewing. Though broadcast platforms and content owners rightly protect the screen cleanliness as a precious asset, viewers are becoming more open to dynamic viewing, especially when engagement is initiated by the views themselves.
"If I as viewer am watching at the 70th min of a football game, and already there were a couple of goals and a red card- I would want to see those, right on my TV screen by clicking the remote, rather than having to look for those goals online or wait for the replays," said, Aviram Sharon, CEO of Inthegame, which specialises in interactive overlays for connected TV's and mobile devices.
"If a viewer wants to check the stats, or see odds it really should be as easy as tapping a button. From a sports fans perspective we need to be minded of what we want instant access to, and from a platform/broadcaster perspective we deliver engaging experiences and new monetisation and commerce opportunities".
So what has been stopping interactivity from being more widespread across CTV's and mobile viewing when it comes to sports content?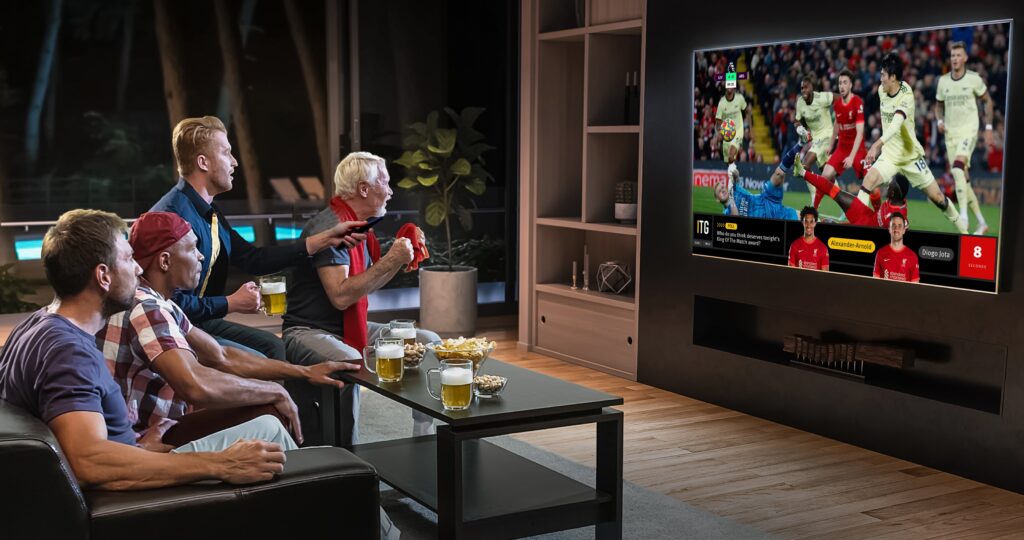 "One of the main challenges most platforms have when seeking to deploy interactive experiences, in-stream shopping and such, is the wide range of connected TV's and mobile devices viewers are consuming the content on. Inthegame's technology enables deployment of interactive overlays across all connected TV's and mobiles with a simple integration from the platform side, so viewers don't need to download anything in order to interact.
"Our management system enables automated engagement as well as customised offers to specific audiences. We definitely see it becoming much easier for streaming platforms to engage, monetise, and better understand their audiences."
Inthegame is not alone in the ecosystem, as Interactive viewing has been moving into mainstream media for a few years now. Netflix has already released multiple 'choose your own' adventure episodes of their most popular shows including Black Mirror and The Unbreakable Kimmy Schmidt.
Additionally, Amazon Prime recently introduced an interactive clip-sharing feature powered by X-Ray which allows viewers to share their favourite clips with friends, and family.
It's clear that sports viewing is moving in the same direction as most mainstream media and that interactive viewing will start to become a mainstay in most fans' lives.