Meet the Member: "We wanted to build something that is specifically designed with esports in mind and give our viewers at home the best possible experience"
November 17, 2022
Today saw the launch of BLAST.tv, the first streaming platform designed specifically for esports. We spoke to BLAST's Chief Growth Officer, Tom Greene to speak about the development and why they felt it was important for them.
For those who don't know, tell us a little bit about BLAST?
Blast is an esports company and we operate some of the biggest events and tournaments in the esports world. We started originally with the game Counter Strike, so we had the BLAST Pro Series that then went to BLAST Premier. Now though, we are working across a wide variety of games, we have FIFA and Valorant. We also do all the competitive Fortnite as well.
Blast Premier still remains the crown jewel for us though. We think of ourselves as an esports entertainment company and doing what we can to sort of elevate the broadcast and consumer experience from the best of esports.
Esports has grown massively in the last few years, how has BLAST adapted to the changing landscape?
I think you are right to identify the huge increase in viewership because of the Covid pandemic. I think BLAST has been successful for a number of reasons. The first would be that we have been quite strategic in the areas in which we have chosen to grow. BLAST.tv is a great example of this.
We have also moved into different games in a more meaningful way. I think we also approach competitive esports with both an entertainment and premium mindset. A lot of the guys who work for us are experienced in esports but also some of them are from outside esports and have more of a background in entertainment. I think this mix gives us a real edge.
The team we have built treats esports like a traditional sports league or media enterprise, where you're thinking through all the 360 degree commercialisation and the fan opportunities that come from such high viewership.
You have been at BLAST close to 18 months, how has it evolved in the time you have been there?
When I arrived we were still focussed on BLAST Premier and it made up 90 per cent of our revenue. We had done five or six more sort of solo enterprises into different games, but they weren't necessarily building other leagues, they were more like operating one off events in different games.
I think that was really awesome. It was an opportunity to test the water to see if the BLAST formula resonates across different esports and found that it really did. And that was sort of lucky enough to arrive at a time when we wanted to extend how we reach fans.
So not just being a broadcaster but also having a D2C home, that is BLAST.tv is a big move for us.
We have moved from the one-off events I spoke about earlier to creating leagues and ecosystems, what we have done with Fortnite is a prime example of this. Really since I have been at BLAST the business itself has got a lot more complex and a lot bigger.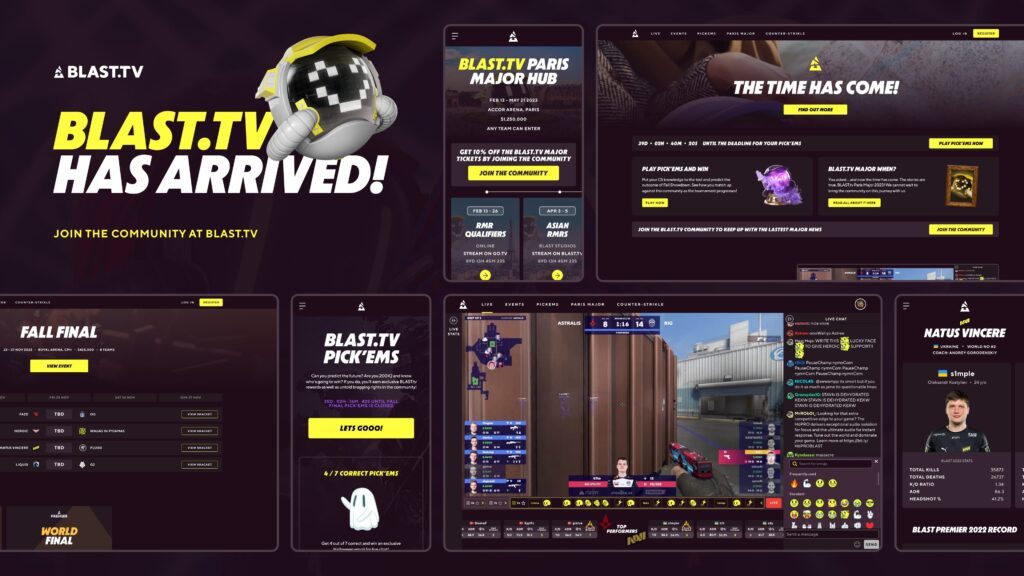 You have partnerships with Betway and Maersk, why do you think traditional companies want to invest in esports?
I think we have quite an attractive demographic for these companies. It is as simple as that. We are reaching a young and tech savvy audience, if you think about the penetration of crypto and other technologies within that demographic it's higher than the average.
I also think that our audience understands that partnerships and sponsorships are a vital way in which the whole system is funded. So I think our audience is very receptive to the right sort of brand entering in the right way.
We give brands the tools they need to be able to enter the broadcast in a way that adds to the experience rather than taking away from it.
Tell us a bit about BLAST.tv and what it means for esports?
The at home streaming experience was probably the last frontier for BLAST to be honest. We have been investing a lot of time, money and manpower really into thinking about how we could take our esports events to the next level and this is what we came up with.
Twitch and YouTube are massive parts of our community and they certainly aren't going anywhere so you don't have to worry about that, but they are not engineered for competitive esports.
We wanted to build something that is specifically designed with esports in mind and give our viewers at home the best possible experience. We really want to build something that keeps fans coming back again and again.
We really wanted to design a product for specialist esports, they're our audience and from their feedback we are going to build this thing from the ground up.
You have a following of 1.4 million on Twitch, how will your relationship with the platform change with this development?
I don't think it will change at all really, we have a great following on Twitch as you say, and a really good relationship with those guys. But Twitch is not an exclusive distribution partner for us; we use YouTube and even BBC Sport as well. BLAST.tv will just be another option for this really.
Because our platform is specifically designed for esports we aren't going to be competing with Twitch either. If people want to watch the content on Twitch it will still be there.
There is a lot of talk about the use of a second screen to complement and improve the experience of the first screen, is this something you have looked into?
We deliberately designed BLAST.tv with this in mind. Fans of esports will watch the events and could be using a lot more than two screens to get information. A lot of fans will have HLTV – which is like BBC Sport but for Counter Strike – on one screen and then be scrolling through Twitter for the conversation around what is going on and Reddit as well for some deeper analysis.
Our aim with BLAST.tv is to have the tools to work with as many fans as possible. For example, viewers can vote on things that happen in the game and can even spam the commentators and show whether they are liking or disliking what they are saying. That will be done using a second screen that is very much a companion piece to what is happening on the first screen.
Why was it important for BLAST to make this development?
I think for us it is sort of the final frontier, is where most of our fans watch our content. We thought we should take our technology, esports and entertainment expertise and bring them together and apply them to a fan engagement platform and create the best place for fans to watch Counter Strike and BLAST Premier.
Web3 is something that everyone's talking about at the moment, what are BLAST doing in that area and how can it be used by esports?
It is an interesting question because, as a company, we haven't moved into Web3 yet. Other esports teams have done drops but we haven't fully entered the space yet. We are obviously big believers in technology and we are building this digital home for our fans, so anything that can augment that experience and deepen the level of engagement then we will look into it.
If there is a model out there that we can use in an authentic way, is true to our brand and can deepen the fan experience then it is definitely something we would be interested in. The right partner is probably out there but we haven't found them yet.