Meet The Member: "The Irish Cup has the same ethos, same ethical credentials as us"
October 5, 2023
iSportConnect's Taruka Srivastav spoke with Ross Lazaroo-Hood, Global CEO, Clearer Water on The Irish Cup title sponsorship, brand awareness in the sporting industry and reducing carbon footprints.
Tell us about your recent partnership with the Irish Cup.
We are very excited to be the title partner of The Irish Cup. This agreement and partnership marks a tremendous moment for Clearer Water. The Irish Cup is steeped in heritage and a huge part of Northern Irish football and to all the 48 clubs that participates through Northern Ireland. This prestigious cup has the same ethos, the same ethical credentials as us. And for us to have the further 10 years on this agreement, it shows our commitment, it shows the IRFA's commitment that we'll have a joined up thinking of an exciting 10 year journey together.
What are the other partnerships you have or are in the pipeline?
Claire Taggart, the first Boccia player to represent Northern Ireland at the Paralympics is our Brand Ambassador. Claire is an inspirational young woman and is currently the World Number 2 Boccia player within her classification. Among her many honours, she claimed Gold at the 2015 Boccia European Team and Pairs Championships. We've been very excited to work with her.
We recently partnered with The Antrim Coast Half Marathon which is going to be longest Sponsorships in road running history with an 8-year agreement. We are the principal sponsor and the marathon is now renamed as "Clearer Water Antrim Coast Half Marathon". We want to partner with people with similar ethical credentials and we take our time and a cautious approach to bring these partners on board for us . We pick the right partners and we don't want too many. Also, we do have a couple of exciting projects coming up.
Why is sports industry so attractive?
What goes hand in hand is hydration and sports. Sports, having a very large audience and the fact that it's got sports sponsorship brand ambassadors, they all work great. And for the brands, it puts themselves into the spotlight in front of the 1000s, or millions of fans and potential long term Clearer Water product buyers as well.
Also not only do we help communities, but we do have to think about potential buyers of our product. And if we are doing a good sponsorship deal, does that have relevance to us? Do we help the brand of the sponsor? And how do they help us as well. But I think for us overall, we have to be backing local communities. They're getting involved, and assisting. It isn't all about the supporters. As much as we care deeply about supporters and fans but do all organizations give back to local communities? Clearer Water does. And that's how we want to be seen.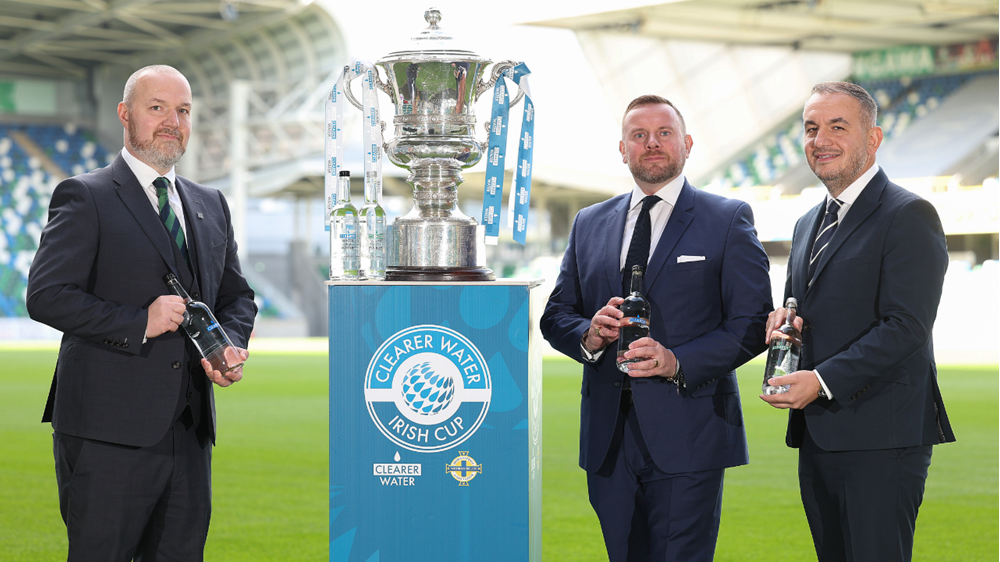 What is going to be your branding and marketing strategy around these partnerships you already have and which are going to come?
At Clearer Water we believe in long term agreements. To have a title partnership, it not only increases our partnership portfolio, but more importantly, it enables us to work with many organizations to support their plans for the future, their marketing and branding and communities. Communities need to connect with Clearer Water. They need to connect with our brand, they need to connect with the sponsors, brands, and the fans. The fans, the teams, the staff, the communities, it's about building brands and building brand awareness. And for us, it's building our own brand awareness.
But we don't do one or two year partnerships. We want to be able to grow. We want to see initiatives. We want to be able to work out programs through the journey together. And a long term partnership brings that to everybody.
How do you plan to compete with these already established brands?
For us to go up against our peers in the market we have only really brought this brand about in the last year and a half. But we have already seen quadruple increases in sales for us. We've already seen a move into a different beverage arena, we've taken Clearer Water and declare twist, which is our first range in two mixers. I think it is product diversification. From product diversification, multiple products, it's also the fact that we stick to the original ethos of Clearer, which is having an amazing water. Our water is pH 7.8. It's having great mineral content, it's high sodium, high alkaline, which helps elite sports people. But the overarching umbrella, is that our USP is that 80% of our work or teams is either disabled, or have neurological tendencies, autism, etc.
We are champions of mixed ability workforce. And I know there are some water companies out there who give 5 p or 10p to charities might get swallowed up in management costs. The fact is, we not only hire people who have mixed ability but we are also training them, we're giving them a job and we're also giving them a community within our company. And I'll give you the examples is that we have for mental health, we actually give fishing tools, and they go out and have twice a week fishing expeditions, which is great.
And that's really been seen by three leading universities that help with mental health, we promote life skills. So it isn't about learning how to do Excel and it's not also learning about high water plant works. It's also giving them the care and interest from us in their lives. I don't think there's many water companies who have a high ethical brand like us. We are number one in the UK, Ireland and Europe for ethical brands after only a year and a half.
If you look at the other two who sit on the same position as number one as us, they've been going for decades. And they took a long time to hit number one. We don't just do it. We live our team, we live an ethical brand. And we will continue to do that going forward and even when we expand globally. We will continue that in both our partners, in regard to our third party service providers. We will make sure that anybody who looks at Clearer Water, it comes across as thorough ethical brand and that should excite customers. These days people care more about where their water comes from, how does that water interact both with them and with the workforce or work teams that the company uses.
Lot of brands are going for sustainable packaging as well. Is there anything you're doing on these lines where you're trying to create sustainable packaging?
Yeah, for the record, at over 80% of our packaging is glass, which is recycled glass. Second, any plastic range that we have, they are from recycled plastic. And all the items of the plastic bottle are recyclable, as well. So I know there's again, a lot of move towards canning. But if you look at the statistics of what it takes to produce an aluminum can, it's actually worse for the environment than that of a plastic bottle. So it isn't just about plastic, I think you have to look at the process that is involved. What percentage of recycled plastic has been used in your bottle, and are all the items off your bottle recyclable as well. So we do take the whole thing in.
And then the overarching thing is what your carbon footprint is. Currently, over 85% of our supply chain is less than 11 miles. So we're not doing the likes of an Italian brand, who have massive carbon footprint of through boats through plane, lorries etc. to get their product in to different countries. Our supply chain is less than 11 miles. So we will continue to put our carbon footprint down. And we have plans to be 100% Carbon Neutral within the next five years that will take in consideration of solar power to other items as well.