Meet the Member: "County cricket, unfortunately, does not bring in enough revenue to cover itself"
June 22, 2023
With the Ashes underway we spoke to Lancashire Cricket's Acting Operations Director, Michael Hewson, about how the Club have diversified their income streams and how cricket can be more inclusive.
So, Michael to kick us off, take us through your journey in sport?
My background is a hotelier – up and down the country – from small boutique hotels up to five-star central London properties. A new Hilton Garden Inn was being built here at Emirates Old Trafford so that's what brought me to Lancashire Cricket in the first instance. I joined in 2016 as General Manager of the hotel, which went on to open in 2017.
Prior to my arrival at the Club, Emirates Old Trafford had undergone a £60 million redevelopment which included new conference and event facilities – such as The Point – so the prospect of a new 150-bed Hilton Garden Inn was hugely exciting and offered the opportunity to maximise revenue, both on a match day and non-match day.
Not subscribed to our weekly newsletter? Click here to sign up and receive more content like this to your inbox every week.
Having been in the role of General Manager, I then moved to the role of Head of Commercial Operations before recently moving into the Acting Operations Director position at the start of the year.
How is your current role at Lancashire different to what you have done before?
I used to be hotel-specific, delivering a hotel experience. Coming to Emirates Old Trafford – this is a venue that does it all.
It's a 365-day business operation so you've got a 150-bed hotel operating, Lancashire's domestic fixtures, Manchester Originals in the Hundred as well as England games. We've got an incredibly business Conference and Events business – whilst we also host 50,000 capacity concerts – of which we've just held two nights of Arctic Monkeys back-to-back, which was incredible.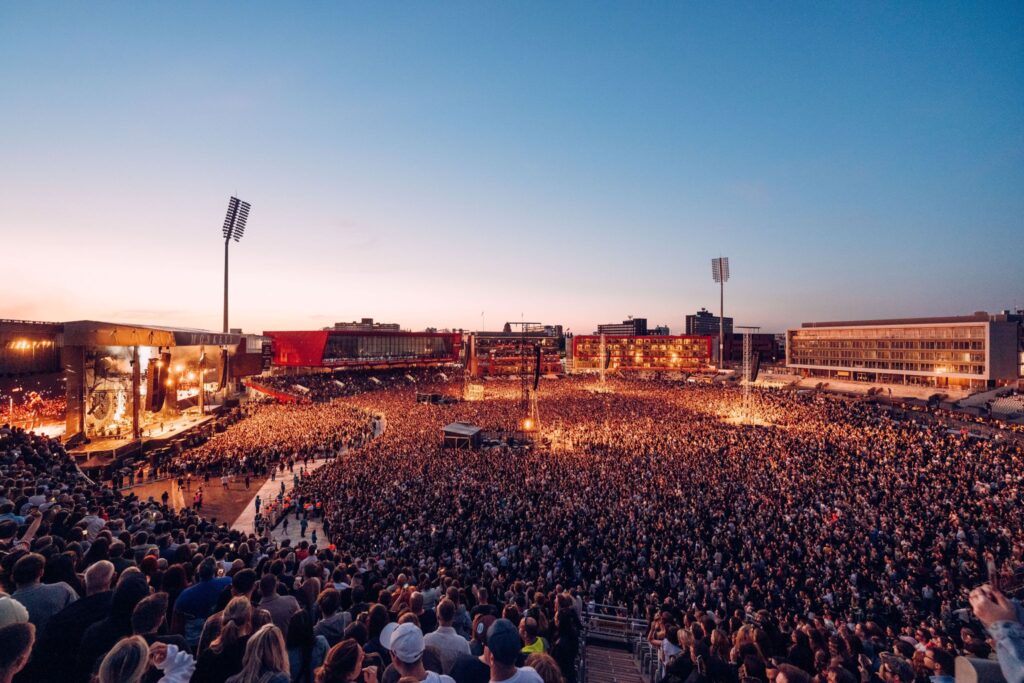 It's a cliché, but every day really is different!
The cricket season obviously only takes up part of the year, how do you make sure you are bringing in revenue 12 months a year?
One of the key words that you'll hear me talk about is diversification. This is something that the Club have focused on over the last decade, in terms of diversifying our business model.
Unfortunately, county cricket does not bring in sufficient revenue to cover itself. International cricket brings in a significant amount through ticketing and hospitality and we also have the popular short form competitions in the T20 Blast and the Hundred, but for us, it was about developing a venue that allows us to further diversify our revenue streams.
We opened the 150-bedroom property – the on-site Hilton Garden Inn – which was record breaking in terms of local market penetration. We have Christmas parties in December and January that we do for up to 1,500 people a night. Taking it a step further, we are just month's away from a 100-room extension to the hotel, taking it up to a 250 bed. This is going to further elevate our Conference and Event business too, as we'll be able to attract multi-day residential conferences, which will take us to a new level. The new development will also include a dual-aspect new restaurant with views overlooking the pitch that will further enhance our facilities at the ground.
From a commercial partnership perspective, we work with some fantastic brands, including Emirates as our headline partner, Hilton, Heineken, UA92, Sportsbreaks.com, just to name a few. Our sponsorship levels are at a record level – which is fantastic.
The key word for us is innovation. We're not a traditional county cricket club – which can be viewed as a bit stagnant. We want to be moving things forward, and pardon the pun, push the boundaries. For us, it's all about creating a world class, multi-purpose venue that has a wide range of revenue streams, so we're not fully reliant on cricket.
Your members are obviously so important to a county, how do you keep your members engaged through the year and make sure they renew their memberships?
The key for us here is driving the volume and engagement of our membership. We now have around 9,000 members, which is the highest it's been for a while. Last year, we took a long, hard look at our membership structure, which included significant external research and consultation with new and old members.
I mentioned before about diversity – and we're looking to grow and diversify our membership. Cricket in all its guises has to be more relevant and attractive to all audiences. Even simpler, the game has to be much more accessible than it has been previously. We're a members' club so engagement is absolutely key. They're not just a traditional season ticket holder, like in football or rugby, so we look to run a programme of events throughout the year, including Forums and coffee mornings including Q&As with players and coaches from both our men's and women's teams.
There are lots of different groups who come to cricket from your traditional county members to your more casual T20 fans, how do you try and make sure each of these groups feels valued?
With the addition of the T20 Blast and more recently, the Hundred to the portfolio over the last couple of years, there really is something for everyone when it comes to domestic or international cricket. We know that we have our Traditional Members who have been Lancashire supporters for a long time – and we'd like to thank them for their loyalty – but we also know that there is a younger generation of supporters coming through that enjoy the shorter form of the game.
As mentioned, we simplified our membership offering at the start of the year to try and make coming to watch Lancashire matches easier, more accessible and affordable. The Hundred and the T20 Blast is now the gateway for new cricket supporters and Members, or those that have never been to a cricket match before. We need to the cater for all different supporters that come to Emirates Old Trafford and ensure they all have an unforgettable experience when they walk through the gates.
There's a lot of talk about trying to get Gen Z involved in cricket at the moment, how are you tackling that challenge?
We've already touched on making our membership options more accessible to new and younger cricket fans and ensuring we look to diversify our audience. We have to do all we can to attract fans of the future to get involved with Lancashire Cricket. This is really important for Lancashire's long-term future.
The digital landscape plays a really important role in this too. We're developing younger audiences across social media platforms such as Instagram and Tik Tok and the creation of fun and engaging content is at the heart of our strategy in this area.
The team here at Lancashire have also worked tirelessly on LancsTV – our live streaming product, which is well known to be leading the way in domestic cricket. The growth of our live stream viewers over the past two years has been exponential – with over 70% being aged 18-35. We are also the only county to be live streaming in India, across both the Jio and FanCode platforms.
What do you think some of the challenges facing Lancashire and county cricket in general are at the moment?
As I said earlier, unfortunately cricket doesn't pay for itself – so financial sustainability in the long-term is crucial. That's been one of the key strategies here at Lancashire Cricket for the last decade, investing in the venue and diversifying our business model. The new hotel extension is going to huge for us over the next ten years, as we look ahead at our long-term plans.
For us, the growth of women's cricket is right at the top of our priorities too. We've had a professional women's side – Thunder – for the last three years and it continues to develop at pace. We've taken both our men's and women's teams on pre-season tour over the last couple of years whilst Thunder are playing more and more cricket at Emirates Old Trafford, which is great. Funding is really important and we – the ECB and all counties – must continue to increase investment over the coming years, whilst also ensuring our women's side has the same access to facilities and opportunities as our men's team. It was announced last week that we'll be hosting five women's Internationals between 2025-31 at Emirates Old Trafford, which is something we're all looking forward to.
Lastly, we all know what's happened with cricket over the last couple of years – and it's been in the headlines for all the wrong reasons at times. We all have a responsibility – along with everyone involved in English Cricket – to ensure that cricket as a game is welcoming and inclusive and that we take every step possible to eradicate any kind of discrimination. This is something Lancashire Cricket is absolutely committed to and is very much part of our DNA and core values as an organisation.