McLaren Racing Announces Vantage As Official Partner Of The McLaren Extreme E (MX) Team, Plus Gopuff Partnership
February 16, 2022
McLaren Racing today announced a multi-year partnership with Vantage, the online trading platform, as an Official Partner of the McLaren Extreme E (MX) team from the 2022 season.
Vantage is a global, multi-asset broker offering clients access to a nimble and powerful service for trading Contract for Differences (CFDs) on Forex, Commodities, Indices, Shares, and Cryptocurrencies. The partnership marks the union of two brands who champion the empowerment of people, with Vantage valuing a trusting, human-focused approach to its services, and McLaren putting the fans at the heart of its team.
Vantage joins McLaren's Extreme E programme for its debut season in the race series. Extreme E is the electric motor racing series which races in remote parts of the world to raise awareness of the issues of climate change.
The Vantage branding will be carried on the chassis side and roof of the McLaren Extreme E race car, and also on the racing overalls of drivers Emma Gilmour and Tanner Foust from the 2022 Desert X Prix in Saudi Arabia.
Zak Brown, CEO, McLaren Racing, said:
"We're delighted to partner with Vantage ahead of our first season competing in Extreme E. It's crucial that we work with partners who reflect our team's values, and Vantage shares our commitment to sustainability, innovation and performance.
"Racing in Extreme E marks an exciting new chapter for McLaren Racing, and our partnership with Vantage supports us in taking this important step in expanding our racing portfolio while accelerating our learnings in sustainability."
David Shayer, CEO, Vantage UK, said:
"The partnership with McLaren Racing is a big step for Vantage. The company values speed and innovation in the same way we do. Throughout the course of our rebrand, we did some soul searching about what kind of company we are. Now, as part of our expansion strategy, we decided to explore a sponsorship in a sport we felt would raise awareness of our upgraded services.
"Considering we are a broker that provides unparalleled technology to allow for fast trading execution, it made sense to look at something in racing, which is when we discovered Extreme E and McLaren. It became clear immediately that there were some parallels between our brands and sectors, but we also decided we wanted to contribute to a sport that raised awareness of climate change as a means of showing our support for addressing this global issue."
McLaren Racing announces partnership with instant delivery platform Gopuff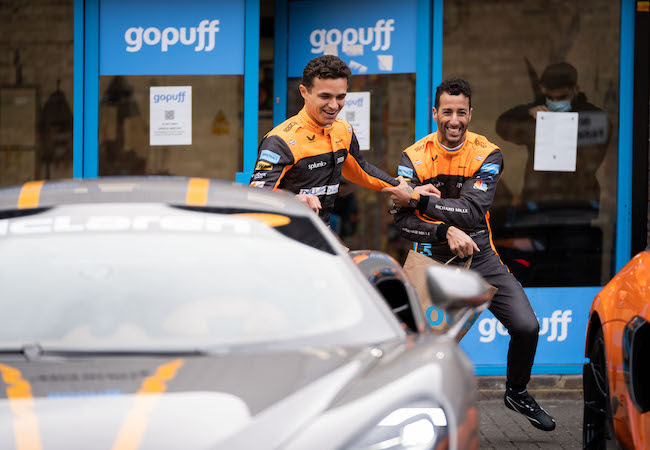 McLaren Racing has also announced a multi-year agreement with Gopuff, a US-based instant grocery and household essentials delivery service, as an Official Partner of the McLaren Formula 1 team. 
The multi-year agreement comes as Gopuff continues its rapid European expansion and will bring together the fastest in delivery with one of the most successful teams in motorsport to serve their growing customer base.
The relationship will give fans the opportunity to win experiences and rewards via the Gopuff App throughout the year, with a key focus on races in the UK, US and France.
Gopuff branding will be represented on the McLaren MCL36 race car during the 2022 Formula 1 season.
Zak Brown, CEO, McLaren Racing, said:
"We are delighted to announce our partnership with Gopuff ahead of the 2022 season. Gopuff is the pioneer of the instant delivery category in the US, which has seen rapid global expansion over the past year along with remarkable growth in Europe. We look forward to collaborating on campaigns and going racing together".
Daniel Folkman, SVP of Business, Gopuff, said:
"Being the exclusive instant needs partner of McLaren Racing is a validation of just how quick, seamless and reliable the Gopuff experience is. Working with this prestigious race team creates a new opportunity to connect with our respective fans and customers and have some fun along the way."