Made By Sport Calls On British Business To Invest In Sport For Good
By Community | March 15, 2022
National charity Made by Sport is urging British business to invest in community sport to tackle the challenges facing young people in society after undertaking research which confirmed that the average Social Return on Investment (SROI) for sport for good is £6 for every £1 spent, compared to £4 for every £1 spent on sports participation.
Sport for good is sport which delivers social outcomes such as better mental health, improved life skills, or stronger communities – it's about what sport does, not just what sport is.
The situation for young people in the UK is concerning, with 5.2 million (50%) expected to be living in poverty in 2022 and 83% admitting that their mental health has been affected by the pandemic.
One in five young people (21%) have experienced suicidal thoughts, rising to 28% in those not in education, employment or training with almost half not feeling prepared to enter the workforce. Yet Made by Sport has found that nine out of 10 people who have participated in a sporting activity believe sport can play a role in improving their mental health.
Over 50% of sport for good clubs and organisations rely solely on volunteers and yet there has been a £600 million reduction by local authorities into sport over the past decade, with thousands of the clubs struggling to secure funding because of limited resources and a lack of funding available.
The Made by Sport 'State of Play' impacts and insights indicator report shows that investment into community sport has a significant benefit for young people and their communities. Yet only 0.5% of Corporate Social Responsibility (CSR) activity at FTSE 100 firms target sport for good charities despite the higher SROI sport for good delivers.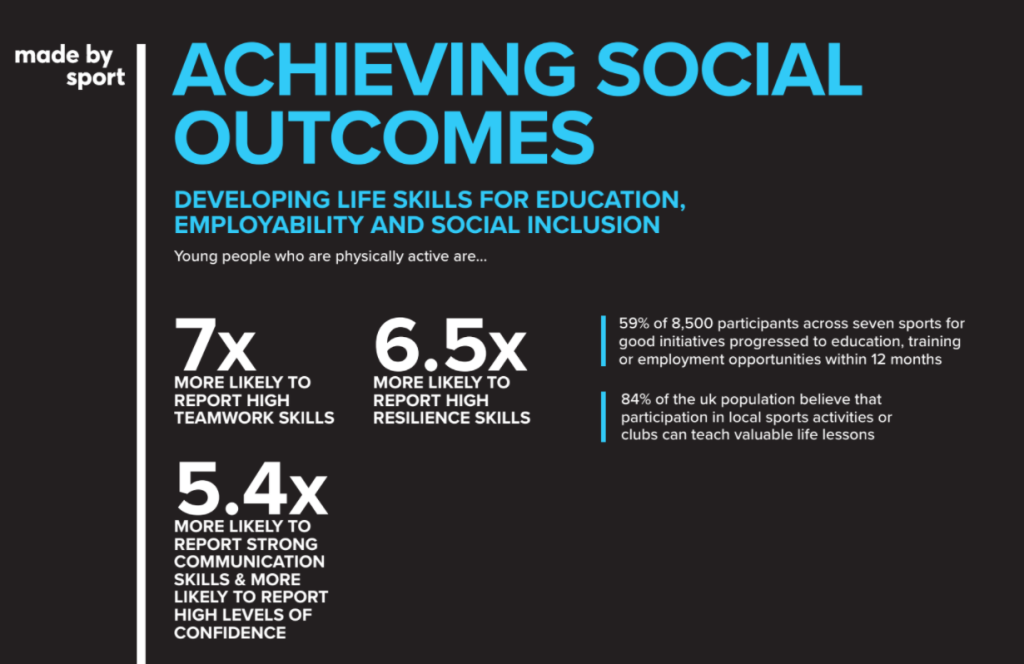 Sophie Mason, Chief Executive of Made by Sport, said: "Despite its proven success, sport for good is overlooked by government and business as a solution to some of life's biggest issues far too often.
"It's now time for British business to help society to address the significant challenges austerity and the pandemic have caused so that future generations can thrive and positively contribute to society.
"At Made by Sport we have seen first-hand the power that sport can have to change the course of young lives, providing life skills that help to build better and stronger futures through our work with a coalition of like-minded organisations who are dedicated to delivering authentic social responsibility.
"This is an open goal for British business where everyone benefits; from the young people themselves and their communities and yet incredibly business overlooks the societal and commercial benefits that come from looking beyond corporate sponsorships and entertainment when planning their annual CSR and marketing spend.
"Made by Sport has established large-scale partnerships that have made a real difference to distribute grants quickly and effectively at a national and local level and helped over 1500 clubs through the uncertainty of Covid-19."