LaLiga Launches Amazon store In Collaboration With 13 LaLiga Santander Clubs
January 4, 2022
As of December 29th 2021, LaLiga fans will be able to purchase merchandise and products from 13 LaLiga Santander clubs through Amazon. Thanks to a new collaboration between the Spanish football league and Amazon, there will be a dedicated LaLiga store available on Amazon.uk, Amazon.it, Amazon.fr and Amazon.de.
This project from LaLiga and Amazon will allow thousands of fans of LaLiga Santander to get their merchandise such as kits, clothing, and other fan items through the LaLiga store on Amazon. At first, this experience will be available to fans in the UK, Italy, France or Germany, with plans to expand to other areas throughout 2022 to share the passion for LaLiga and its teams with more fans around the world.
From December 29th onwards, it'll be possible to visit the LaLiga store on Amazon and find products from the following LaLiga Santander clubs: Getafe CF, Cádiz CF, Granada CF, Athletic Club, Levante UD, Villareal CF, Real Sociedad, Deportivo Alavés, RCD Espanyol, RCD Mallorca, RC Celta de Vigo, Real Betis Balompié and Club Atlético Osasuna.
Discussing this collaboration, LaLiga Executive Director Óscar Mayo says: "For LaLiga, it's very important to offer LaLiga Santander and LaLiga SmartBank clubs all possible tools in order to bring our league closer to our fans around the world. Through this exciting collaboration with Amazon, we are continuing to develop our internationalisation strategy and we can boost the growth of the competition and its clubs."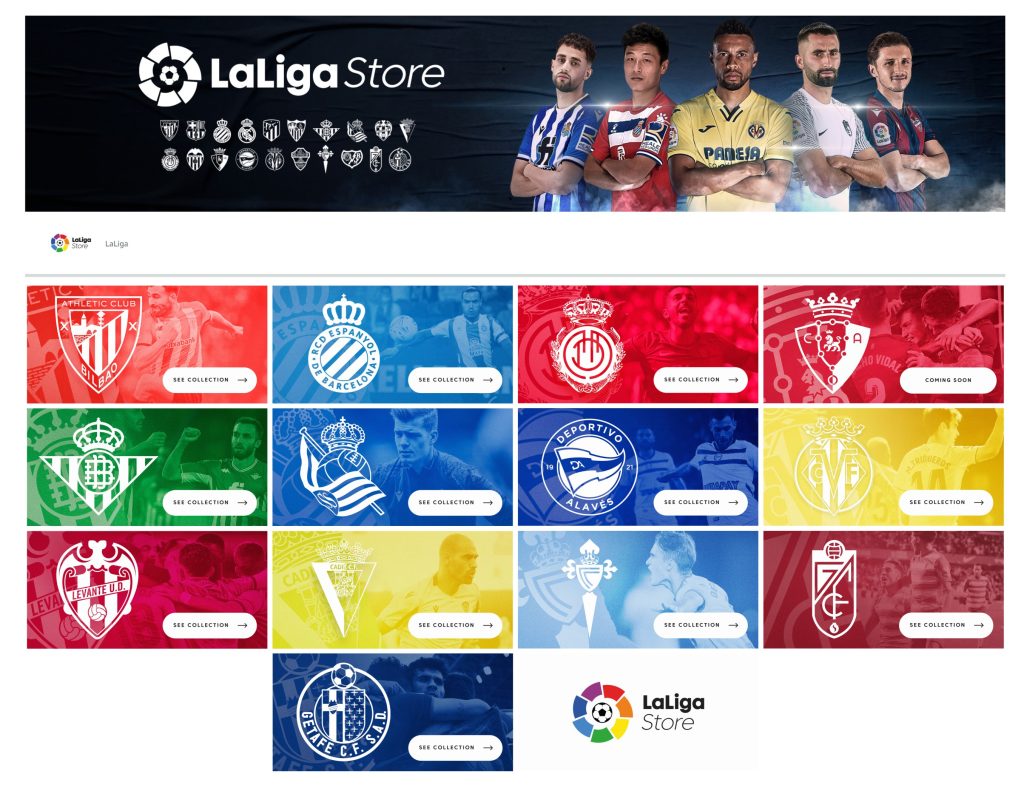 Mayo continued: "For now, we have 13 LaLiga Santander clubs participating in this project, with the LaLiga store to launch from December 29th in the United Kingdom, France, Italy and Germany. Our goal is to bring more LaLiga clubs on board and to be present in more regions around the world, with these to be announced during the first quarter of 2022."
"I am thrilled about launching this multi-year collaboration with LaLiga, bringing official products and tailored shopping experience to thousands of LaLiga fans so they can celebrate and share their love for Spanish football. At Amazon, we are proud to help LaLiga in its efforts to expand internationally, bringing fans closer to their passion wherever they are," says Hernando Moncaleano, Head of Fans 360 at Amazon.
Within the LaLiga store on Amazon, browsing fans can find more than 1,600 different products from the participating 13 teams. There will be a great variety of items available, from sportswear to other men's and women's clothing, while mugs, toys, household items and much more from these LaLiga Santander clubs will also be on sale via Amazon.
A new e-commerce opportunity for Spanish clubs
LaLiga is continually looking for ways to work with new technologies as well as for commercial opportunities that will allow the clubs of LaLiga Santander and LaLiga SmartBank to evolve and thrive. Thanks to the collaboration with Amazon, Spain's professional football clubs have been presented with the chance to reach more customers outside of Spain
As this initiative takes off, LaLiga will coordinate with each of the participating clubs in order to guarantee the timely production and availability of the products put on sale, to provide their customers with a great new shopping experience. The clubs benefit from Amazon's infrastructure and can easily update their inventory and merch offerings within the online store.
• United Kingdom: Store in Amazon.uk (www.amazon.co.uk/laliga)
• France: Store in Amazon.fr (www.amazon.fr/laliga)
• Italy: Store in Amazon.it (www.amazon.it/laliga)
• Germany: Store in Amazon.de (www.amazon.de/laliga)