iSPORTCONNECT's Media & Broadcast eMasterclass Evaluates The Changing World Of Broadcast
By Ben Page | March 25, 2021
Today, iSPORTCONNECT hosted the first of our all new online eMasterclass events, looking at the world of Media and Broadcasting with some fantastic speakers providing insight into some of the changing areas of broadcasting.
Follow our opening from host Emma Dodds and iSPORTCONNECT's Chief Strategy Officer Sandy Case, we had incredibly interesting start to our Media & Broadcast eMasterclass, a presentation on 'Fan Psychology And How It Impacts Subscriber Retention' from Bhavesh Vaghela, CEO of Singula Decisions.
Bhavesh told us about some very unique insights that were revealed as part of Singula's new report, undertaken to understand the mindset of subscribers and some of the mistakes platforms need to avoid in order to ensure they retain more of these consumers.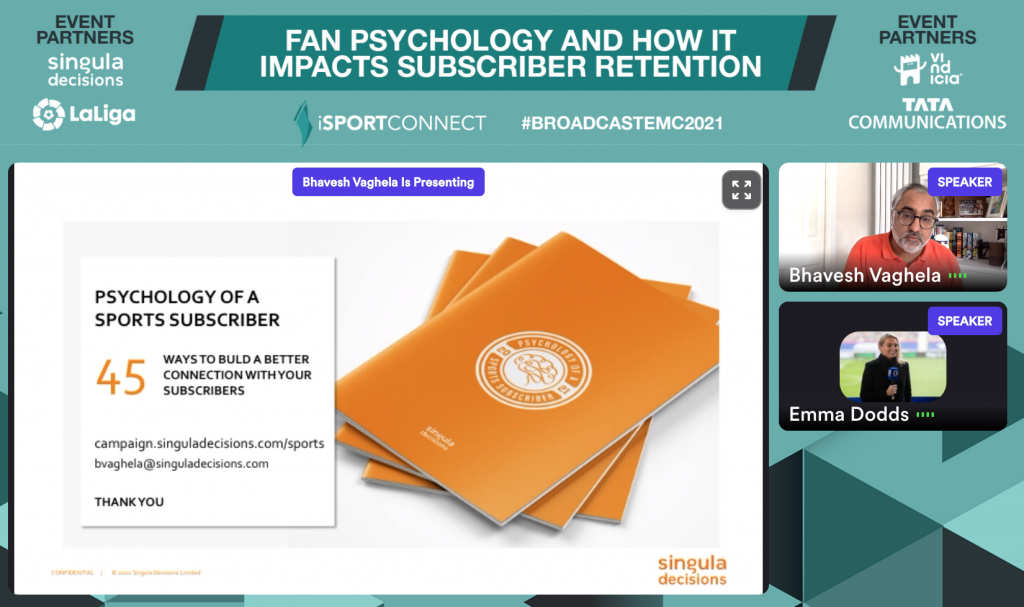 Our second session featured the discussion 'LaLigaTV: Growing The Reach Of A Digital Channel', getting the inside scoop from Richard Sweeney, CEO of Premier Sports, Keegan Pierce, LaLiga's Head of International Development for the UK & Ireland, and Roger Brosel, LaLiga's Head of Content and Programming. This session provided a new look into how LaLigaTV is growing the reach of their linear channel and the challenges being faced and overcome.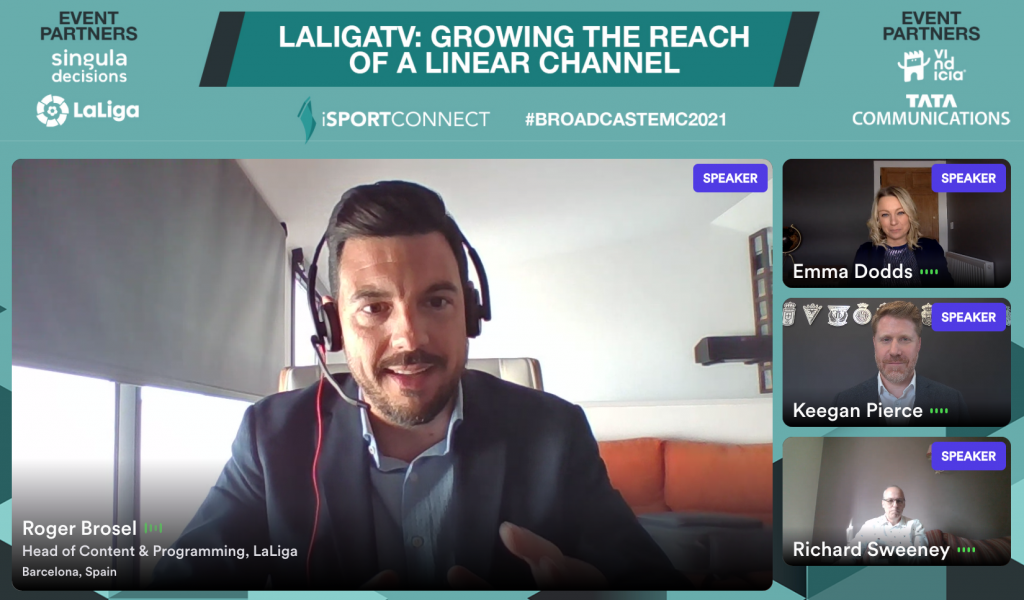 After a short break in which guests were able to network, our second panel session took a deeper look at 'The Evolution Of Content Consumption And Distribution Solutions'.
On this panel we were delighted to have with us NASCAR's Brian Herbst, Glen Killane of Eurovision Sport, the IOC's Jerome Parmentier, Brijesh Yadav from Tata Communications, moderated by Facebook's Lea Bayssat.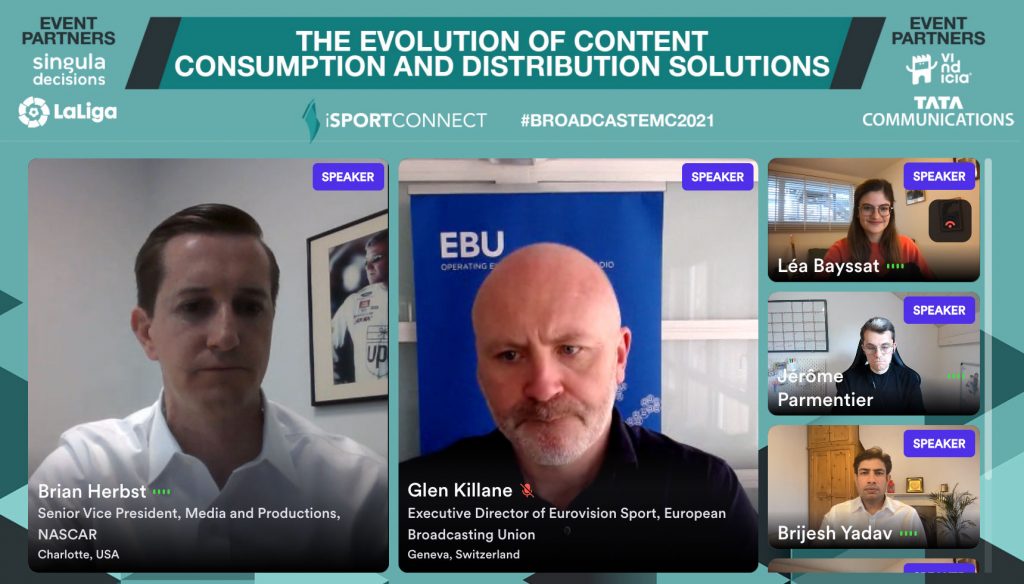 This session was incredibly informative and gave our attendees some real insight into some of the different challenges that are being faced from varying organisations across the world of sport. We covered areas such as remote production, the future of viewership, how mobile could be the future primary screen and much more!
For the day's final session we looked at 'Accelerating recurring revenue and keeping subscribers engaged', with moderator Mark Bishop of Vindicia.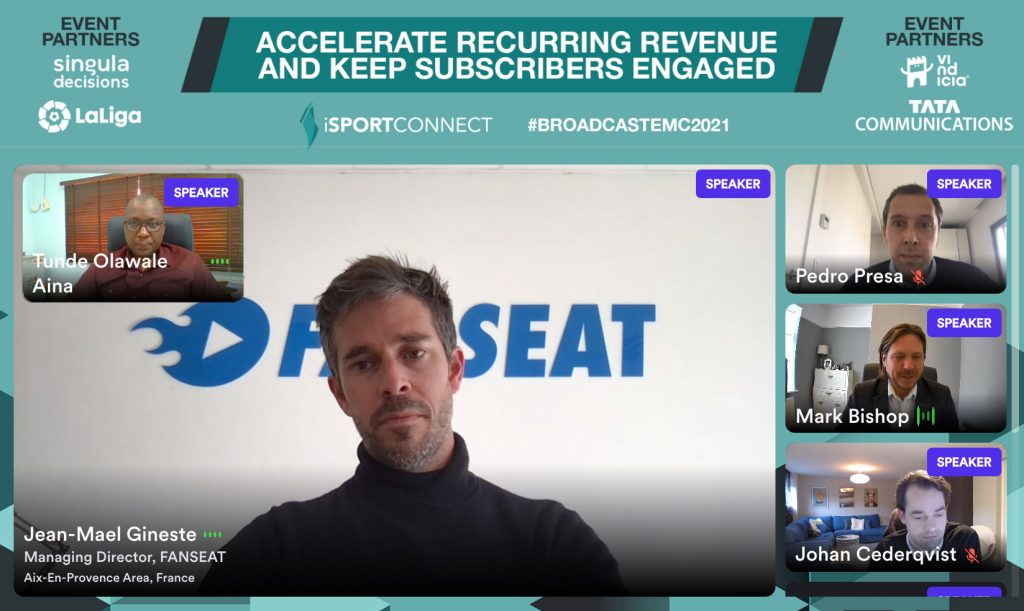 Here we heard wide-ranging opinions from four people who are extremely spread out around the broadcast landscape, with Tunde Aina from StarTimes, Pedro Presa of ELEVEN SPORTS, Johan Cederqvist from TV4 and Jean-Mael Gineste from FANSEAT joining us to provide their expertise.
iSPORTCONNECT would like to give a huge thank you to all of our brilliant speakers and to our extremely capable host, Emma Dodds.
Overall it was a fantastic event on a brand new platform that we will be utilising for our upcoming eMasterclasses across the next couple of months, and we are sure all of our guests were able to take some new learnings away from this event thanks to the insight provided by our panellists today.
Next up will be our Global Forum, 'Level The Playing Field' in association with the International Tennis Federation on April 12th between 2-5pm BST, we hope you can join us then.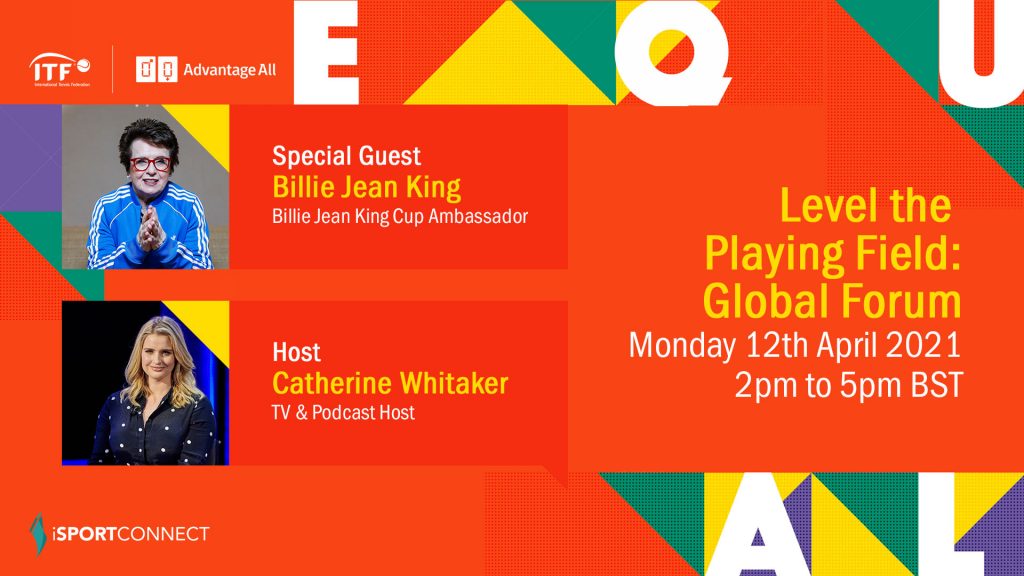 Comment.
NO comments