iSportConnect evolve Masterclass format to focus on P2P exchange
March 15, 2023
As you may have seen on LinkedIn, last week we held our first "masterclass+" event of 2023. With more than 15 of these events planned across multiple cities, there's no getting away from the fact that it is going to be a busy year for the iSportConnect team.
We have decided to take our events in a different direction this year. The emphasis has swung from keynote speakers, panels and fireside chats to knowledge sharing around pain points that our community of rights holders are facing. Amidst the change, two things will remain the same. These events are unique in that they are both exclusively open to rights holders and are free to attend by invitation only.
The change in plan isn't something that was decided overnight. We have been thinking about it for a while. We spoke to you – our community – to understand what you wanted from the ideal event format.
Not subscribed to our weekly newsletter? Click here to sign up and receive more content like this to your inbox every week.
All our events this year are going to be compressed into a half day format with space for networking. We kick off each event with an insights-led presentation to help set the scene for the day and give the audience some concrete information to frame the topic at hand. So far these have come from YouGov and Omdia and have provided our delegates with a great platform upon which to have more in-depth discussion.
But away from the presentations, and while each event will have space for an inspiring panel discussion, the interactive roundtables that now occupy the majority of the Masterclass+ event format, are what we are most proud of. The sports industry is often accused of being too insular and, with rivalries on and off the field often getting in the way of knowledge exchange, it is easy to understand why. However, sports business executives have a lot to learn from each other (as well as those beyond our borders) and we see our events as a great vehicle to facilitate that.
It was great to see and feel the room relax after just five minutes of discussion as delegates started to share their pain points and offer each other solutions.
The team at iSportConnect don't plan to put their feet up and we will continually look to improve the value we can bring to the industry in step with our community.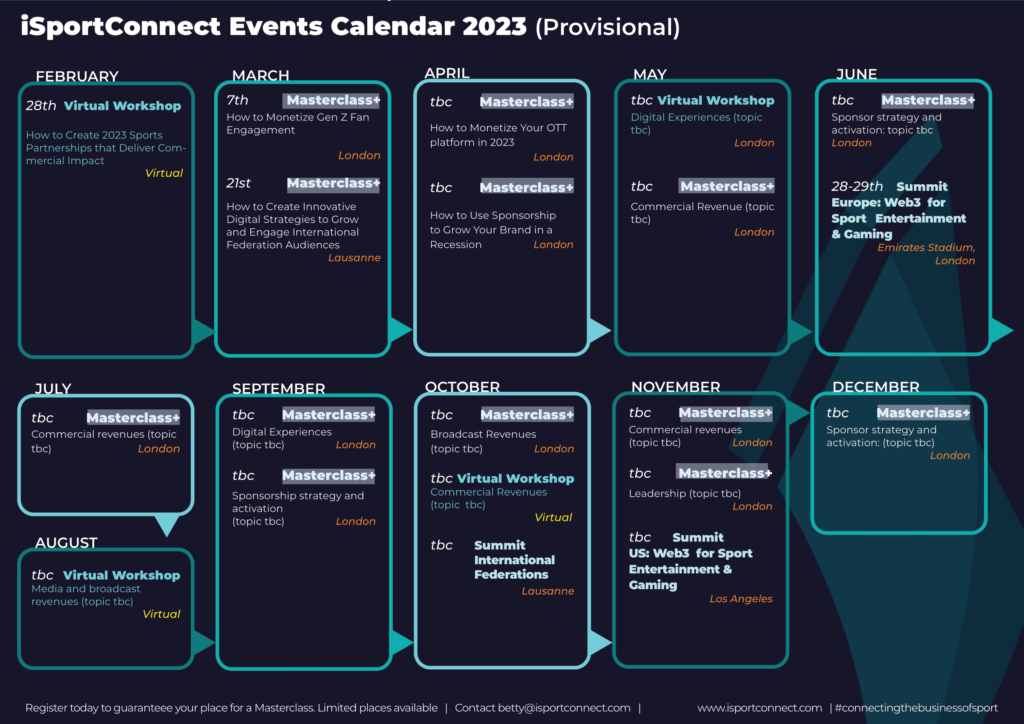 If you would like to register your interest for more of our events moving forward, click here
By David Fowler, MD Advisory iSportConnect, click here to contact David