"We Have A Strong Focus On Replicating What You've Seen In The Premier League For Other Key Markets"
March 3, 2021
Danish sportswear brand Hummel has moved strongly into the Premier League with recent kit partnerships with Everton FC and Southampton FC. iSPORTCONNECT spoke with Filip Trulsson, Chief Brand Officer of Hummel about the brand's latest partnerships, building its brand globally and expansion plans.
Hummel is huge on athleisure and sportswear, so why are sports teams like your recent partnerships an attractive vertical for your brand?
I think it's impossible to talk about Hummel without weighing in its history. Hummel had a pretty significant spell on the international market in the mid-80s to the mid-90s with a very strong hold on international football, working with properties like Real Madrid, Benfica, Tottenham, Aston Villa, Southampton etc.
And I think a lot of sports brands obviously went through a bit of a rough patch. At the end of the 90s, which also hit Hummel like Adidas and Puma as an example and Nike a little bit different, but they were just sort of on the upswing at that stage. So the brand almost had to reset before being acquired by the Stadil family in 1999. Since then the brand has been rejuvenating and gaining new current leadership, I joined in March 2019 and Allan Vad Nielsen, our CEO, joined in 2017.
If you look at the sporting industry you see a number of brands that you know, classic brands that have sort of re-emerged, whether you take Fila, Kappa or Umbro depending on the region, so for us sport is obviously the essence, it's the soul and the heart of our brand.
"It's such a small industry so the signing of Everton became sort of a milestone moment, as you'd expect… clubs and federations start taking note of you."
The focus on getting to build brand awareness has been one of the pinnacle or critical points in this last edition of Hummel leadership. And the focus on the Premier League is obviously an evident one, given that it's so global. And it's also a core sport for Hummel looking at looking at football traditionally, alongside indoor sports like handball where we're a market leader around the world. So it's been a very integral part of Hummel internationalising itself again and connecting with young consumers globally, who may not have seen Hummel as a prominent brand as they grew up.
Why was Southampton FC an attractive club for you to partner with and how are you working with them?
I think you can't have a Southampton without having an Everton FC partnership conversation. It's such a small industry so the signing of Everton became sort of a milestone moment, as you'd expect. Suddenly if you look at tier one leagues like in Spain or the Bundesliga as examples, clubs and Federation start taking note of you.
Just in the wake of the signing and partnering with Everton, the phone started ringing and inquiries started happening, you've got sports marketing agencies and so on representing teams. Southampton, at the time, were looking for a technical supplier coming in to replace their existing relationship.
Therefore I think it's a word of mouth effect plus the impact of it being Everton really making a muscle statement in the most significant Football League in the world. Southampton had heard good things so they contacted us. At the end of the day, it's really about meeting the people and finding common denominators, which was very much the case with Southampton. So there are a lot of joint values and sort of objectives that fell into place. And, of course, it was also a blessing that we had had a relationship with them in the past.
It was perfect timing, we were excited, just like with Everton, to work with the club very much based on what their objectives are, their honesty. They strive for excellence, but obviously benchmark themselves a little bit differently from some of the top four clubs.
What is the difference in activation assets across your football partnerships?
We're building brand recognition with our Chevron branding, and our Bumblebee logo. I think we need to be quite consistent in the specific branding elements to build a connection as well as awareness. But at the same time we do pride ourselves in tailoring designs on the shirt so that there's a unique feeling to the teams that we endorse.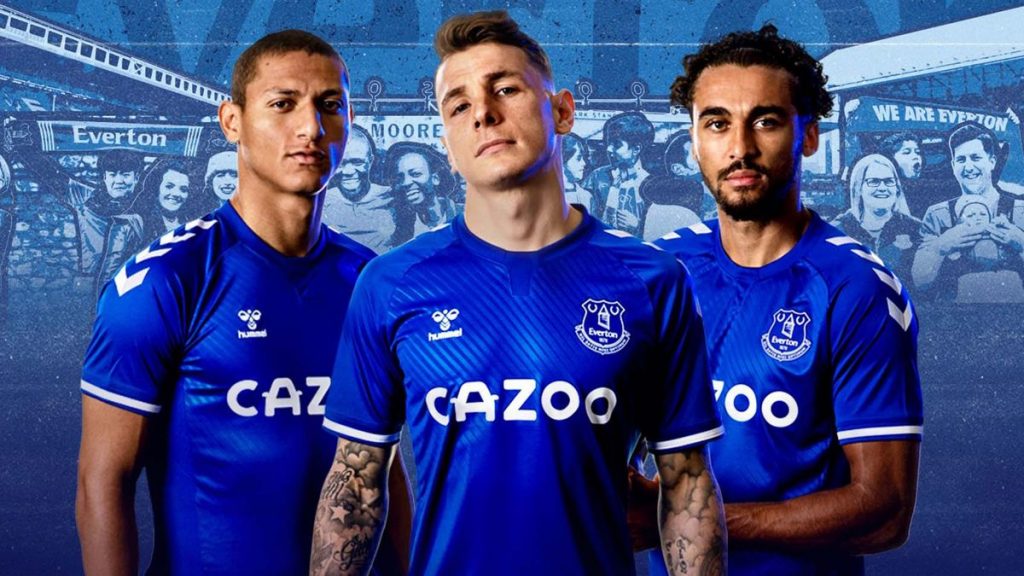 And that's worked very early on, this is the time where we're presenting design suggestions to the likes of Everton and Southampton for season 2022-23. So we work quite far in advance on that because when it comes to kits in football, there's always an emotional context. You need to be respectful to the history of the club despite having our Hummel agenda. Sometimes, there could be a bigger overarching story that you would like to take down into your main sponsorship assets, there could be anniversaries and much more.
It's quite an intrinsic approach with a lot of brain juggling and opinions, but it's really also what makes the sporting goods industry different maybe from fashion. There's always that knowledge that the outcome will be vetted by thousands of opinionated and really invested people and it's such a testament to your work to see your product out there on some of the top athletes in the world.
Clubs these days have home kit and away kit but also third kit, sometimes they're interlinked and sometimes they're independent. Working with the club on the launch, ideation almost kicks off at the same time as the designs are locked down. Clubs these days obviously have strong community programs, so the other aspect versus maybe 10- 15 years ago (since I've been in the industry for that long!) is that football is 24/7 even in the off season, there are many transfers but that's usually when you try to launch a kit.
"If we spent too much time looking at everyone else that would be detrimental. We have to shape our own destiny and build the brand for the future."
So you have to build a program on a product and a communication to connect with the fans and be meaningful, it's a creative responsibility. It's very rewarding but it can go wrong. Fans are extremely opinionated, but they're the target consumer, so it's always a nice adrenaline kick almost just before something is introduced to get that sort of instant reaction because they don't hold back whether good or bad.
How do you compete with the likes of Nike and adidas for the best properties?
They're not necessarily on top of mind because we're in the process of sort of re-establishing Hummel as a challenger brand. If we spent too much time looking at everyone else that would be detrimental. We have to shape our own destiny and build the brand for the future.
We're working on opening up new markets, looking at how we can elevate our product and our brand proposition, so how do you compete? As a smaller challenger brand you can definitely open up a conversation with some efficiency, differentiating yourself to the big brands, which I've also worked for, as they have other challenges. We can offer a service level and agility and customisation aspect to our partnerships when it comes to sponsorships, that isn't always possible because some of the competitors obviously have a completely different base in terms of critical mass of what they need to service.
"We have a strong focus on replicating what you've seen in the Premier League for some of our other key markets like France, Germany and Spain."
They also have I feel stronger internal guidelines or regulations in everything from storytelling and so on where we are definitely at the stage where we're much more flexible. For us it's always important to highlight those aspects, but we don't really do it in the in the sense of 'that brand can offer that but look at us', it's more self explanatory, especially when it comes to sponsorships.
It'd be a different discussion, obviously, if you were talking to a tier one asset that have a lot of experience of getting preferred treatment from Brand X, Y or Z. But right now, the clubs that we've been focusing in on or our federation's, their starting point and perspective is different. We're trying to comepete where we can and where we might have an advantage and can stress and underline that to a potential partner.
How do you evaluate how well these partnership deals are performing and the goals behind them?
I think it differs a little bit at what stage you're at as a brand. We look at the key markets, we need to have penetration and presence in some of that. We're not yet at the stage where we would be evaluating, 'okay, are we getting the return on investment here in terms of a social media study, the in-stadium perimeter boards', all of those aspects, that's not really the main driver in terms of decision making right now because it's more about having your product on and making a connection with those properties and the fans of those properties that we work with.
If we sort of teleported into 2028, then I think we would be at the stage where of course, we would have to look more holistically around the return on investment. But right now it's commercial vetting; finding the right property that we believe, let's say connect well with a brand that can also transcend the Hummel message and being present in the relevant football leagues. There is definitely an argument for putting much more focus on concrete KPIs in terms of recognition, awareness, or what you get through the sponsorship, but we're not there quite yet.
What are Hummel's plans moving forwards, can we expect expansion?
Absolutely! I've only been with Hummel for two years, so I've worked integrally with the Everton and Southampton contract and if you do a good job in this industry you become relevant to many. We have a strong focus on replicating what you've seen in the Premier League for some of our other key markets like France, Germany and Spain.
There's definitely some exciting propositions on the on the table, but right now that's more for 2022. But everything is going to plan and I feel that the muscle statement which potentially started with Southampton is definitely going to be valid internationally come 2022 so we're very excited about that.