How Covid-19 Has Impacted Our Wider Fitness Habits
January 15, 2021
Over the past year, as the coronavirus pandemic has spread across the planet, many people have been forced to adapt their ways of life from traditions that had long stood, whether that be working from home or lifestyles changes, such as the restriction on physical activity and closures of gyms.
To take a closer look at the second of these effects, MATTA are releasing their latest survey, dedicated to how the fitness habits of the general public have been altered. Matt Hunt, co-Founder of MATTA, tells us more in his insights piece for iSportConnect.
As we navigate one of the trickiest phases throughout this global pandemic to-date – and combine the "final chapter" of the pandemic with the annual January blues. It would be  hard to not look back on 2020, the year that flipped our lives – our economy – and our fitness habits – forever. The fitness industry was forced adapted to life in lockdown and, with that it mind, it is only right we start to assess how it has transformed and the shifts in consumer behaviour. And that is why I believe it is timely to be releasing the MATTA survey, Work our or Work In: Witness the Fitness in a Post-Pandemic Age.  
The sentence "I have felt quite unsettled throughout COVID — going for runs has helped clear my head and feel less out of control" is a sentence that could resonate with so many of us it seems, that is if we are to read and digest the MATTA survey. This sentence was just one response from our revealing survey on consumer behaviours concerning fitness as we emerge from Covid-19, and one that could explain how so many of us feel following the strangest, most testing of years.
"The survey shows the pandemic has been a catalyst in the public's recognition of exercise to mental health: the number one reason people gave for exercising was to ensure positive mental wellbeing."
It is beyond question that many industries have been affected by Covid, but few in my view have been as affected as the $6 billion fitness sector, which is fast appearing to be a different version of itself from that of 12 months ago; and what makes this so interesting, is this is a sector that directly affects public in its everyday life. This belief that the fitness industry has been transformed is backed up by the headline out take of this survey: 82% of people admitted to having changed their exercise habits as a result of Covid-19 and 37% claim to be more active.
Interestingly, what the survey shows is that the pandemic has been a catalyst in the public's recognition of exercise to mental health: the number one reason people gave for exercising was to not to lose weight, get fitter, but to ensure positive mental wellbeing, whether it be increasing their confidence, improving their sleep, putting them in a better mood or reducing their anxiety. This is in stark contrast to recent history; take, for example, a 2010 study, when muscle building and losing weight were the respondents' main drivers for exercise.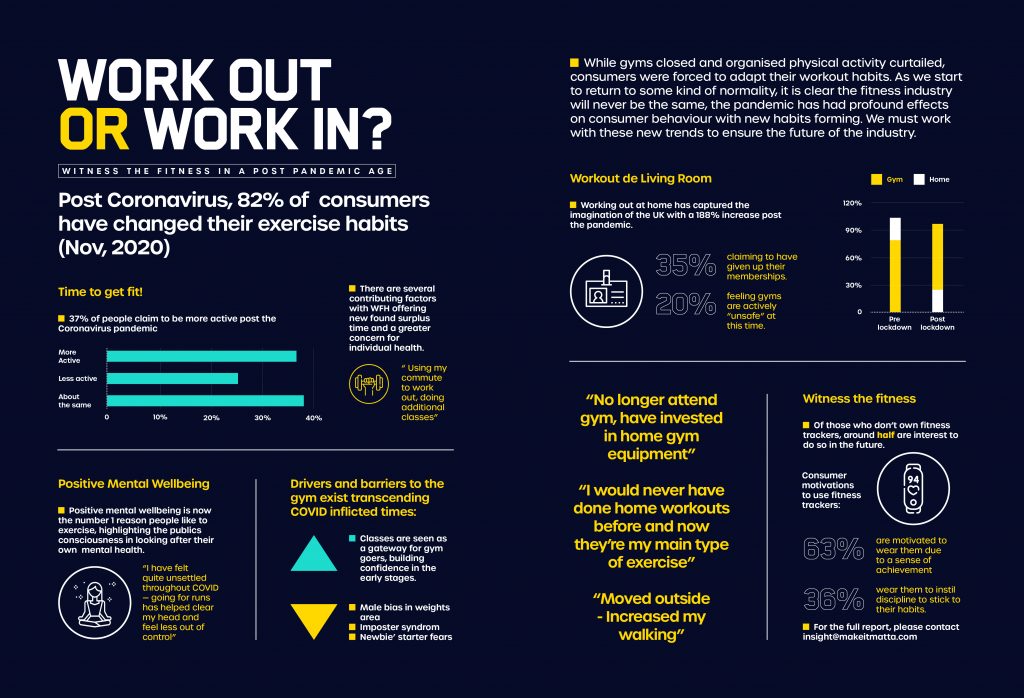 Of course, one of the most direct impacts of a transformed fitness industry will be the gyms. As the survey proves, Covid-19 changes everything for the gym industry. And so, it is recommend that as we emerge from the pandemic, gyms should display not only greater flexibility in their services and package offering, but should pivot to more mental wellbeing focussed messaging when speaking to their consumers.
The survey demonstrates that, unsurprisingly, consumers have safety concerns about returning to gyms, social distancing, sanitisation and ventilation are all key safety enablers. However more needs to be done to restore consumer confidence and prove to doubtful consumers gyms are fit for purpose once again, especially now that new fitness habits have formed.
One of the highlights of this enlightening survey – and one of the greatest threats to gyms themselves – is that people are now bringing the gym to their homes. People are investing in home gym equipment more, as evidenced by the fact that brands such as Peloton have grown by 350% during the pandemic. Home gym equipment sales overall soared by a huge 5813% between the date the UK went into its first lockdown on 23 March and July – interestingly, trainers were the most purchased item of all. Then, there's other signs of this consumer exercise shift, with brands such as Apple launching their new watch-powered fitness experience, Apple Fitness Plus, bringing world class workouts by the top trainers to people in their homes.
37% – The amount of people who claim to be fitter after the coronavirus pandemic.
Despite these challenges, however, our survey makes it clear there is a way out for gyms that display the right flexibility, agility and become more consumer-focussed. The name of the game for exercise companies will be a new, hybrid physical-virtual business model, the type which companies such as Barry's and Virgin Active have already adopted. In doing so, they have proven to be ready to rise to the challenge. In 2021, and in the years to follow, gyms will need to offer more flexible memberships to cater to an increasingly demanding, and all-powerful, consumer. As our survey shows, tailored membership packages that offer consumers a number of visits per month will be one of the ways to go; and, even as restrictions are eased, gyms will need to provide the right blend of physical-virtual offerings in a more safety-conscious post-pandemic world.
MATTA was set up five years ago precisely because we believed that sport, fitness and wellbeing matter, which, when combined, unequivocally promote happier and healthier lives. With the onset of Covid-19 this past year, it is clear that this sentiment, this healthy trio, is gaining traction amongst a mainstream audience, who, in large numbers, are realising the importance of overall wellbeing in their lives. The direction of travel surely presents massive opportunities for those that can capitalise on the seismic shift in consumer behaviour that we're now witnessing – much of which will inevitably be here to stay, as people across the UK and worldwide start to reap the healthy benefits of their own new normal. If you would like to receive a complimentary copy of the Work Out or Work In report, then please email: insight@makeitmatta.com