Fijian Drua Partner With InCrowd Sports Ahead Of The Inaugural Super Rugby Season
By Community | February 15, 2022
The Fijian Drua, the newest franchise in Super Rugby Pacific have appointed InCrowd Sports to lead its fan and digital strategy, starting with the launch of a new website – drua.rugby. 
The Fijian Drua, who will be playing home fixtures across Fiji and Australia in their first season, have been established to deliver a sustainable route for Fijian talent to play professional rugby, whilst also showcasing Fiji's exciting style of play in the southern hemisphere's biggest competition.
Key to the Fijian Drua's growth strategy will be engaging the significant audience with interest in Fijian Rugby, so the club has appointed leading data, technology and sports marketing specialists InCrowd, who are helping build a digital ecosystem from the ground up to deliver personalised experiences and engaging content for fans in Fiji and around the world.
InCrowd has a proven track record of producing industry-leading fan technology, data solutions and professional services for their portfolio of clients that include URC (formerly PRO14 Rugby), Premiership Rugby, Euroleague Basketball, Formula 1, ECB, Rugby Football League and a number of Premier League and Championship football clubs. In Australia and New Zealand, InCrowd currently delivers technology across 33 venues including the SCG, Stadium Australia and CommBank Stadium, as well as working with organisations such as Golf Australia and Netball Australia.
"Our partnership with InCrowd will further strengthen our engagement with our audiences at home and wherever they are overseas, with content and interactivity which will be unique to the Drua."
During the 2022 Super Rugby season, drua.rugby will have real time updates during match days, as well as latest news, statistical graphics, fan voting, competitions, player profiles, video galleries, interviews and other exclusive content.
The website has been built upon InCrowd's digital experience platform, Bridge, which includes a sports specific headless CMS, digital asset manager, fan engagement tools, audience insights and tools that enable personalised content delivery and communications based on 1st party data.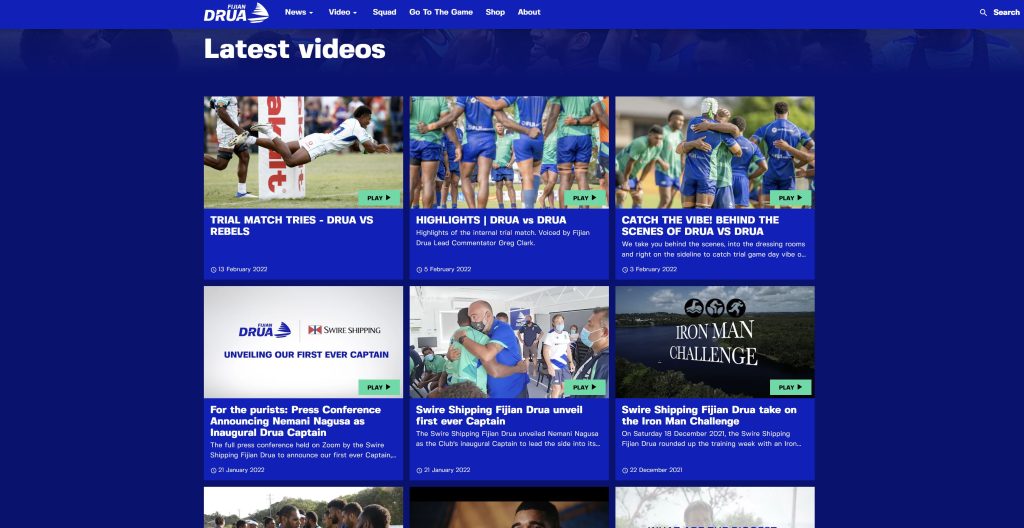 As part of the partnership, InCrowd will support the Fijian Drua as they generate and collect more fan data, helping the club with its commercial strategy as well as personalising fan communications across multiple new channels as they are launched.
Fijian Drua CEO, Brian Thorburn, said: "We're committed to offering our fans, supporters and stakeholders an outstanding digital experience when they engage with us online and DRUA.RUGBY is obviously the most critical component of this objective. We may be a brand new team but one with very strong roots. And even before running out for our first game, we have a strong global following and premium brand associations with major global players including Swire Shipping, New Balance, Fiji Airways, ANZ and Vodafone. Our partnership with InCrowd will further strengthen our engagement with our audiences at home and wherever they are overseas, with content and interactivity which will be unique to the Drua."
InCrowd Head of Partnerships APAC Seb Lear, said: "This is an incredibly exciting project which we are honoured to be part of. In a broader context, this is a game changer in the global rugby landscape by helping Fiji create a sustainable talent pathway and a commercial strategy that keeps the incredible Fijian talent in the Pacific. It's been a pleasure to work with the Fijian Drua team over the last few months to begin to deliver great digital experiences for the passionate fans of Fijian Rugby. This fan first approach is a value at InCrowd's core, with the foundation of the business built on helping sports organisations create direct relationships with their fans to drive commercial value, something that has been even more critical for every sport to focus on over the last 2 years."
The Fijian Drua will play their first ever Super Rugby Pacific match against the NSW Waratahs at CommBank Stadium in Parramatta, Western Sydney on Friday 18 February.
About InCrowd
Driving ROI through data-powered digital experiences
With data, app, web and in-stadia solutions managed by a powerful customer data and experience platform (CDXP) and supporting professional content, data and strategic consultancy services, InCrowd helps leagues, clubs, federations, venues and sports media activate the full potential of their dedicated and passionate audiences, driving significant ROI for the organisation and commercial partners..
InCrowd works with multiple sports organisations and clubs including UEFA, FIFA, EFL, Sky Sports, Premiership Rugby, URC, Rugby Football League, Formula 1, ECB and multiple clubs across the Premier League and Championship, helping them deeply connect with their fans converting fan interaction into ROI & advocacy.
Find out more – www.incrowdsports.com
Get in touch – enquiries@incrowdsports.com