Extreme E And Eleven Sports Extend Partnership For Season 2, Zenith Continue Extreme E Deal
January 28, 2022
Pioneering off-road electric race series Extreme E will continue its broadcast collaboration with Eleven Sports to bring the Championship's second season to motorsports fans in multiple markets.
Eleven has secured the rights to Extreme E's live race coverage – as well as its behind-the-scenes magazine programme, preview, and review shows – for its new global streaming platform ElevenSports.com and locally for Eleven Belgium and Eleven Portugal.
ElevenSports.com streams thousands of hours of live sport, reaching millions of fans annually. It will deliver Extreme E to viewers in over 140 countries globally, on a non-exclusive basis. For Season 2, the partnership has expanded to Eleven's markets in Poland and Taiwan.
Eleven Belgium is the leading sports platform in Belgium and Luxembourg, with a rights portfolio that includes the Belgian Pro League, LaLiga, Bundesliga, NBA, UFC, and more.
Eleven Portugal's roster of live sport includes the UEFA Champions League and from next season the English Premier League.  Extreme E will be added to a motorsports offering that already includes Nascar and Formula E.
Eleven subscribers in Belgium, Luxembourg and Portugal will be able to follow all the latest action from the Extreme E championship via their local OTT and linear channels. 
Ali Russell, Chief Marketing Officer at Extreme E, said: "We are delighted to have extended our global agreement with Eleven Sports. Our first season was a huge success, marking a new era of racing that highlights the importance of sustainability and the benefits of electrification, while shining the spotlight on the climate crisis with the storytelling around the championship."
Guillaume Collard, ELEVEN Group Chief Rights Acquisitions & Distribution Officer & ELEVEN Belgium & Luxembourg MD, added: "Extreme E has already proved to be a fantastic competition for our audiences around the world. With great races and a vital climate change message at the heart of the competition, we want to continue to partner with Ali and his team to champion Extreme E to motorsports fans everywhere."
Extreme E will continue its partnership with Swiss luxury watchmaker Zenith for Season 2, who will also remain as the series' Official Timekeeper.
As Official Timekeeper and Founding Partner, Zenith will provide live timing at each event directly to the Command Centre, the innovative pit wall and strategy room where key team players will be located on-site. Fans will also be able to follow their favourite team and driver and view live sector times via the official Extreme E website and on mobile devices.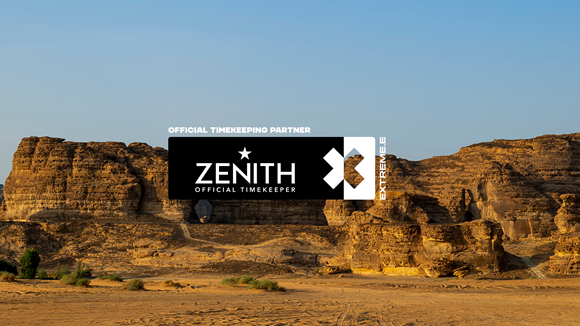 Zenith will continue to award an Extreme E driver at each X Prix with a 'Moment In Time' prize. Following its success in Season 1, Extreme E followers will again be able to vote to highlight one driver who demonstrates an unexpected and jaw-dropping performance at each event and subsequently a 'Moment in Time'.
Zenith will also be heavily involved in the Championship's forthcoming Legacy Programmes for Season 2 as well as further involvements in the series, including a special collaboration which is to be announced next month.
Zenith's philosophy of chronometric precision and boundless innovation is the perfect fit for Extreme E's exciting knockout style racing format. 
Alejandro Agag, Founder and CEO of Extreme E, said: "It is fantastic for the series that we will be continuing our fantastic partnership with Zenith and we are also delighted that Zenith will be remaining as our Official Timekeeper. Zenith is a master of accuracy and a name recognised worldwide for timing and excellence.
"We are looking forward to working even closer for the forthcoming season and combining our efforts to raise awareness of the climate crisis even further, where timing is critical."
Julien Tornare, Zenith CEO, said: "We are totally blown away by the kind of energy and passion we got to witness during our first year of collaboration with Extreme E. I'm proud that Zenith can say it joined this innovative Championship from day one, and that our shared values of gender equality, sustainability, and innovation for the greater good was felt in everything we did together. We can't wait for the 2022 season!"
Building on the success of its debut year in 2021, Extreme E Season 2 'The Race for the Planet' promises to captivate on and off track on a whole new level, whilst delivering on its overall purpose to tackle climate change through sport, starting with the Desert X Prix in Neom, Saudi Arabia, 19-20 February.