Experts Weigh In Their Opinions At The iSportConnect's Blockchain And NFT eMasterclass
By Community | July 20, 2021
iSportConnect's Blockchain and NFT eMasterclass today provided a platform for those within the sports industry to gain a greater understanding of how these two new innovations will play a role in the development of the business of sport.
To open our event we had a session on 'Blockchain 101 – The Fundamentals of Blockchain Technology and Cryptos/Coins', where John Palfreyman, former Director of Blockchain at IBM and Sam Volkering, Investment Director and Editor at Southbank Investment Research.
John and Sam took you through the basic principles of both blockchain and cryptocurrencies, which provided all of our attendees with some great knowledge and additional background to how these technologies work.
As to why blockchain gained the sudden momentum despite being around for so long, John said: "If you look at blockchain, it is really interesting because it is plugged together from different technologies. Starting from file sharing technology which was pioneered in 1999, privacy that is cryptography so you can clearly see the components of the technology have been around for very long.
But clearly in the computational context, we need to wind the clock to 1970 when computer security started to be taken very seriously. My old employer IBM started the world's first crypto group in the early 1970s looking at securing customer data. Then all the components moved really forward to when bitcoins was created. Blockchain is the technology that underpins bitcoin. Bitcoin was first used as donation for WikiLeaks in 2007."
When it comes to defining bitcoin, one can use lot of different approaches as per Sam. He said: "We are talking about security, computing networks and fundamentally that's what blockchain technology is. It's a network between peers whether those are public peers or private peers. It can be a data network, monetary network and can hold many different forms. One of the thing that irks me is when someone talks about 'The Blockchain' ; in a singular form. In a reality when we look at this space, there are number of different blockchains and there are some networks involved with data sharing that don't use blockchain technology but are still fundamentally computational or peer networks."
"People want to know how they can use the blockchain and what it means and how they can utilise it for themselves and their organisations. When we talk about NFTs or bitcoin, we need to look at what does the network represent in this sense. Bitcoin originally is designed to be a medium of exchange, a monetary network and that's how it started and it has now evolved into what some will consider to store as value, some would consider property. Bitcoin is something we have never had before like it is not property, money, it is not shares and equity but it could be all of these things. When we start to look around the new concepts of what money is, what assets are, how can people transact it anywhere around the world, we are cutting new grand really and so everyone is really finding their feet in this industry," explained Sam.
Following the opening session, our second panel was centred on 'Blockchain Applications for the Sports Industry', featuring Emma McGuigan, Lead – Intelligent Platform Services at Accenture and Leo Matlock, VP – Commercial for BLAST, looking at how this technology is infiltrating the sports industry and the best potential uses for it.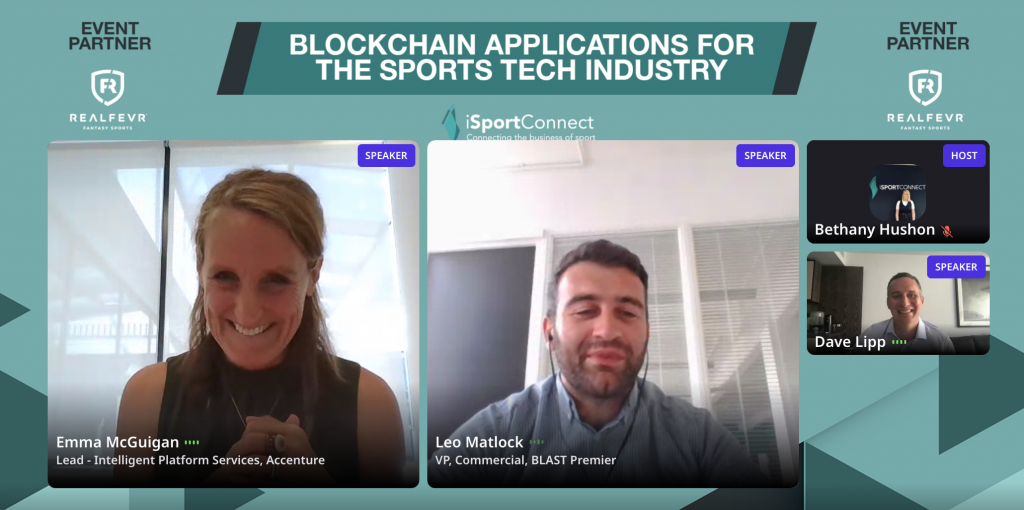 As to how blockchain is revolutionary for the sports industry, Leo explains: "When I look at blockchain, we have already been using things like NFT and build in the gaming environment. I am looking at blockchain both as a customer and a seller and how we can use this technology on the front in customer using applications to drive our business forward commercially. Some of those are new commercial activities like NFTs and some are replacing our current activities with more efficient and better ways of working."
Our final session looked at 'NFTs – The New Trend in Sport', where we heard from three people working within the NFT space, Fred Antunes, CEO of RealFevr, Nuno Lima da Luz, Principal Associate at Cuatrecasas and Diogo Caldas, Executive Board Member of Sport Multimedia.
The market for collectible digital products has been growing stratospherically during 2021, with sales already in the hundreds of millions of dollars. Our panel looked at how you can use NFTs to unlock the value of your organisation's content assets.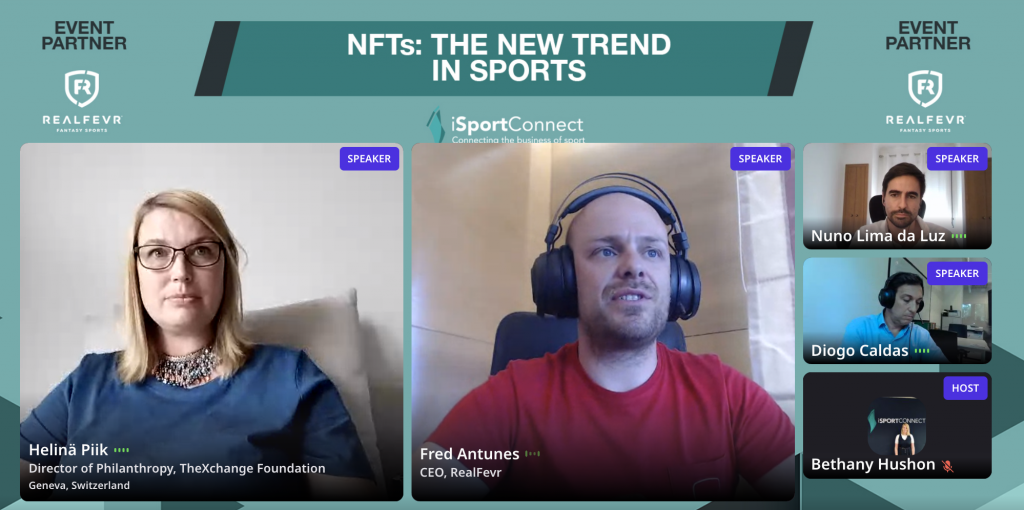 Fred shared his experience of starting his career in the gaming industry and his first conact with bitcoin happened in 2010. He explained NFTs as "digital representation of something that is unique and non-fungible".
"There are multiple applications of digital representation of something. It started ofcourse with the idea of the digital kits that were represented inside the blockchain. We have reached around 1.2 active million users in our app store, website," he added.
We would like to thank all of our speakers for their participation in today's event which provided a huge amount of knowledge and insight for our audience into burgeoning areas within the industry that will play a key role over the coming years across various sectors of sport.
The full video will be available for viewing next week. Stay tuned to iSportConnect till then.