EXCLUSIVE: Sanjay Patel, MD Of The Hundred – "I Think It's Going To Have A Transformational Impact On Women's Cricket"
December 6, 2021
Over the summer the highly anticipated first edition of The Hundred, English cricket's brand new franchise competition launched. iSportConnect's Ben Page sat down with Sanjay Patel, Managing Director of The Hundred, to reflect on this summer's success and where the competition goes from here.
Tomorrow night, just before midnight UK time, the England men's Test team will take to the field at the Gabba in Brisbane for the opening day of the highly anticipated 2021/22 Ashes series.
The scene will be markedly different to that of eight English grounds throughout July and August of this year for The Hundred. There will be no entrance tunnel and flames as batsmen enter or ten-ball overs from bowlers, just the game in its purest form.
Ever since 2005, the Ashes has been almost unrivalled and taken on even greater significance in English cricket, with the iconic series that summer inspiring an entire generation of players and fans across the country.
But can this new breed of competition now take up the mantle?
Over the course of The Hundred some of the numbers received by the event were huge for the sport in this country, with more than 2.4 million and 1.4 million tuning in for the men's and women's finals respectively and over half a million tickets to matches sold across the month.
So as 2021 starts to come to a close how does Sanjay Patel, Managing Director of The Hundred, feel about the future of the competition after the success of the inaugural event?
Firstly Sanjay, congratulations on the first edition of The Hundred being a pretty comprehensive success, by most accounts. There was a lot of uncertainty ahead of it, particularly from much of the cricketing community, so how happy are you with how people responded to it?
We faced quite a few challenges before the competition, one being that we were still in the middle of Covid at that time. We were just coming out of the lockdown from the start of the year, which meant we were still facing a lot of unpredictability in terms of what that meant for bigger events in terms of people returning to stadiums.
So we entered with a lot of uncertainty from that perspective, which gave us an additional challenge in terms of how we managed all that. Thankfully for us, around ten days before the opening game the government gave us the green light to get fans back into stadiums, so there was a bit of a rush to make sure we could cater to that at short notice.
We managed to overcome it and get people back into grounds while managing the Covid situation, which was massively important to the overall enjoyment of the competition for people.
Going into it with that on top of the challenges we were already facing, in terms of some of the stakeholder views, it was very pleasing that the competition was so successful in year one. Especially with some of the key figures that came out following the conclusion of the competition, it was terrific.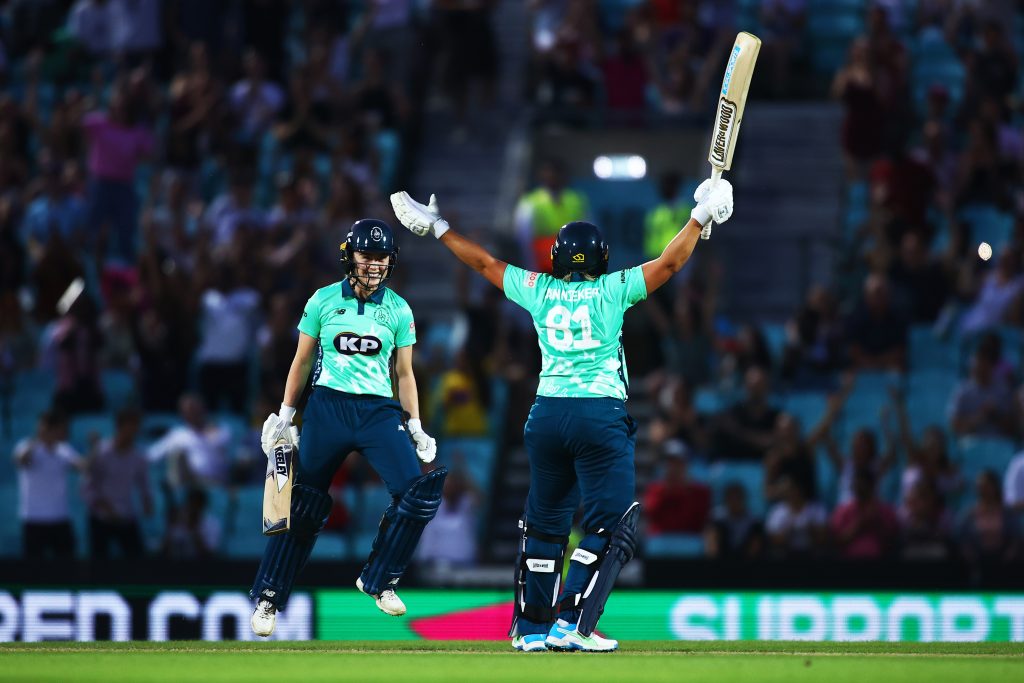 Our audience reach of 16 million people watching The Hundred was the same as the Men's World Cup in England in 2019, which is quite staggering if you think about the scale of that.
But more pleasing for me was that 9.2 million of those people hadn't watched cricket at all in 2021, just demonstrating the power of The Hundred to bring in a new audience into the game which is really important.
We sold and issued 510,000 tickets, with 55% of that audience never having been to cricket before. Those highlights meant that we finished the competition exactly where we wanted to be, having a huge success in reaching that younger audience and I think, for me, the icing on the cake was just how well the women's competition did. We thought it may take a little bit more time to build but it was an overnight success.
How people engaged and interacted with the team brands was very encouraging for how we build and move on in the future, so overall we're absolutely delighted with the results.
I was going to mention that the fantastic data and figures that came from the women's side of the competition were particularly incredible. What can that mean for women's cricket as a whole, as well as future editions of The Hundred?
I think it's going to have a transformational impact on women's cricket. I liked what we did this year and thought we were brave in terms of opening up the competition with a women's game. Not everybody agreed with that decision, but I think it was the right one because it was really, really important we gave it that platform and showed people how good women's cricket is and how enjoyable it is to attend or watch it.
From there on we just saw the snowball effect of that going into the other games, whether it was people turning up and watching or engaging on TV. 267,000 people turned up to watch women's domestic cricket, that's quite unbelievable.
"I also hope it's inspirational for other sports to see the success of the women's Hundred and think why can't they do it too."
Hopefully it's going to inspire young girls to get involved in the game, because they see a platform that they can play on. The whole positioning of being gender balanced for men and for women in this day and age is exactly what sport should be aspiring to do.
I also hope it's inspirational for other sports to see the success of the women's Hundred and think why can't they do it too in whatever sport they're operating in, that will give the women's sport industry a huge boost over time. We're excited about that potential and know it's just year one, there's still lots of lots of work to do. But we've got to make sure that we build on this.
In terms of your internal goals that you had within the organisation prior to the competition, how did it do compared to your expectations? Did it far surpass what you'd anticipated?
We doubled it! That partly goes back to having to set your KPIs on historical data. The historical data that we had was for international cricket and the KIA Super League. So we had those KPIs and we always believed that, given the platform, this could exceed them and that's exactly what happened.
Aside from the women's game, many people have questions about the potential knock-on effect for county cricket. Some say The Hundred could diminish that, but what about the boost it can provide if it continues to be successful, both from an audience expansion and financial standpoint?
That's the strategy. The Hundred is the vehicle where we broaden our audience to the game. It's the most accessible competition that we have and it's designed to bring people in. We've seen early signs from the T20 Blast quarter finals, which took place shortly after we finished, they had record viewing figures and a lot of that audience came from The Hundred.
We've also seen the boost in terms of Women's International Cricket, with the series against New Zealand after the competition again showing record numbers of people watching on TV. You can see the strategy playing out and bringing new people in, getting them excited about cricket and then transferring them to other areas of our game. That's hugely important.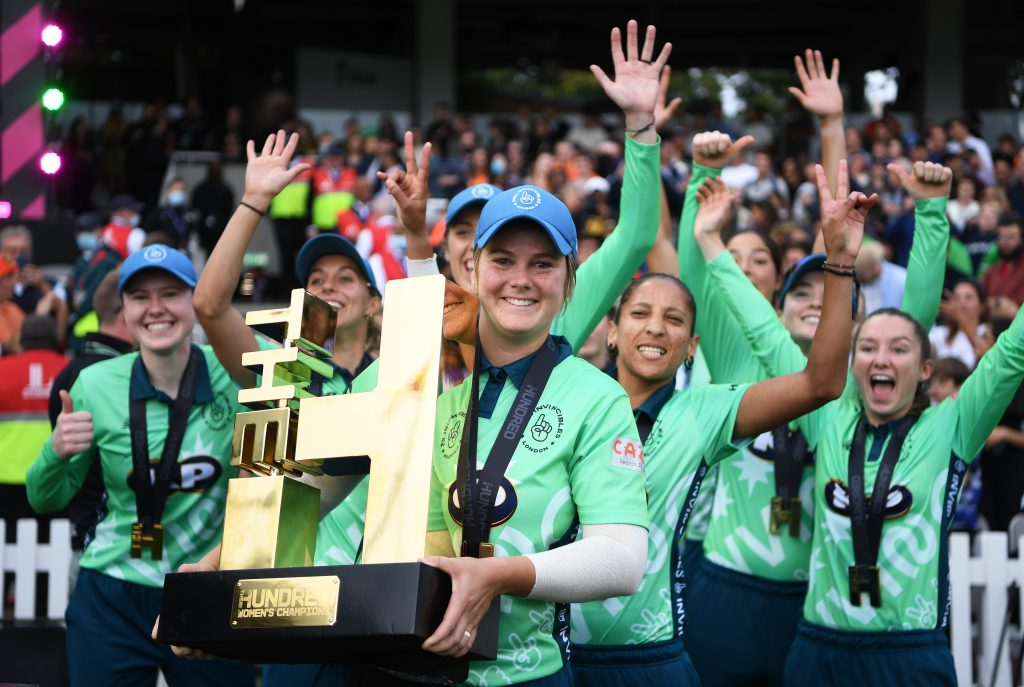 Again, it's year one, that needs to evolve over a period of time and we need to analyse and understand that. What was also really pleasing for me was participation in terms of people playing the game. We used The Hundred as a second opportunity for recreational cricket – particularly junior cricket. Taking 2019 as the benchmark [due to the Covid affected 2020 season], year on year we saw a 230% increase in the number of junior fixtures, partly because we've got more volunteers and partly because we encouraged clubs to have junior fixtures and tie them up into the Hundred.
There was a 36% increase in female participation into our two junior cricket products, All-Stars and Dynamos. It's just really encouraging to see The Hundred push cricket in a different way and then that can transfer to the wider game.
Sky Sports has been a landmark partner of English Cricket for so many years. What did the impact of having games on free-to-air TV via the BBC have on the competition, coupled with Sky's distribution?
Starting with Sky, they were our strategic partners from day one and involved in the building of The Hundred at every point. So they were genuinely an extension of The Hundred team and that was invaluable for transferring The Hundred experience into broadcasts, which Sky as the main broadcaster had to do.
Another thing Sky did really well was give us a wider distribution platform, not only showing it on the 'Sky Sports The Hundred' channel, but it was also heavily covered on Sky Sports Main Event, plus some games on Sky One, and crucially we had every single game of the women's competition streamed live and free on Sky Sports YouTube.
"That overall distribution platform across Sky and BBC is a fundamental part of making The Hundred a success… If you're going to broaden the reach of your audience you've got to be accessible to more people."
We had an additional eight games of the men's competition free-to-air on YouTube too, so we had huge distribution reach from Sky, which helps our TV numbers. To supplement that we had an initial eight games of the men's competition on BBC, and due to the success of those they actually took more of the women's competition, raising that to six games.
That overall distribution platform across Sky and BBC is a fundamental part of making The Hundred a success. It's what we set out to do when we started this process, if you're going to broaden the reach of your audience you've got to be accessible to more people. You can't get more people unless you have a different broadcast distribution platform in order to capture people's imagination.
I did an interview with Rob [Calder], The Hundred's Commercial Director, ahead of the tournament looking at your sponsorships and attempting to become a commercial force. What has the reaction been like from the partners who were involved and how have discussions been since?
We've exceeded our KPIs across every single measure of the competition and that translates into sponsors KPIs as well, so they're clearly delighted with year one. Sky and the BBC are in a great place, all they're thinking about is 'how do we go bigger next year?' which is good news for us and we're working with them on that.
All the other sponsors and commercial partners are just delighted with the first year and I think they see long-term potential. So the conversations we've been having recently are about how we extend and create longer partnerships, but also become more strategic in our audience journey as it broadens for cricket.
There's a couple of brilliant partnerships we want to make more of next year. One is Universal, who have a big film coming out next year that we want to tie in with The Hundred to engage the young audience. And Lego was a one-year deal that we'd love to extend and create an even bigger strategy with that relationship.
With all the data you've been able to collect from this year's success, that must surely enable you to showcase a much more valuable proposition, are people even knocking on your door asking to get involved now they've seen it flourish?
If I put myself in a commercial world looking in, you've got a proposition here which is new, which is innovative. It's got good brands that are relevant to the wider public, particularly the younger generation. It's gender balanced, which is crucial to how society has moved in the last 15-20 years, it's genuinely just a modern proposition.
I think commercial partners will look into that and think, 'yes, this is an interesting competition for us to partner with' because it still has all the commercial benefits of sport. Sport is one of the few things that is still appointment-to-view TV, when you look at TV habits, so there's still the commercial benefits of sport but with a totally different audience.
What would you say are your learnings from the first edition of the competition and as you're currently exploring it, are there any potential future changes for 2022? We've spoken at length about the women's game, could we see the women's games taking centre stage in some of the double-headers next year?
In terms of broad learnings for me, I think we've only scratched the surface with broadening an audience, we've shown the potential and I think we need to drive hard into some of those areas a lot more of that next year. That's one thing that we'll be doing.
"It's really important that we're not just going to deliver the same event next year"
I believe we can put on a better family experience at the ground. While the event presentation was brilliant, I think we can do better. So how do we improve that family experience? Linked to that, we must do a little bit more to explain the game. If you're coming to the game for the first time or you're watching it on TV for the first time, one of the keys was the simplification of the score to runs and balls so everyone knows what is going on.
Then you mentioned the women's game, yes we can look at switching that model of the women's game at 3pm and the men's game following it at 6:30pm. There's no reason why we can't flip it and I think we might trial that in a few games.
So there's a lot to learn and there always will be for us. It's really important that we're not just going to deliver the same event next year, we're going to keep surprising people with new stuff. It needs to be better than it was this year.