Earthquakes Name Jared Shawlee President, Announce Partnership With Roku
February 17, 2022
The San Jose Earthquakes announced today that Jared Shawlee has been named President, effective immediately. After securing landmark partnership deals with PayPal and Intermedia and guiding the Quakes through their recent general manager search, Shawlee takes over the role previously held by Tom Fox from 2017-19. Shawlee served as Chief Operating Officer for the past five and a half years.
"The fact that Jared has been with the club for 15 years and worked his way up is a testament to his talent and hard work," said Earthquakes Managing Partner John Fisher. "He has proven to be a team-first leader that cares first about the club, the fans, the staff, and our local community. I'm confident his leadership will be critical as we strive to be a top MLS club on and off the field."
Shawlee, 39, enters his 15th season as a member of the Earthquakes organization. A native of San Jose, Shawlee was among the first employees hired ahead of the team's return to Major League Soccer in 2008. Shawlee signed the club's first-ever jersey sponsorship deal in 2009 and was promoted to Director of Corporate Partnerships a year later.
"I couldn't be more thrilled to take on this new role with my hometown club and continue building on what we've started," said Shawlee. "This club is in my blood, and I have been fortunate to be a part of its growth over the past decade and a half. I recognize that our people are what makes us special, both on the soccer and business sides, and we'll continue to work on growing this club into something the entire Bay Area can be proud and excited to support."
Shawlee took a one-year hiatus from the Quakes to pursue an MBA from Notre Dame's Mendoza School of Business. He returned to the Earthquakes in May of 2011 as Senior Director, Ticket Sales and Strategy, later climbing to Vice President of the same department. Shawlee tripled the sales and service team, grew ticket revenue 420%, secured multimillion-dollar partnerships with Avaya and Sutter Health, and was integral in the development of the team's privately financed $100 million venue. He was recognized as the MLS Corporate Partnerships Executive of the Year in 2015 before being promoted to Chief Operating Officer in November 2016.
He has since helped the club secure stadium naming rights and jersey partner deals with PayPal and Intermedia, respectively, as well as partnerships with prominent brands including Chevron, Coca-Cola, and Audi. Shawlee is overseeing the team's pursuit of a new training complex and is part of the leadership group involved in the Bay Area's bid to be a host region for the 2026 FIFA World Cup.
Shawlee will oversee both the business and soccer sides of the Earthquakes' organization, reporting directly to the club's Board of Directors.
"Jared's passion for this club is tangible," said Earthquakes General Manager Chris Leitch, who reports into Shawlee. "He's been incredibly supportive of what we want to accomplish on the soccer side and I'm looking forward to working in tandem with him to move the club forward."
Earthquakes Announce Partnership with Roku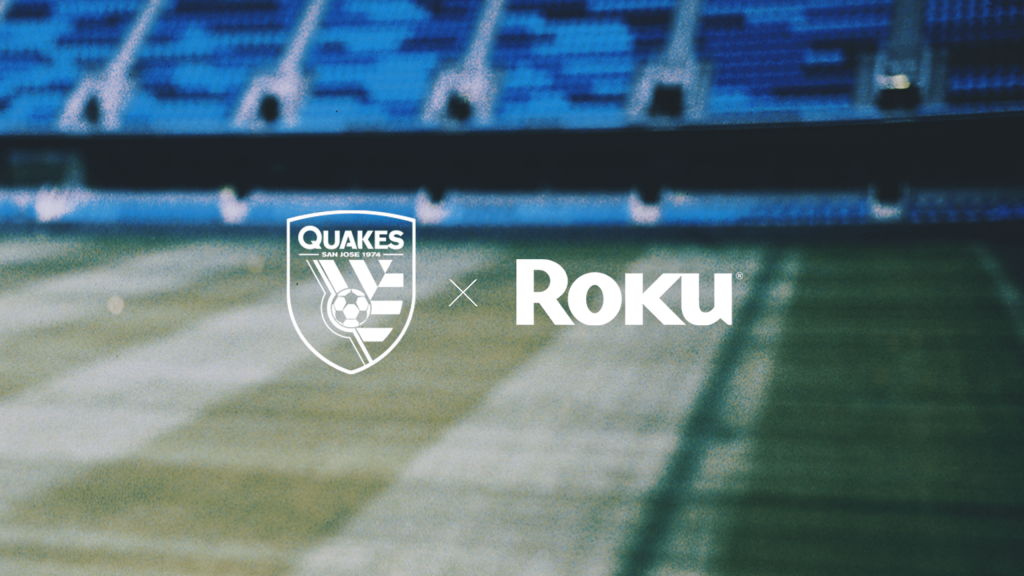 The Earthquakes have also announced a partnership with Roku Inc. (NASDAQ: ROKU), the #1 TV streaming platform in the United States, Canada, and Mexico based on hours streamed (Hypothesis Group, October 2021). The partnership between two homegrown San Jose institutions will provide opportunities for Quakes fans and other PayPal Park guests to experience Roku's award-winning streaming players and audio devices, and learn more about their easy-to-use streaming platform.
"We are thrilled to partner with Roku, our neighbor here in San Jose and a global leader in consumer technology products," said Earthquakes Vice President of Strategy Ian Anderson. "We look forward to sharing Roku's accessible products with our fans at PayPal Park, in addition to working together to invest in building a stronger San Jose community."
As part of the partnership, Quakes fans will be able to experience Roku streaming devices and technology through one-of-a-kind activations and on Roku TVs throughout the stadium. Roku branding will be displayed throughout the stadium deck, field and concourse LEDs. On gamedays, Roku will be conducting sweepstakes and ongoing giveaway opportunities throughout the season where fans will have the chance to win Roku streaming devices.
"We are thrilled to partner with our hometown soccer team as they kick off the new season welcoming fans back to the stadium next door to our beautiful Roku headquarters in San Jose," said Roku SVP of Corporate Affairs & Communications John Kelly. "Roku employees are big fans of the Earthquakes and we look forward to an exciting partnership!"
Quakes fans across the country can watch their favorite team through their Roku devices. Fans locally, with a traditional cable or satellite subscription, can stream matches through the NBC Sports app. Fans outside of the local market can utilize the fuboTV or ESPN+ apps.