CVC Purchase 10% Of LaLiga For 2.7 Billion Euros ($3.2b)
By Community | August 4, 2021
LaLiga has announced a strategic agreement called "Boost LaLiga" with the leading global investment fund CVC which will see a cash injection of 2.7 billion euros into the competition and its clubs. This ambitious investment plan, approved unanimously today by the league's Executive Committee (Comisión Delegada), will provide LaLiga and the Clubs with all the necessary resources to fulfil its transformation strategy to become a leading global player in the digital entertainment market, while at the same time bolstering the competition and transforming the fan experience.
The transaction values​​LaLiga at 24.25 billion euros, a price tag that acknowledges LaLiga's leadership as one of the most prominent sports competitions in the world, as well as recognizing its growth potential through a greater digital presence. In a coordinated effort between LaLiga and its clubs, the league will target greater direct interaction with fans, investment in the brand, the sport and in the internationalization of both. This is a higher figure than previous assessments considered for other projects with similar characteristics, which can only reflect the excellent work that has been carried out by LaLiga to date.
This agreement aims to lead the transformation currently experienced in the global entertainment sector, and to maximize every growth opportunity available to the clubs to develop a new business model that will allow them to diversify and maximize revenues through marketing models that will help to accelerate their digital transformation. Moving from the current single-product model, based almost exclusively on the game and the sale of audiovisual rights, to a multi-product/multi-experience one with a direct relationship with fans, amplified by technology and digital and analytical capabilities. In this sense, LaLiga is already well on the way to becoming a global player, with the best entertainment content, a strong digital presence and the ability to capture and analyse data that facilitates direct omnichannel interaction with fans all over the world, with a clear focus on the optimization of their experience with the brand.
The investment in improving the competition will drive growth in fan numbers and their experience with LaLiga. The technological capabilities of the LaLiga and the clubs' ecosystem will also be strengthened, offering new content, new channels and new markets.
90% of the 2.7 billion euros proposed to be invested by CVC Funds will be earmarked for the clubs, including women's football, semi-professional and non-professional football under the guidance of the Royal Spanish Football Federation and the Higher Sports Council (more than 100 million euros). Thus, making this strategic agreement an inclusive, equitable and democratic one that not only bolsters the economic viability of all Spanish football clubs but also opens up a new present and future for them by allowing them to advance in their development and transformation by at least a decade.
The resources provided by the agreement between CVC and LaLiga will also have a multiplier effect, not only in the world of football, but also in its contribution to building Spain's image abroad via Brand Spain, in creating jobs for the sector and in attracting talent.
For the implementation of this strategic plan, the clubs take on a commitment to allocate the investment they receive to the promotion of their own Development Plan, agreed with LaLiga, which will include the following main areas: sports strategy, infrastructure, international development, brand and product development, communication strategy, innovation, technology and data plan and content development plan on digital platforms and social networks. All incorporating sustainability, good governance and diversity as fundamental values​​of the model.
LaLiga will keep its sports responsibilities as well as the organization and management of audiovisual rights sales.
CVC Funds bring to this project its financial firepower, its management capacity and its expert knowledge in the development of sports businesses thanks to its extensive experience of over 25 years in international competitions such as rugby, volleyball, tennis, Moto GP, Formula 1, plus the relationships it has firmly established with essential technological partners for the implementation of the specific projects contained in this plan.
This will enable LaLiga to continue their global expansion, which has recently been boosted by a new eight-year deal with ESPN to broadcast the league across the United States.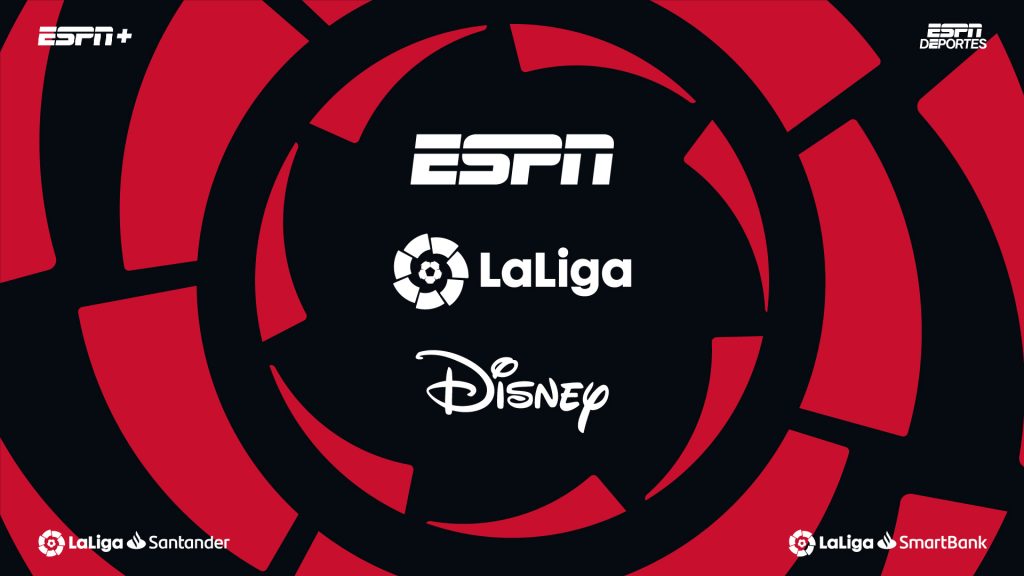 Beginning in August, hundreds of live matches across both LaLiga Santander and LaLiga SmartBank will be available each year, exclusively on ESPN+.
Beyond live matches, ESPN+ will offer a variety of surround programming, including match previews, highlights, magazine shows – and will continue to cover LaLiga extensively on signature ESPN+ shows including ESPN FC, Jorge Ramos y su Banda and Fuera de Juego.
Select matches will air across ESPN networks each season, with coverage and highlights also available on SportsCenter and other ESPN studio programs, as well as on ESPN digital and social platforms.