Craft 1861 Partners With MotoGP And ROKiT Venturi Racing
April 5, 2022
Dorna Sports is delighted to announce a first-of-its-kind agreement with Craft 1861 as the American brand is named the Wellness Partner of the FIM MotoGP™ World Championship. The new multi-year collaboration begins in 2022 and is a global first in motorsport, ushering in a new era of accessible, innovative wellbeing. Craft 1861 has also announced a new partnership with Pramac Racing, becoming the Wellness Partner of one of the sport's most successful Independent Teams, also beginning in 2022.
Craft 1861, based in Albuquerque in New Mexico, uses ethically sourced natural ingredients and rigorous testing backed by clinical research to create a range of CBD-enhanced products. The company is an industry leader in the scientific research, development, and manufacturing of hemp derived Cannabidiol (CBD) products, all of which contain zero THC. Craft 1861's 100% pure CBD isolate is tested in International Standards Organization (ISO ®) certified labs and exceeds World Anti-doping Agency (WADA) testing standards. It is non-psychoactive, non-toxic, and non-habit-forming.
Craft 1861 aims to promote an inclusive and innovative approach to wellness – from workout recovery to curative topical injury treatments and plenty in between. The company will play a crucial role in the physical and mental wellbeing of the athletes and staff in the FIM MotoGP World Championship and Pramac Racing, monitoring and working towards improving performance throughout the 2022 season and beyond.
This new multi-year agreement as MotoGP™ Wellness Partner also incorporates a substantial digital campaign, including tailor-made MotoGP™ content created by Craft MotoGP™ ambassadors in the paddock, as well as trackside advertising at a number of Grands Prix throughout the season.
Eric Lujan, Co-Founder and Chief Revenue Officer of Craft 1861: 
"As a diehard fan of MotoGP as well as being a motorcycle enthusiast, I am thrilled to partner with Pramac and MotoGP to elevate the recovery and performance of these incredible athletes and the wider teams."
Marc Saurina, Senior Director of Global Commercial Partnerships at Dorna Sports:
"We're delighted to begin this ground-breaking partnership and it's an honour for us to welcome Craft 1861 as MotoGP Wellness Partner. We look forward to working with such an innovative brand with so many shared values showcased in their mission statement and their products, and to seeing the Craft 1861 brand trackside in MotoGP. And of course, in terms of content, we're excited to see what we can create together as this new collaboration begins!"
ROKiT VENTURI RACING PARTNERS CRAFT 1861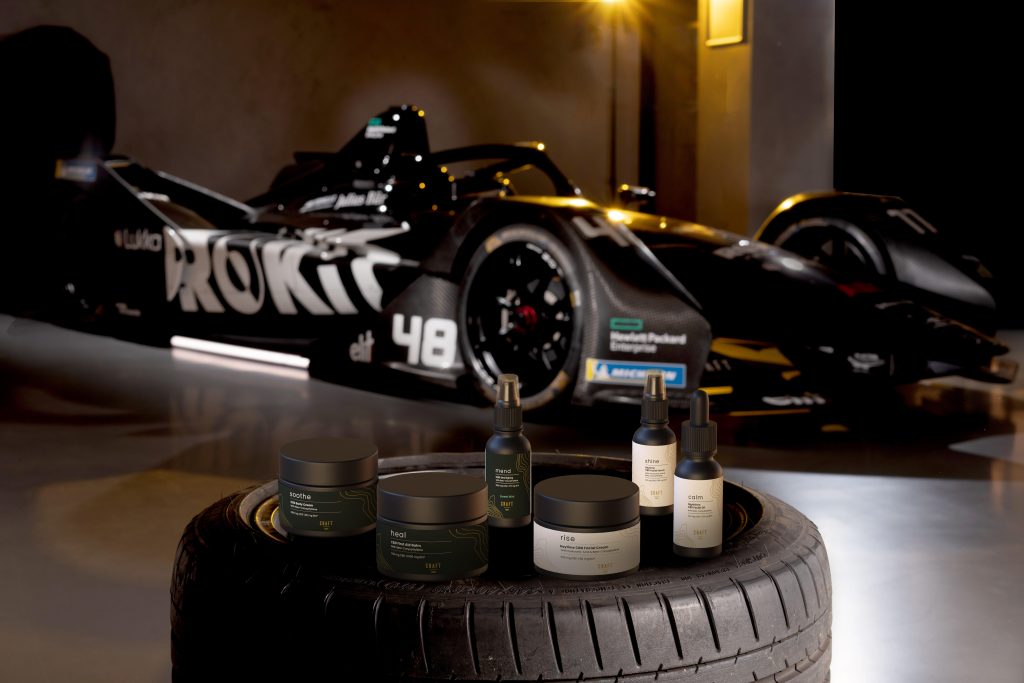 Physical and Mental Wellbeing
Ahead of the 2022 Rome double-headed E-Prix, ROKiT Venturi Racing and Craft 1861, the all-natural CBD wellness innovator are delighted to announce a multi-year collaboration.As the team's Official Wellness Partner, Craft 1861 will play a supporting role in both the physical and mental wellbeing of the team, carefully monitoring team performance throughout the 2021/22 FIA Formula E World Championship and beyond.
A Unique Partnership
In this innovative collaboration – which is the first of its kind in World Championship motorsport – Craft 1861 will have a prominent place in ROKiT Venturi Racing's visual identity for 2022 and beyond.From the Rome E-Prix onwards, Craft 1861's branding will appear on the front wing and headrest of the team's new black livery as driven by Edoardo Mortara and Lucas di Grassi, on driver racing suits, and on team clothing.
In Their WordsROKiT Venturi Racing CEO, Susie Wolff said:
"Craft 1861 is an innovator in the field of CBD innovation and we are proud to be part of their global brand development journey. Craft 1861's focus on the creation of sustainable product innovation without compromising on quality is something we really identify with as a team and, by partnering with ROKiT Venturi Racing, Craft 1861 will be engaging with the eco-conscious dynamic and progressive Formula E audience demographic."
Craft 1861 Founder and Chief Revenue Officer, Eric Lujan commented:
"We are thrilled to partner with ROKiT Venturi Racing Formula E team. Our company is proud to be the first CBD company in Formula E. We offer CBD hemp products to those focused on wellness and a healthy lifestyle, which is the perfect match for the rising millennial FE fan"