Changing The Game: How InCrowd successfully delivered digital content for the UEFA Women's Euro 2022
October 17, 2022
The Women's Euros was the sporting highlight of the summer, captivating a nation and changing the shape of women's sport for the future. Helma von Zadow (Women's Football Content Lead) and Sam Adams (Content Team Lead) led the team that delivered the app, web and social media content for UEFA, building excitement in the lead up to the tournament, during the event and beyond. Our Content Manager, Alex Brinton, sat down with them to talk about it.
For a bit of background, what projects do you work with UEFA on and when did the partnership begin?
Sam (S): InCrowd took on the UEFA content contract in the summer of 2019. The team have been delivering the content across The Champions League, Europa League and the Euros. When planning began for the Women's Euro competition it quickly became apparent that we needed to establish a specific team to exclusively cover women's football
The team needed a figurehead to lead the charge on this big project. Helma von Zadow joined us with great experience having worked on the Women's Euro project with The FA before the pandemic hit and was a perfect choice to lead the team.
To focus on the Women's Euros more specifically, when did the planning process for the tournament start from your side?
Helma (H): The tournament work specifically started a year and a half or two years out. There were two phases, the preparation phase that covered certain milestones like 500 days to go, 100 days to go, the ticket sales milestones, and then of course the second phase was the in-tournament content which was very different.
We have a super close relationship with UEFA because as much as we create all the content, the official photography, the video content is all sourced and created by the team in Switzerland and we work hand in hand with them.
S: There was a lot of emphasis from UEFA on women's football, and the Women's Euros marked the halfway point of that strategy.
H: 2019 was the first time ever that UEFA had a women's football specific strategy in place, and a specific budget allocated to it which was amazing.
What were some of the issues you faced in this project and how did you resolve them?
H: In times of remote work, it took a little bit of time to build the infrastructure for the team and how we work together to prepare, meet objectives etc, with us all working from home and/or in and out of the office.
For me personally, getting an understanding for how UEFA and InCrowd work together, was definitely a bigger task than it might have been in-non pandemic times. But the positive side of it is because you come into a job that's new, you also get to build your own ways of working.
S: In terms of the tournament itself, and the build up to it, especially, we were expecting coverage levels on a completely different scale to anything that we've done before in women's football. So there wasn't anything for Helma to really go off. In the men's European Championship, you can always look at the last time and think right, what did we do there? How are we going to tweak it to make it better? What are the recent trends in the digital industry that we can capitalise that have changed our last few years? Helma wasn't starting completely from scratch, but it really was a completely different level of coverage that we are planning.
What was great was that we could also draw on the experience of members of the team covering men's football, and Helma and her team could collaborate with them to work in the slightly different way a women's tournament required.
What were your goals before the tournament and how did you make sure you achieved them?
H: We had topline goals from UEFA that came from their "Time For Action" plan. They have very specific goals, like doubling web traffic from 2017. We also had internal targets in terms of engagement and the closer we came to the tournament knew that we were definitely going to reach these targets,
I think overall, what was really important is that we wanted to create a unique tone of voice and premium content. We wanted to portray the women's game in the best way possible, especially because last year we had the men's Euros. We felt like people expect to see similar content on the same level, in terms of concrete numbers, and potentially channel growth. But for the Women's Euro we saw x10 in web traffic compared to 2017, and engagement numbers were x30. These are massive numbers that we will never see on the men's side.
S: Benchmarking is so tough in such a fast growth industry like women's football. The coverage levels of the sport have changed massively, so it was hard to benchmark. But for me all I wanted to do was make sure we were setting them up to succeed.
There were more partners involved than ever before, how was it handling their content commitments?
H: I think that I would probably say two things. First TikTok, a big sponsor that is also a social media platform. Having them as a partner on board definitely helped to lift the content and offered us expertise to produce content in a way that would resonate with the audience and become the type of content we wanted it to be.
From the hashtag #WEURO2022, the number of shares was over 1 billion which is the biggest number we have across any platform.
S: I just think it's worth saying that UEFA puts incredible emphasis on producing successful branded content. The result is that it's been refined to such a level that they've managed to create brand-associated content that does well, despite the penalties that the platform's sometimes associate with overly branded content. Having the men's Euros the year before really helped, because we essentially had a portfolio of sponsored products that we could roll out.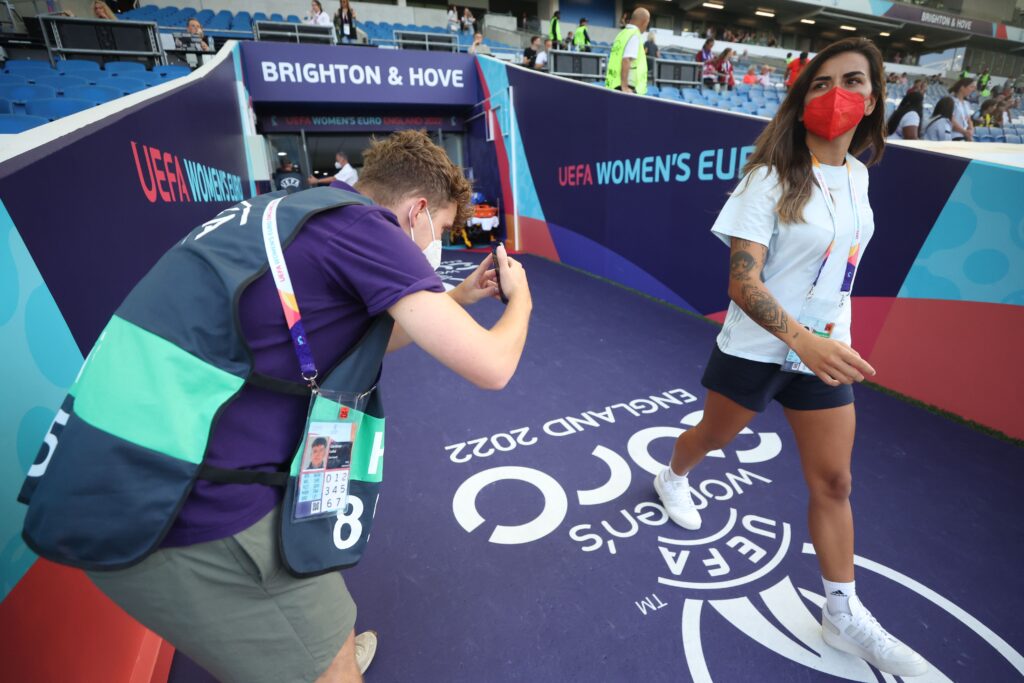 When you first start putting one of these plans together you'll see a spreadsheet with a thousand different colours. You see all these branded and sponsored posts that need to be published, and you think it's just not possible to maintain the quality but with scheduling, collaboration and communication with partners, it is possible to create engaging, branded content…… and we did!
What did you find was the most successful form of content? Did anything surprise you in terms of engagement levels?
H: I would say the most successful pieces were those from the pitch side, post match, because they're very authentic and close to the players. It felt like people fell in love with some of these players during the tournament, which is part of our strategy; to create brands of the athletes to grow their following
Of course, all the record-related content always sees high engagement..
What sort of increases are we looking at in terms of engagement?
H: The increase in engagement on social channels for the tournament was great, I think probably even more than we would have expected for it to be.
We saw a huge increase in UEFA web/app sessions compared to the same reporting period for Women's EURO 2017, which is massive. 
What is your favourite moment of this experience overall?
H: Probably one of them definitely would be our TikTok Producer Luke coming back from all these games and saying, it's the best football experience he's ever been part of. This is a guy who was pitchside during the Men's Euros and literally standing next to Lionel Messi during Finalissima this year. Luke represents the audience we were hoping to capture but where we might see the most resistance and he just loved it so much. He would chat about games with all his mates in group chats and that made us so happy.
S: The first week altogether as a team we had the best atmosphere in the office kicking around loads of ideas.
The day of the first game, I've never felt so confident that we were going to deliver; watching the collaboration within the team and those that we hosted from the UEFA digital team and Nyon (UEFA HQ). Incredible feeling.
People have called it a turning point for not only Women's football, but Women's sport in general, does it feel a bit surreal to say you played a role in that?
H: To think that we were a part of it! For me, always having played football and my MBA was on the developments in women's football and national associations – women's football has always been a huge part of life. Seeing the progress of the game is so exciting, and rewarding.
It's also such a joy to work with all these really talented people.When I look back these last two years, a lot has happened. It's the year of women's football, but then also the Women's Champions League with the new format, the partnership with DAZN that lets fans see all these matches. I personally know that living in Germany it was never possible to see a game that was taking place in England.
Having some of these experiences… it doesn't feel like work. We are creating content for sport which is something we are all truly passionate about. We love what we do.