Binance Becomes Main Jersey Sponsor For S.S. Lazio To Kick Off The Binance Fan Token Platform
By Community | October 13, 2021
Binance is proud to announce a multi-year partnership with renowned football team, S.S. Lazio. Binance will become the main jersey sponsor for the club. S.S. Lazio will become the launch partner for the Binance Fan Token Platform, available from October 13th.
By joining forces with Binance, Lazio Fan Tokens will be issued via the Binance Launchpad to take their brand to the next level, and to create a more meaningful fan engagement experience for the club's supporters—through unique and engagement-based rewards, interactivity, gamification and more.
S.S. Lazio, commonly referred to as Lazio, is a top Italian professional football team based in Rome. The club was founded in 1900 and has collected many prestigious titles, including a UEFA Cup Winners' Cup, a UEFA Super Cup, two Italian Championships, seven Coppa Italia titles and three Supercoppa Italiana titles. Over the years, the club featured many world-famous players, such as Sinisa Mihajlovic, Diego Simeone, Roberto Mancini, Giuseppe Favalli, Alessandro Nesta, Tommaso Rocchi, Miro Klose, Ciro Immobile and many more. Lazio currently boasts more than 1.5 million supporters in Italy, and a digital fan base exceeding 2.5 million followers across their social networks.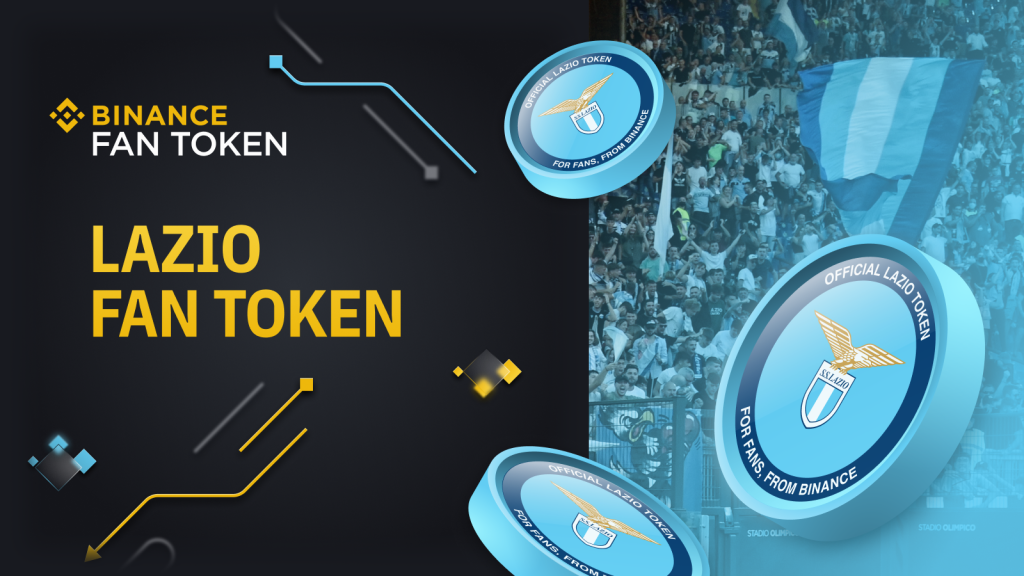 Claudio Lotito, President of Lazio, commented: "Our agreement with Binance will allow us to extend our digital presence and connect with our fans and followers like never before. Engaging our fan base with emerging technologies and harnessing the reach of Binance opens up new horizons for our club's brand activation and future support. With the help of Binance, we seek to bring S.S. Lazio fans who are around the world closer to the club. The LAZIO Fan Token truly brings our club's players and their success closer to fans worldwide".
Changpeng "CZ" Zhao, CEO and co-founder of Binance, commented: "Sports fans can take advantage of this revolutionary fan-engagement and gamification solution in many exciting ways. Fans can collect Binance Fan Tokens and rare NFT offerings, enjoy exclusive voting rights on certain club decisions reserved for fans, unlock one-of-a-kind Fan Badges and rewards based on their level of engagement, collect signed merchandise and even meet their favorite teams in person. Binance Fan tokens are an exciting way for fans to engage more meaningfully with their favorite teams and offer opportunities for teams to really embrace their fans in return."
The official Lazio Fan Token (LAZIO) is a utility token providing fans with a way to engage with their favorite team. LAZIO will be available for all Binance users via the Launchpad from today and later via Spot, bank card purchases and P2P.
For further details on the LAZIO Launchpad and future team listings, visit the Binance Fan Token Platform.