Aston Villa and Brentford launch new away kits
July 22, 2022
Aston Villa and Brentford have today launched their new away kits for the upcoming Premier League season, the kits are supplied by Castore and Umbro respectively.
Aston Villa
Villa's 2022/23 Castore away kit displays tonal jacquard stripes in our timeless club blue, ribbed cuffs and a V-neckline with claret trim to combine classic sophistication with ultra-modern technical details
Laser-cut holes work with innovative, quick-drying fabric to provide extra ventilation to optimise your performance.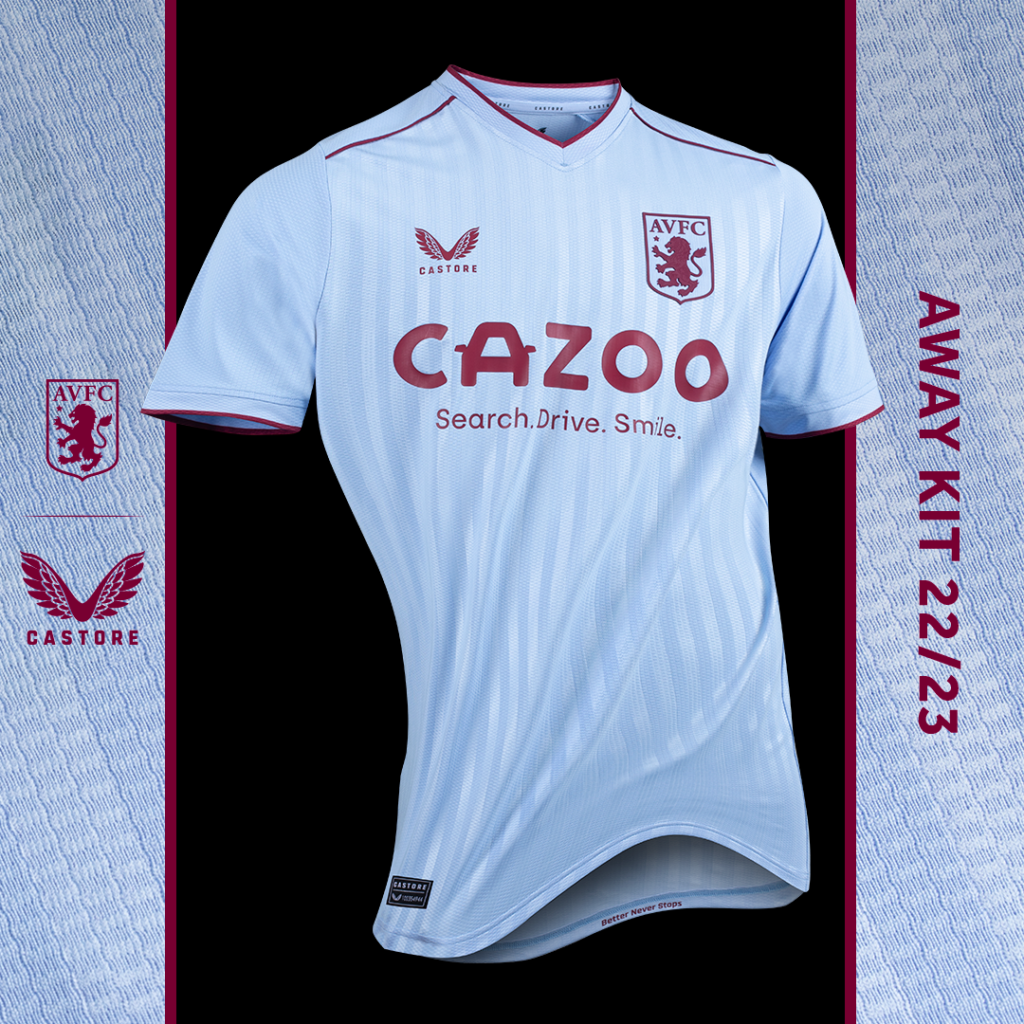 The jerseys feature a 3D silicone Villa crest across both Replica and Pro editions, with the club's iconic lion below the collar on the reverse.
Principal partner Cazoo, the UK's leading online car retailer, will again proudly feature their branding across all men's and women's shirts, including junior and infant kits.
The international launch of our 2022/23 away kit, which will be worn for the first time in our pre-season fixture against Manchester United on Saturday, has seen the strip revealed in the UK at the same time as an unveiling event at an official AVFC Fan Party in Perth, Australia.
A number of first-team players have joined more than 400 fans Down Under at the Raffles Hotel, taking to the stage for a live Q&A wearing the new strip.
To celebrate the international launch, the club wanted to showcase genuine Villa fans from all around the world and were overwhelmed by the support and engagement from all corners of the globe.
The Villa family are truly Part of the Pride wherever you are in the world!
Brentford
"With our fans behind us, we are never away from home." The words of Thomas Frank which have helped inspire Brentford's new Umbro second jersey for 2022/23 and 2023/24 seasons.
The new kit has been revealed today and will go on sale in the Bees Superstore on Saturday 23 July, 9am. The light blue design, reminiscent of our away kits from the eighties and early nineties, feature an embroidered castle crest and will be the second kit in as many years which will be rolled over for two seasons.
The castle crest was introduced in 1975 as a celebration of 'the fortress' Griffin Park, when, in the 1929/30 season, the Club went on a record-breaking run of 21 home wins and was used by the Club for 18 seasons between 1975/76 and 1992/93. It has been reintroduced to the new kit for this two-year cycle, representing the fortress which our fans help us to build away from home.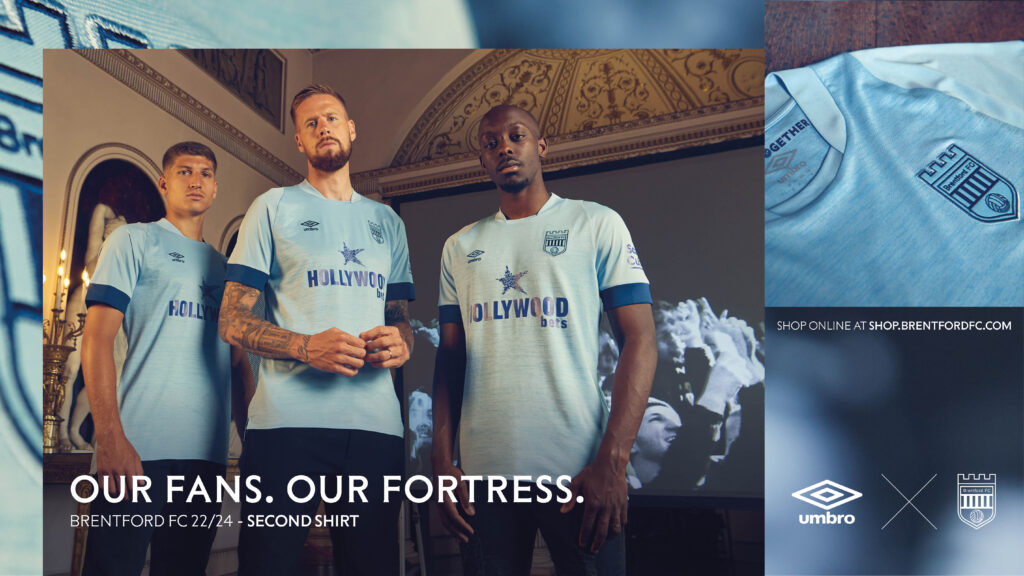 With its stylish design and comfort, we believe it will please the fans as much off the pitch as it will the players on it. It also features ribbed cuffs and collar, signed off on the inside with 'Bee Together', our message of inclusivity and our Bee symbol printed on the neck.
Jon Varney, Chief Executive of Brentford FC, said: "The castle badge holds a special place in many of our fans' hearts and this kit gives us the chance to celebrate a period in our history while acknowledging the impact that our fans' support gives Thomas and the team, particularly away from home."