A BeNeficial Opportunity?
By Cuyler Holmquist | May 12, 2021
For today's iSportConnect Member Insights piece, Cuyler Holmquist evaluates why the recently anticipated BeNeLeague is an attractive proposition that could benefit football within the region.
As the footballing world collectively lets out a long exhale following the made for Netflix drama known as the rise and fall of the European Super League, we can now soberly turn to one of the underlying issues it so rudely exposed. The dissonance between football club ownership and supporters. It's hard to think of a recent sports proposal that has so badly misunderstood, or worse yet, ignored these most important stakeholders.
Sport is both a manifestation of, as well as a contributor to, the culture of the environment in which it operates. Given that, the approach to sport investment, and specifically this footballing example, must be characterized by socio-cultural, historical, geographic and demographic understanding equal to the obvious, and yes necessary, sporting and financial potential. Clubs are not just revenue maximizers, they are also win maximizers. However, these two outcomes are not always aligned. So the calculus that needs to be done to get that formula right is not easy to apply. But it can be done, and when it is done right, the rewards, commercial and otherwise, for doing so are unlike those of any other industry.
"In simple terms, the BeNeLeague can succeed precisely because it meets the conditions that the disastrous Super League did not."
It is within this context that we turn to an interesting new chapter in this club ownership dialectic; the revived concept of a BeNeLeague. In simple terms, the BeNeLeague can succeed precisely because it meets the conditions that the disastrous Super League did not. This analysis will identify these conditions and explore why they are favorable.
In Mid-March, after years of rumors and a seemingly endless amount of speculation, the Belgian clubs in the professional ranks (all 26) reached a consensus that they should officially support the idea of, and enter negotiations with, their Dutch counterparts to create a combined professional league in the near future. This very significant development breathes life into the conversation about a) whether this should happen, and b) if so, how it should take place.
Supported by some relevant data and focused on the multi-faceted approach detailed above, this piece will make the argument for doing so and why it is of interest to fans, players, staff, media and prospective owners.
Current Proposal
While many specifics of the current proposal are as yet to be expounded, what we do know is that this BeNeLeague idea recommends the inclusion of 10 Dutch clubs and 8 Belgian clubs. The remaining Belgian clubs in the first and second divisions, 18 sides in total, will form a separate domestic league. What happens to the remaining Dutch sides is not yet known. So, leaving aside the unknowns, let us focus on what clubs will likely make up this league.
*It is worth noting that there is in fact an existing BeNeLiga, in the form of the top division ice hockey league across Belgium and the Netherlands. And earlier last decade the highest women's football league across both countries was known as the BeNeLeague as well.
Utilizing the basic boundary criteria above, we can determine, across six characteristics, which clubs "should" qualify. I should mention that given the vociferous support for merit-defined inclusion shown by fans in response to the European Super League, that such inclusion may in fact be the only truly suitable determinant. But I digress.
The six characteristics include two sporting merit measures (League position this year & Average Points over the past four seasons), two fan support measures (Attendance average over past four seasons & social media following), and two sports business production measures (Market Value & Academy Production).
When taken together, these form a BeNeLeague that would look like something this;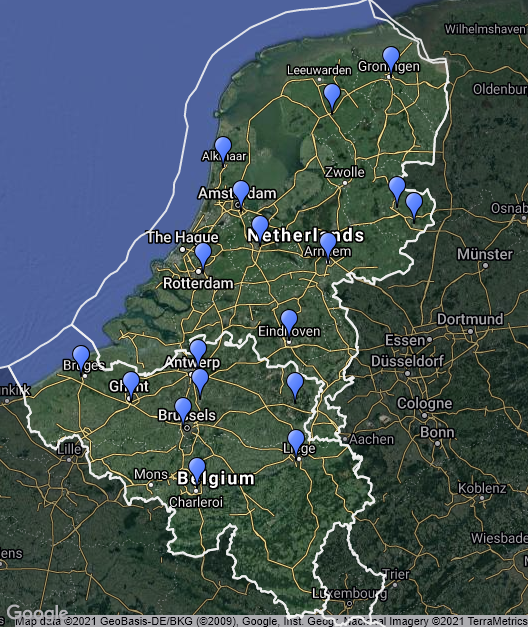 The teams that could form a potential BeNeLeague?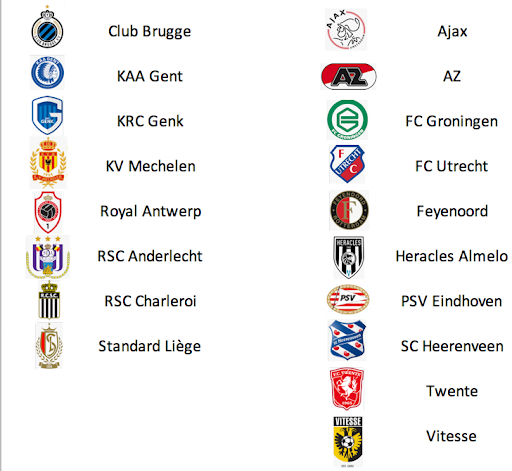 This is by no means, a prescriptive determination, but a formulation developed for the purposes of this piece. Having established our clubs, we can now look at the reasons this league is so attractive.
Precedence
If this is to go ahead, and receive UEFA's approval, it would set a precedent as the first truly cross-border full-time league in Europe. Success may compel similar joint league opportunities, like a Nordic combined league or a Czech-Slovak league. As long as it protects the pathways of promotion and relegation, and maintains a rationale club distribution scheme, this BeNeLeague may represent a significant first step in protecting European club football while remaining attractive to investment.
Geography & Culture
This proposed BeNeLeague would cover reasonable geographic distances and can take advantage of the relatively similar socio-cultural conditions that exist between these neighbours. The current Jupiler League is already a microcosm of this wider French & Dutch speaking intersection, and so the addition of the Netherlands does not prove an obstacle to the league's integration. The general proximity between clubs is very manageable, with the farthest proposed distance in our scenario being the 412km between FC Groningen and either Club Brugge or RSC Charleroi. Both are a reasonable 4 ½ hour drive. As a point of comparison, this is far shorter than the 6 hours it takes to go from Newcastle United to Southampton. The geographic and cultural rivalries inscribed in this league are numerous and vibrant. 
Competitive Balance & State of Play
As it is currently conceived, this league would have within it a variety of clubs that, when put together make for a rather attractive competitive picture. As much academic investigation has determined, the appeal of an open league is based not on the greatest parity, but on a structure that contains clubs with many different narratives. You need favorites, contenders, dark horses, underdogs, rivals, and upset specialists. This BeNeLeague contains them all. Clubs like Ajax, Feyenoord and Club Brugge are quite clearly members of the first category, while a whole host of clubs can occupy one or more of the others. It also has the benefit of Dutch and Belgian clubs, currently not in the 18, who have every reason to think they can be promoted into it and be successful, like KSC Lokeren, NAC Breda and others.
"These clubs also maintain very strong attendance figures which average out to an impressive 83.31% of capacity, as of 2018/2019 numbers. Individual club following is excellent with some of the most fervent supporter groups on the continent."
Venues & Fandom
Among the 18 clubs that we have identified, the standard and variety of venues is enviable. One of the distinguishing elements that makes watching live European club football so appealing is the unique character of each ground. The Dutch and Belgian clubs have managed to fuse modern stadiums with the atmosphere of smaller and older grounds, and it cannot be denied that a match at the Johan Cruijff Stadion is as interesting as one at De Kuip in Rotterdam or the Maurice Dufrasne in Liège. The range of stadium capacities is reasonable as well, from 55,500 (Ajax) at the top to 12,080 (Heracles Almelo) at the other end of the spectrum. These clubs also maintain very strong attendance figures which average out to an impressive 83.31% of capacity, as of 2018/2019 numbers. Individual club following is excellent with some of the most fervent supporter groups on the continent.
Available Talent & Youth Development 
Belgium and the Netherlands are obviously notable footballing nations. Belgium's recent rise on the international stage and the dubbing of their current "golden generation" has elevated its standing while the Netherlands has maintained a high level of development consistently since the 1970s. In fact, on a per capita index basis, both nations produce far more footballers than any other European nation, even powerhouses like England and Spain. In fact, when looking at the 15,452 footballers currently playing in the top 29 professional leagues in the world, Belgium and the Netherlands are responsible for 853 of them, good for 5.52%. As a point of emphasis, their combined populations are responsible for .38% of the world's people. This represents a multiplier of 14.46 times more players than "expected".  Within both nations, specific cities and conurbations too, have remarkable levels of "available talent", as evidenced in the heat map below.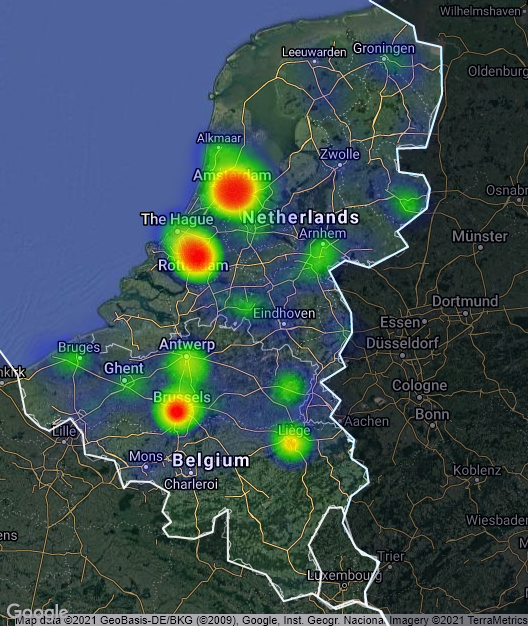 This highly concentrated, talent-rich football environment shows no signs of diluting, and many clubs like Ajax, KRC Genk and RSC Anderlecht have taken advantage of this to develop incredibly impressive academies. The resulting benefit to their first teams and/or to their transfer activity, is a significant attraction. Even those clubs without strong youth development programs have in close proximity to them very strong catchment areas from which to recruit talent in order to do so. In the Belgian case particularly, it is incredibly inexpensive to host international players in an academy. Therefore, should the local talent pipeline ebb at some point, there yet remains reason to house and develop international players in Belgium.
Aggregated Strength & European Positions
A BeNeLeague in the form we are considering, would occupy a very strong competitive position in the European club football landscape, elevating itself firmly above the Primeira Liga, Russian Premier Liga, Turkish Süper Lig, and others to a place near to, if not comparably competitive with Ligue 1. An additional benefit to this geography is that in both Belgium and the Netherlands there as yet remains no real challenger in terms of team sports. Cycling is popular, and both nations are strong in field hockey, but football dominates the sporting narrative and does not face the same fight for attention as many other European nations do.  
Ownership Situation
As of the 2018/2019 season, only 5 of the 18 current Eredivisie clubs are privately owned, but the opportunity for new ownership is quite favorable. But there is some "market hesitance". Following a Chinese takeover of ADO Den Haag a few years ago, there is skepticism of foreign ownership and prospective owners will need to clearly demonstrate action not just intention. In Belgium, many of the smaller clubs have become de facto "farm teams" for multi-club ownership groups owning German, French and English clubs. This model may be attractive for some prospective buyers, but ownership of a mid to top tier club, especially one in a combined BeNeLeague offers more than just developmental value.
Connected Markets & Commercial Opportunity
Among the top leagues in Europe, a combined BeNeLeague would include access to the truly global cities of Amsterdam and Brussels as well as strong continental cities like Antwerp, Rotterdam and The Hague. In fact, across the two nations, seven cities are classified by the Globalization and World Cities Research Network (GaWC) as Sufficiency** or higher, a number comparable to Italy (9), more than Spain (6), and quite a bit more than Turkey (4), Russia (4) and Portugal (2). These markets are highly connected in the global economy and represent generally affluent societies with the quality of life, interest and means to support their number one sport.  Another indicator of the market opportunity reflected here can be found by looking at the number of Forbes 2000 public companies based in both nations. Over the past few years, this number has fluctuated between 35 and 37, or about 1.75-1.85% of the total global number, a figure that represents 4.87 times more than what is "expected" for a market of that size. This is more in gross terms than Russia (23), Turkey (8) and Portugal (4) combined, and even surpasses the likes of Italy (26) and Spain (25). The index of 4.87x is also higher than any of the big five footballing nations.
"There is clear opportunity for commercial partnerships with well-known brands like Anheuser-Busch, Heineken, ING, and Proximus."
Belgium and the Netherlands share an incredibly strong economic trading relationship, and both nations count the likes of Germany, France, the UK, United States and China as their top trade partners. There is clear opportunity for commercial partnerships with well-known brands like Anheuser-Busch, Heineken, ING, and Proximus. Overall, the combination of these two economies and the individual markets epitomized by the clubs in question, is incredibly desirable. 
**Note: a Sufficiency city is one that has a sufficient degree of services so as not to be overly dependent on other "global" cities.
Media Rights 
The final attractive factor for the BeNeLeague is the very strong potential for significantly increased Media Rights as a result of the merger. A Deloitte study in 2020 found a potential of 400mn EUR per year could be netted from rights deals, significantly higher than what the Eredivisie (80mn EUR) and Jupiler League (103mn EUR) currently take in. The increased profile of the clubs as a result of participation in this BeNeLeague could certainly drive further increases across media rights in the years to come.
Summary
The combined elements mentioned above indicate that a so called BeNeLeague is a very attractive proposition from multiple perspectives. As currently envisioned, it possesses great market conditions, has excellent football quality and supporters, is underpinned by merit-based criteria, and has a very positive commercial opportunity that aligns owners, players, and fans in a winning formula. This proposed, but now ever more likely merger represents an attractive inflection point for Belgian and Dutch football, and it will be interesting to see who wants to be a part of it.
About the Author
Cuyler Holmquist is an international sports management consultant, currently based in New York. Utilizing a heavily data-backed, research-driven approach, he assesses the environment in which sport operates to uncover actionable insights and drive success for the clubs, federations, leagues and ownership groups he advises. These include market entry, internationalization, pre-acquisition diligence and sporting-side optimization. A Dutch-American national, he speaks four languages and has lived in multiple European countries as well as the United States. He received a BA in History from the University of Maryland, and an International Sports Management MBA with distinction from Coventry University in the UK.
Specific questions about the data or the methodology used to analyze it in this piece can be addressed to the writer. Please feel free to reach him at cuyler.holmquist@gmail.com